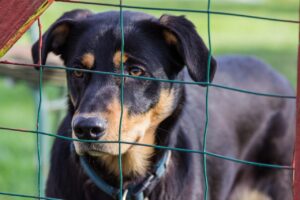 Spokane considers itself a dog-friendly city. It's probably not an exaggeration to say there's a wagging tail in every other yard in neighborhoods like the South Hill and Shadle Park.
The perks of owning a dog are great, but owners must also be responsible for keeping their dogs out of situations where they may become confused and bite someone. That duty of care is required when dogs are out on leashes and when they are home in their yards.
When United States Postal Service (USPS) workers make their daily deliveries, they must worry about how careful dog owners are with their pets. Is a dog out roaming a yard or is it inside? Dog attacks are a frightening hazard for delivery personnel each year.
It's why the USPS holds National Dog Bite Awareness Week each year. They also release statistics that show where USPS employees are bitten the most. Washington made their unfortunate top-ten list in 2021 and Spokane has been on their top thirty most dangerous dog bite cities list in recent years.
Washington's USPS Dog Bite Dangers
In their 2022 dog bite report, USPS says that more than 5,400 of their employees suffered dog bites across the country in 2021. Each June, this report comes out to remind dog owners in Spokane and everywhere else to act to protect the delivery workers who come to their doors each day.
The numbers show that Washington ranks high on their list of states where mail carriers are at the most risk of a bite. Washington ranked 9th on the USPS top ten list for employee dog attack dangers. Washington recorded 139 dog bite incidents involving USPS workers in 2021. That was up from the 122 incidents documented in 2020.
In fact, Washington was the only western state to make the top ten list other than California. California is the most populous state. It led the entire nation in dog bite attacks on USPS workers with 656 frightening cases in 2021. Florida ranked just ahead of Washington with 201 dog attacks reported.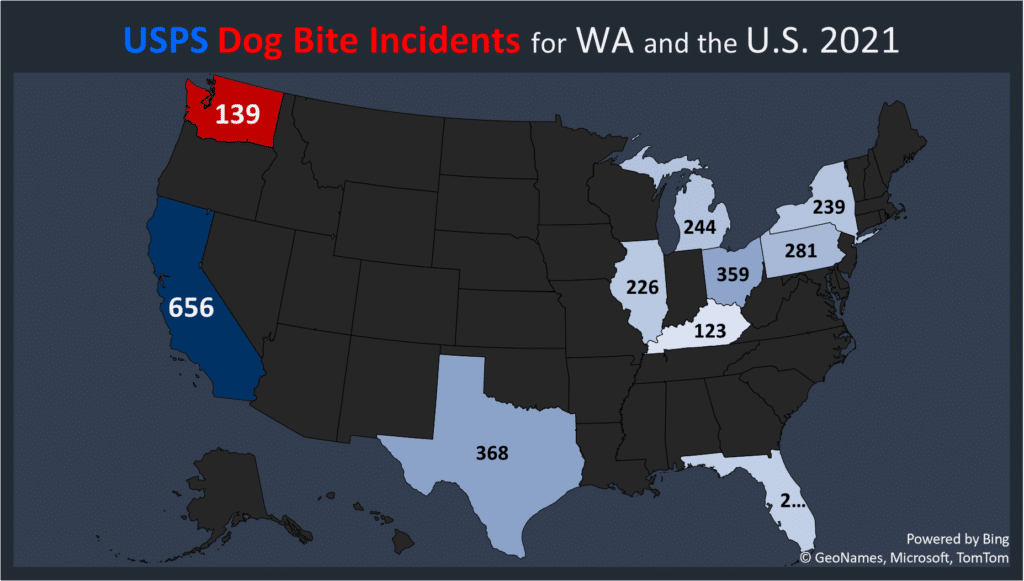 Seattle and Spokane USPS Dog Bite Incidents
In 2021, Spokane avoided being on the USPS Top 30 list for cities with the most reported dog bite cases. That's good news. According to a local USPS spokesperson, Spokane reported 10 dog bite incidents involving USPS employees in 2021. That was up from four cases recorded in 2020.
Below is the USPS list of the top five cities for dog attacks on mail carriers. Seattle and Spokane are included for comparison.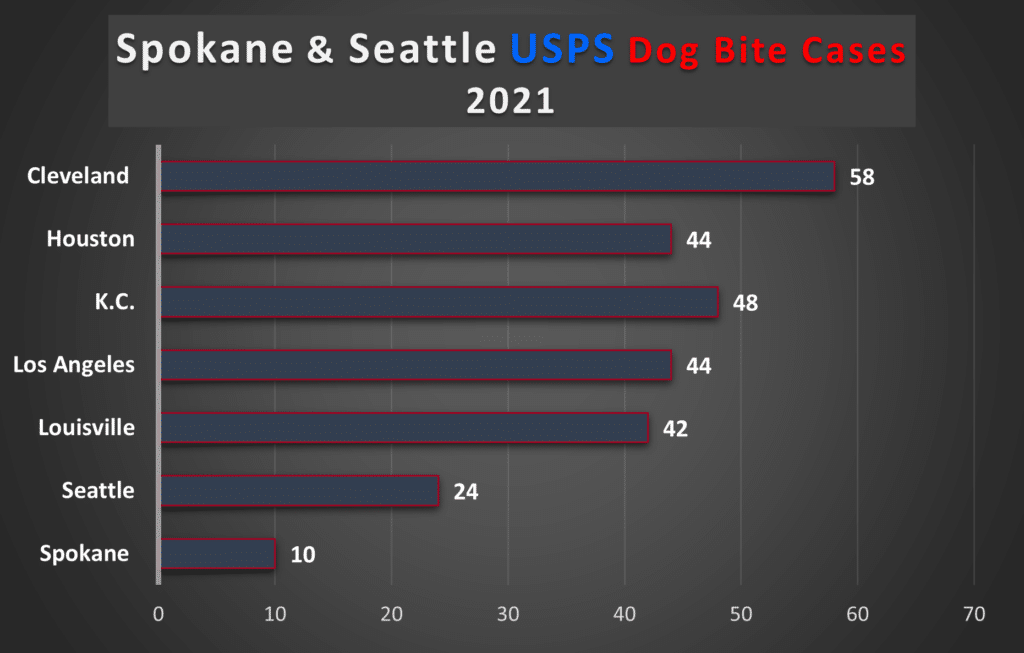 In some years, Spokane's 10 reported incidents would have been enough to gain national recognition on the USPS annual list. That's what happened in 2014 when Spokane tied with several cities for the 30th spot in the nation with 10 bite injuries involving USPS delivery workers reported. That year Tacoma also snuck into the top 30 to take the 29th spot with 11 attacks on the year.
Seattle is the biggest city in Washington, and unfortunately, it continues to often more than double the USPS dog attack incidents in places like Spokane.
Seattle ranked 18th in the United States among U.S. cities for dog attacks on USPS workers. The city registered 24 scary incidents in 2021. That was an unwanted return to elevated levels after a bit of a downturn in recent years.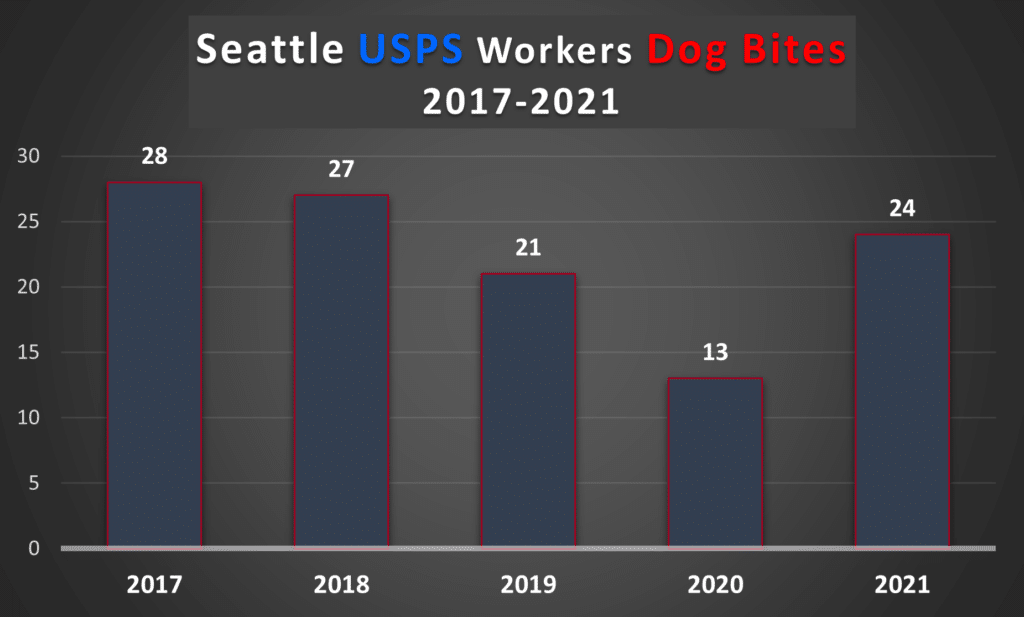 What You Can Do to Prevent Dog Attacks on Spokane USPS Delivery Workers
Dog owners will want to do everything they can to keep people safe around their dogs. It's the right thing to do. If Washington dog owners need more incentive, they should know that they are financially responsible for a dog bite injury in almost every circumstance.
That could leave a pet owner paying for thousands of dollars in medical bills and facing higher homeowners insurance premiums for years to come. A dog owner would have to provide for a USPS worker until the worker was healed. If a bite wound caused a permanent disability or disfigurement, the support may continue over a lifetime.
These are outcomes that are bad for the USPS employee, the dog owner, and the dog. That's why the USPS posts tips for dog owners on how to protect mail carriers and dogs and prevent bites:
If a carrier delivers mail or packages to your front door, place your dog in a separate room and close that door before opening the front door. Some dogs burst through screen doors or plate-glass windows to attack visitors. Dog owners should keep the family pet secured.
Parents should remind their children and other family members not to take mail directly from carriers in the presence of the family pet, as the dog may view the person handing mail to a family member as a threatening gesture.
The Postal Service places the safety of its employees as a top priority. If a carrier feels threatened by a dog, or if a dog is loose or unleashed, the owner may be asked to pick up mail at a Post Office until the carrier is assured the pet has been restrained. If a dog is roaming the neighborhood, the pet owner's neighbors also may be asked to pick up their mail at the area's Post Office.
Sign up for Informed Delivery. You'll know when parcels are being delivered in advance of the actual delivery and can take precautions to keep your carrier safe.
Help for USPS Dog Bite Injury Victims in Spokane…
USPS workers keep the supply chain moving and deliver important letters and packages to our homes each day. It's not too much to ask that they be able to enter and exit your property without having to fear for their safety.
USPS workers who don't receive adequate support from a dog owner or USPS while they are in recovery should discuss their options with a Spokane Dog Bite Lawyer. A personal injury claim asks for money to allow USPS employees to pay their medical bills and recover lost wages and benefits while they are unable to fulfill their delivery duties. Victims should receive additional support for the pain and emotional trauma they endure.
Contact CCD Law from anywhere across eastern Washington for a free case consultation to discuss your options after suffering a frightening dog bite on the job.