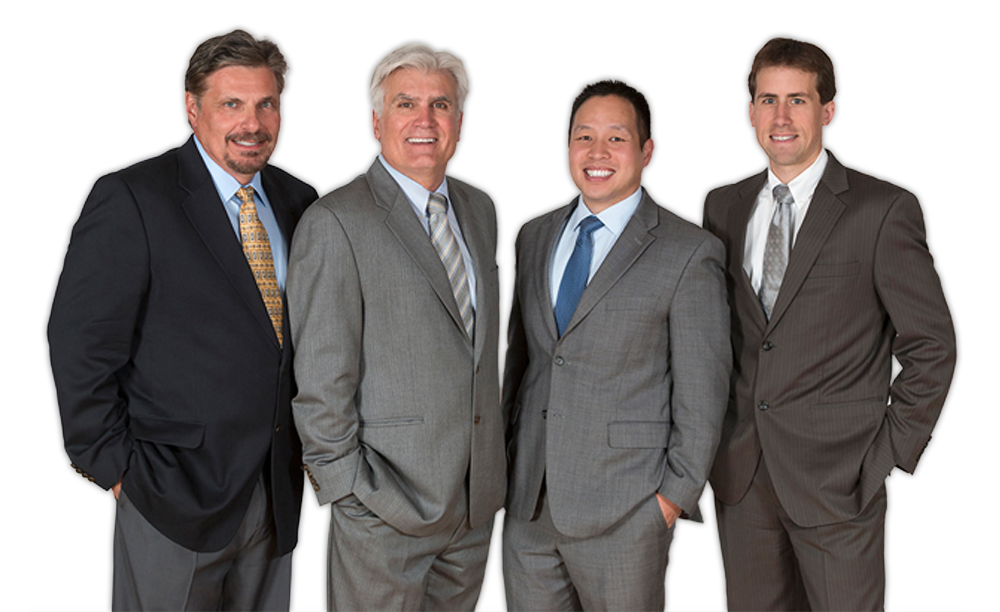 Voted One of Spokane's
"Best Law Firms"
Spokane/Cour d'Alene Living Magazine
In just the past few years, CCD Law has recovered millions of dollars for their civil clients in injury cases and represented thousands of criminal clients.
Great. Local. Lawyers.
Why hire CCD Law?
When you have been seriously injured in an accident or charged with a crime, it is crucial to seek the professional assistance of a competent attorney who can help you understand your legal options and ultimately protect your rights. Serving residents of Spokane and eastern Washington, Crary, Clark, Domanico, & Chuang, P.S., has come to be known as a leading personal injury and criminal defense law firm in the Spokane area. More than six decades of dedicated service to our community has earned our firm recognition as one of Spokane's best.
Highly Rated Local Lawyers
If we accept your case, or other legal matter, you have our assurance that we will use our absolute best efforts and expert experience to win your case.
Trusted By Our Clients
Having effectively assisted nearly 20,000 clients over the past three decades, we have rightfully earned a reputation as a reliable, professional and knowledgeable legal resource.
Established Law Firm Since 1948
Established in Spokane in 1948, Crary, Clark, Domanico, & Chuang, P.S., is committed to providing our clients with the absolute highest quality legal representation.
Our client, a retired firefighter, stopped to assist a police officer who had crashed his car on the side of the freeway. While laying flares to warn oncoming traffic of the crash scene, our client was hit by a vehicle as it swerved off the road to avoid the accident scene. Our client suffered multiple injuries to his body, including the loss of his leg. We settled the case for $2,025,000.00 through mediation.
Featured Client Testimonial
I was in a car crash while at work. My employer's worker's compensation carrier got nasty and I needed a law firm that would fight for me. They successfully negotiated with my employer's worker's compensation carrier and I received a large settlement from the at-fault driver. I highly recommend this firm.
How do I select a great Spokane personal injury lawyer?
A great lawyer who specializes in personal injury law will have a long history of verdicts and settlements. Established in Spokane in 1948, we are committed to proving our clients with the best and highest quality legal representation in the Spokane and Spokane Valley area. We are also licensed to practice personal injury law in the State of Idaho and represent clients in Post Falls, Coeur d'Alene, and beyond.
Do all personal injury cases go to trial?
Many cases do not make it to a trial, but select a highly professional and capable personal injury lawyer who has trial experience and courtroom success. Defense attorneys and insurance adjusters know which attorneys are willing to fight for you and which are willing to settle cases quickly and cheaply.
How long after an injury do I have to contact a personal injury lawyer?
In the State of Washington, there is a three year statute of limitations for any injury to person or property claims. There are exceptions to this and situations where one may have more or less time.
Examples of personal injuries
Circumstances which often result in personal injury claims in Spokane and beyond include fatalities and injuries as a result of car accidents, medical malpractice, unsafe premises and other forms of negligence.
Do you practice in all of Washington and Idaho?
Yes. Our home office is on Trent Avenue and we have represented clients in Spokane and Spokane Valley since 1948. We have also represented many clients in Post Falls and Coeur d'Alene Idaho and beyond, and even clients from other states who were injured in Spokane.
Do I need a personal injury attorney?
In many cases, you will often obtain significantly more compensation for your injuries with the help of a personal injury lawyer than you would without one. That said, not every case involving scrapes and bruises requires an attorney. We will go over all of your options with you during our free consultation and case evaluation.