Spokane has more than its share of natural and architectural beauty to enjoy. One of the best views you can get of these wonders is from the seat of a bicycle. Pedaling along the Spokane River on the Centennial Trail or wheeling past historic downtown offers a way to get exercise and take in scenic Spokane.
2020 was a difficult year for most people and the isolation and limitations of living under a quarantine left Spokane traffic dwindling to practically nothing, only to come roaring back at times. More people took walks and rides on their bikes. That was good news, but there were still dangers present on the roads that put riders and walkers in harm's way.
CCD Law of Spokane commissioned a study to look at the bicycle accident numbers of 2020 and over the past decade. A look back will hopefully help us facilitate safer bike rides in the future. We wanted to see where we've come from, where we need improvement, and directions we should all strive to take in the coming years.
Spokane Bicycle Accident Victims in 2020
Strapping on a helmet and taking a ride along Riverfront Park or through the neighborhoods on the South Hill provided some relief from quarantine cabin fever for many. Yet, riders still had to be extra careful as traffic levels picked back up.
The Washington State Department of Transportation (WSDOT) tracks bicycle collisions in Spokane each year. The numbers demonstrate how accidents declined in 2020, but it's hard to say if the pandemic was responsible for the improvement or if motorists really were taking more care when traveling near cyclists.
Below is a representation of all reported bicycle accident victims in Spokane in 2020 with consequences ranging from no-injury to fatalities: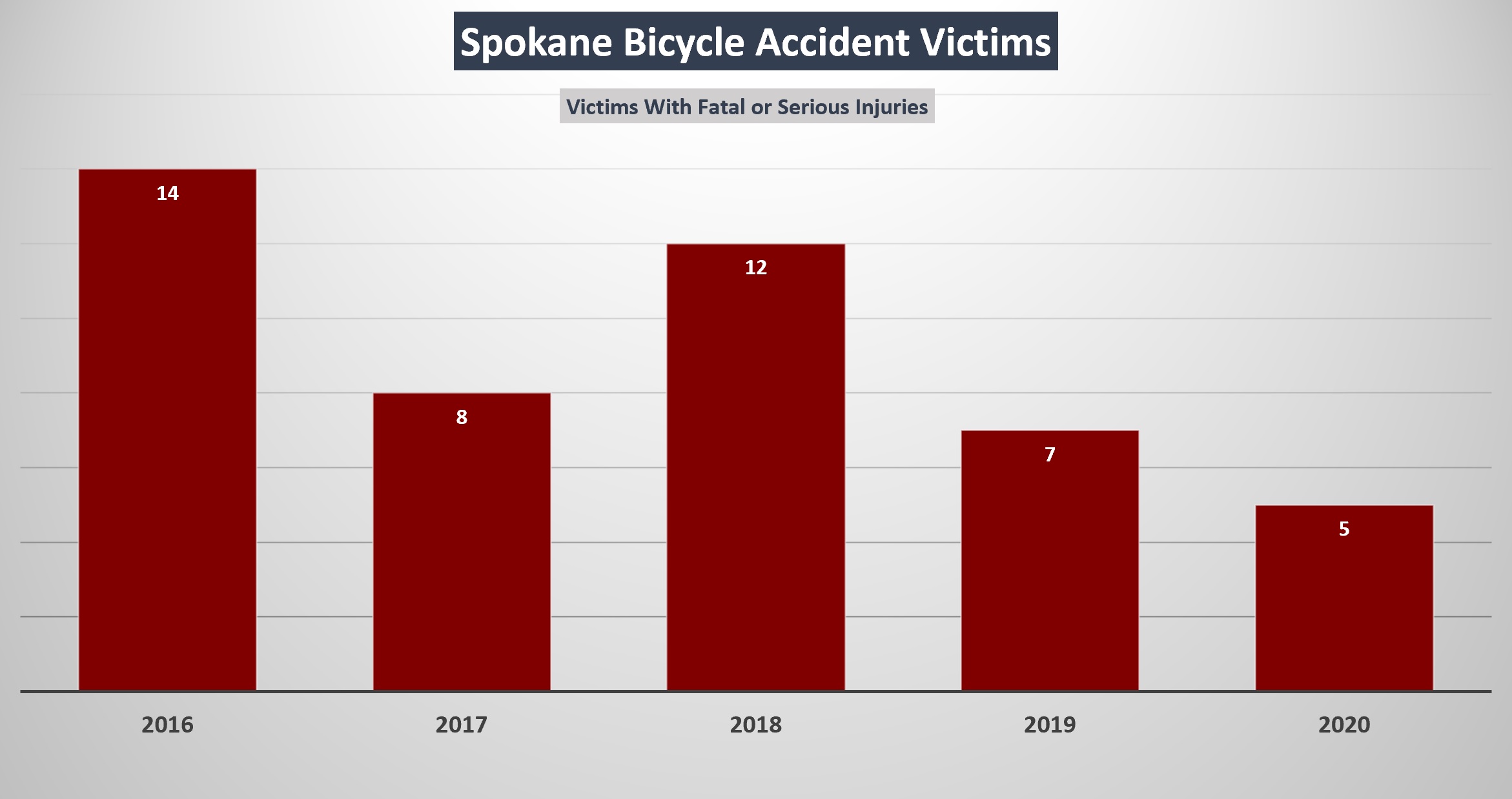 Bicyclists generally travel unprotected. It's hoped that every rider uses a helmet, but otherwise, riders might only have the thin fabric of their clothing to protect them in an impact. Sadly, the resulting injuries from impacts can be severe and in the worst incidents, cyclists can lose their lives.
Below is an account of the most tragic bicycle accidents recorded across Spokane in 2020 and over the past five years. According to WSDOT, Spokane did not report a fatal bicycle accident in 2020. The numbers for each other year are made of those who lost their lives and those victims who were suspected of having suffered a serious injury.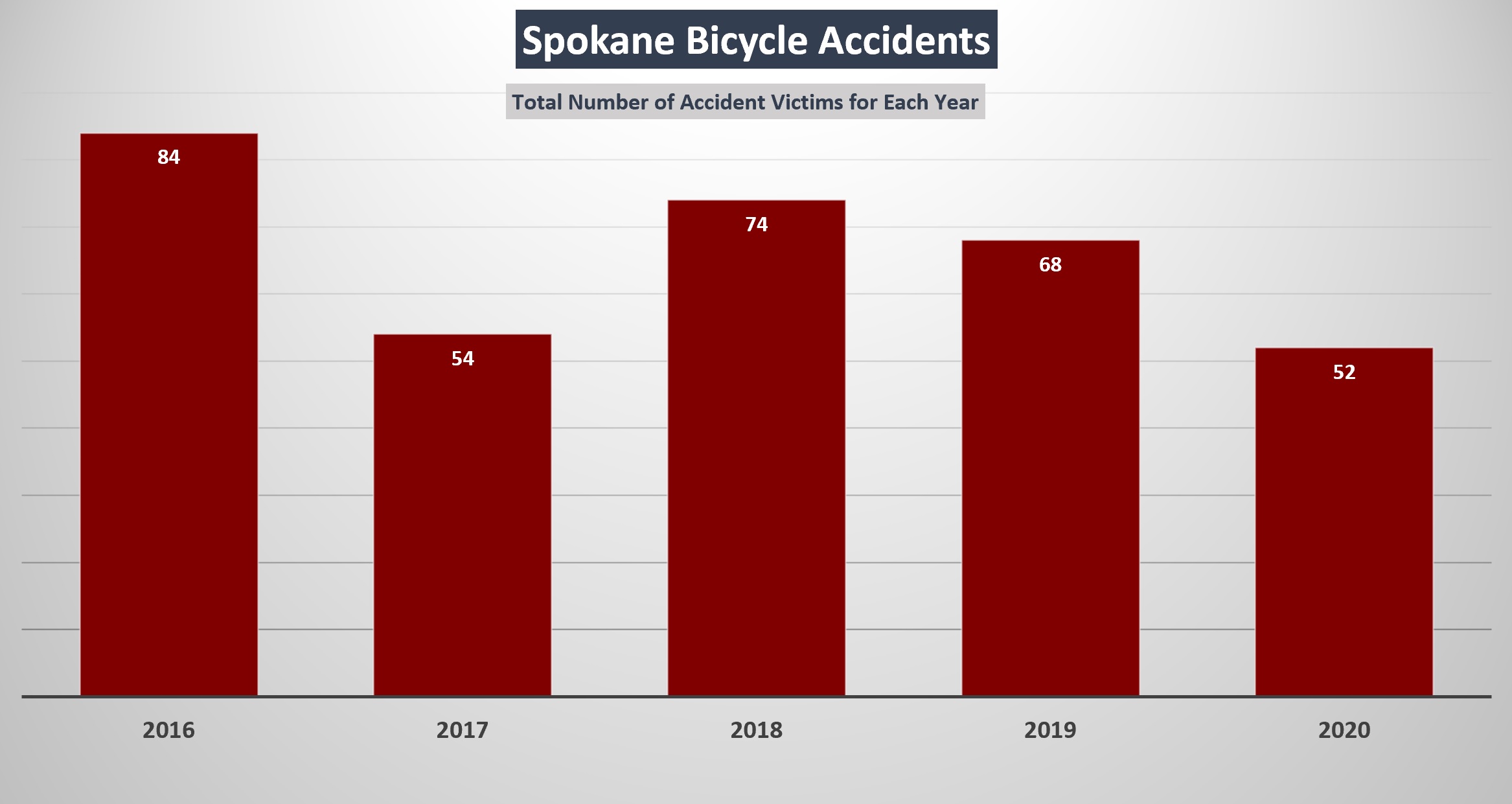 When breaking out bicycle collision numbers from 2020 for different age groups, we see that accidents were spread out pretty evenly between the young and old.
The age groups of 21-24 and 60-69 both accounted for eight accidents a piece across the city. The grouping of 15-20-year-olds saw seven victims.
In 2019, the 15-20 age group was also one of most at risk for accidents, reporting 11 victims. 2019 was also a bad year for cyclists between 50-59 years of age. The age group accounted for 12 victims overall.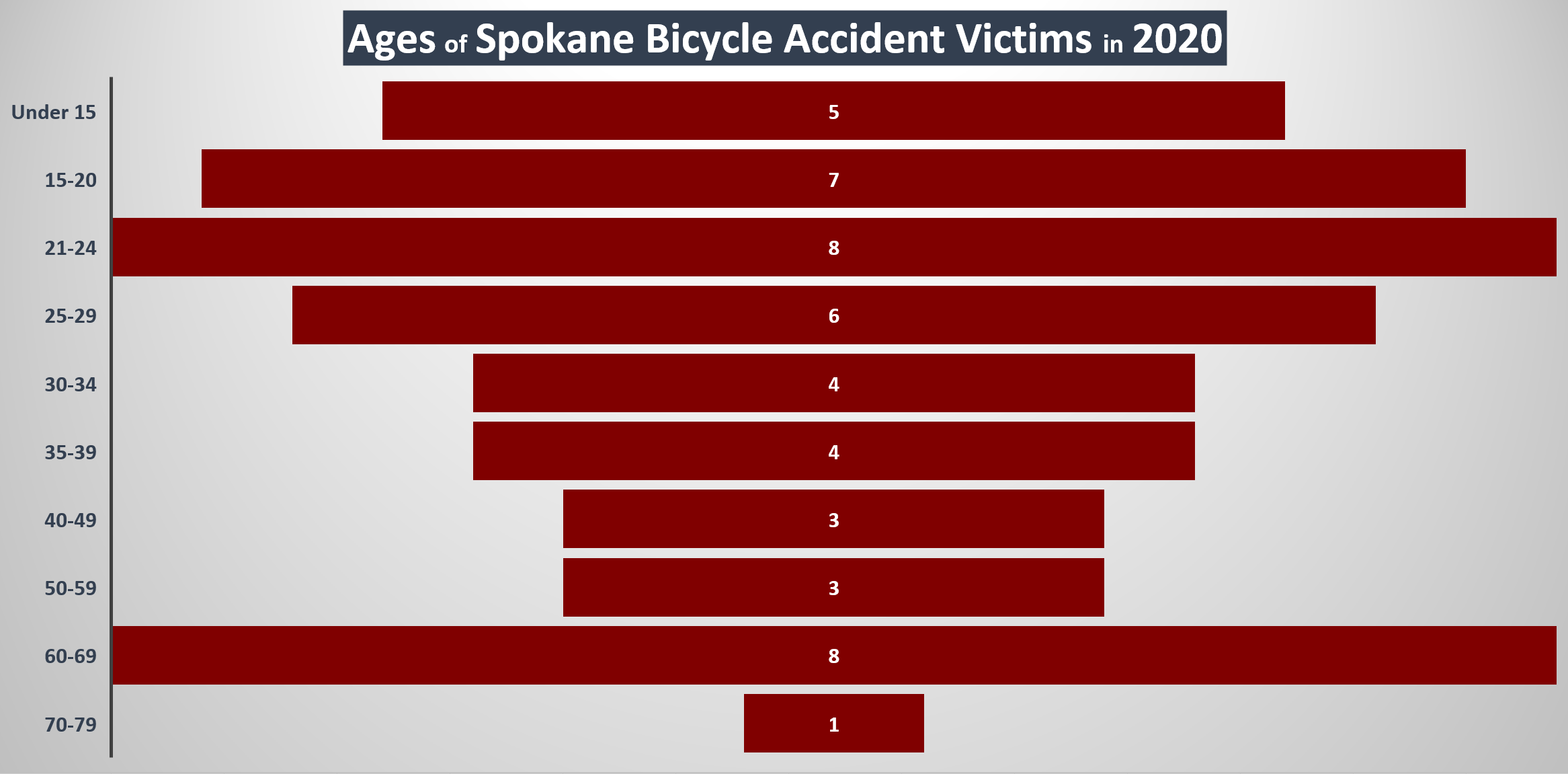 In addition to the data above, there were three bicycle accident victims for whom the ages weren't recorded in 2020.
The Spokane Regional Health District (SRHD) also found that over a seven-year span, four out of five injured bicyclists in Spokane County were male.
Spokane, Spokane Valley, And Spokane County 2020 Accident Numbers
Spokane Valley recorded 18 accidents with one serious injury reported. Overall, Spokane County recorded 78 bicycle accident victims across 2020 with one fatality and six serious injuries documented.
SRHD looked at bicycle accident statistics between Spokane Valley and Spokane over a three-year period and found that on average around 75% of bicycle accidents each year occur in Spokane. 20% occur in Spokane Valley and the remaining 5% happen outside the two cities in Spokane County.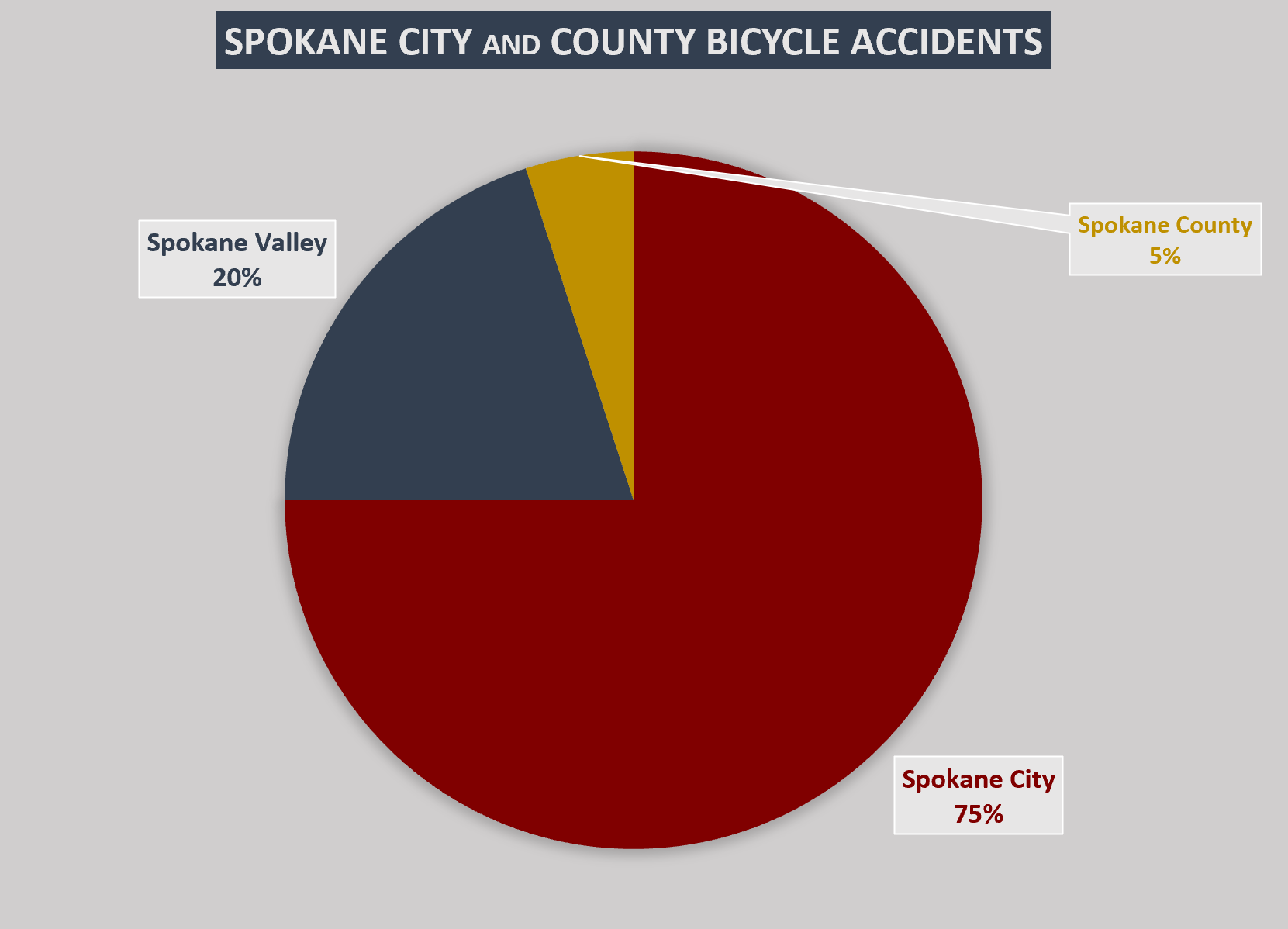 Spokane Bicycle Laws
When riding on a roadway in Spokane County you have all the rights of any other motorist. You must also follow all traffic laws just like a motorist. Cyclists violating traffic laws can be ticketed.
There are certain sections of highway off-limits to cyclists. They include parts of US-2/Division Street, US-195, and I-90. You can see a list of Spokane's prohibited roadways on the WSDOT website here.
There is no statewide helmet requirement for cyclists. However, in Spokane City limits anyone participating in a wheeled sport must wear a helmet.
A Safer Spokane For Cyclists in 2021 and 2022
A worldwide pandemic brought a halt to much of Spokane's daily activity for several months. Less traffic and more people staying at home reduced highway accidents overall and resulted in a downturn in accidents for those who used pedal power.
Let's learn from the struggles of 2020, but keep the few positives that emerged. We should work to bring bicycle accident incidents down for the rest of 2021 and 2022. We must continue to push for extended bike paths and new, safe routes throughout the city.
And everyone who gets behind the wheel should remember that whenever cyclists enter the roadway, the only legal difference between them and other motorists is their vulnerability. Cyclists are at extreme risk of injury when drivers fail to show a "duty of care" to protect them. Slow down and allow some room for everyone who travels Spokane.
Support For Victims and Families After a Spokane Bicycle Accident
If a careless driver leaves you or a loved one injured after a cycling accident, please talk with the bike accident attorneys at CCD Law serving Spokane and the surrounding area. We are advocates for cyclists across Washington and desire to see victims get the support they need to recover and return to their bikes.
We offer a free consultation to victims and their families to inform everyone of the benefits available to them. Contact CCD Law today to discuss what happened to you and find out how to secure support.