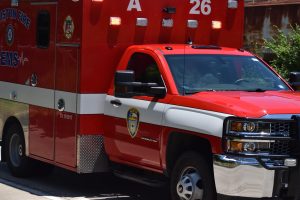 Pedestrians along busy roads in Spokane Valley rely on getting the attention of sometimes distracted drivers whenever they must cross the street. A motorist that's driving under the influence of drugs or alcohol makes that effort to be noticed even harder.
People may be forced to cross traffic in front of drivers who have their judgment impaired and can't show the care needed to protect those traveling on foot. Pedestrians can become the victims of dangerous collisions and suffer injuries that threaten their lives.
Pedestrian Killed in Tragic Accident in Spokane Valley
A weekend pedestrian accident tragically claimed a woman's life in Spokane Valley. Spokane Valley Police say the woman was struck while crossing E. Sprague Avenue late Saturday Afternoon.
KXLY-TV reports the accident occurred around 5:50 p.m. Investigators found the victim with severe injuries after she was struck by a man driving a Chevy van. The woman was rushed to the hospital but was later pronounced dead.
Traffic Unit Investigators say the van's driver, a 40-year-old man, was arrested for vehicular manslaughter after they found probable cause that the man was driving while impaired. At last word, he was being held in the Spokane County Jail.
Seeking Support for Families After a Spokane Valley Pedestrian Accident
The families of pedestrian accident victims can wonder how justice can be served after a senseless DUI accident. Close relatives will face the difficult task of organizing a funeral and burial for a beloved member of the family. They'll also face the bills that will arrive for this service.
The costs of emergency response and ambulance transport will also come to do at a time when the financial support the deceased may have provided the family is gone. With these hardships in mind, a family is permitted to file a wrongful death claim against an at-fault driver and the driver's insurance company to earn fair support.
The driver will likely be facing criminal charges in such a case, but a wrongful death lawsuit is a civil case and can proceed separately. The family could secure financial support from an insurance provider, regardless of where a criminal trial stands.
Contact a Spokane Valley Pedestrian Accident Lawyer
Established in Spokane in 1948, Crary, Clark, Domanico, & Chuang, P.S. is committed to providing our clients with the absolute highest quality legal representation. If our Spokane Pedestrian Accident Lawyers represent your family for your wrongful death accident case, you have our assurance we will fight to secure what's fair to rebuild your lives.
Contact us after any pedestrian accident resulting in a serious injury or a tragic death for a free, confidential consultation and case evaluation. We will only offer you advice that is in your family's best interest.