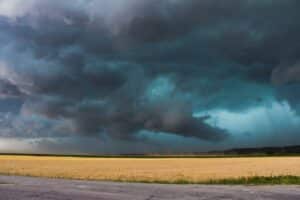 Dust storms and other bad weather can cause frightening car accidents. Some people assume that these crashes are blamed on mother nature and not on the motorists involved, but that's usually not the case.
All drivers are required to travel at speeds safe for conditions. That speed limit may be very different than what's posted on a sign. Drivers must slow down when visibility is reduced or roads get slick. They must go slow enough to ensure that accidents can't happen. When motorists travel too fast for the weather around them and they cause collisions, they can be held fully liable for the damage and injuries they cause.
Dust Storm Causes Multiple Accidents in Grant County
A dust storm west of Spokane in Grant County led to multiple wrecks Thursday afternoon. KHQ-TV reports the string of accidents occurred along US-2 west of Hartline on September 8, 2022.
Highway 2 had to be closed down in both directions for about an hour on Thursday to prevent more accidents. The highway was closed around Mileposts 198 & 200.
The Washington State DOT confirmed that multiple collisions occurred before the road could be shut down. There was no report on if there were injuries involved in those accidents.
The Washington State Patrol continues to investigate the circumstances surrounding each accident.
Support for Victims After a Grant County Accident
Car accident victims may not know how badly they are hurt until the day after a crash when they wake up with pain that the shock of a crash had previously covered up.
It's critical that all victims have their injuries checked out by a doctor, no matter how minor they may seem. Internal bleeding and hairline fractures can be hard to detect at first but will cause major health issues in the coming days.
Victims who have been hurt by a careless driver's mistake must file a claim against the driver's car accident insurance. This civil claim makes it more likely that victims receive full compensation for their recovery costs. This compensation should cover more than a night in an emergency room. It must also reimburse patients for the medical care and lost time at work that lies ahead.
Contact a Grant County Car Accident Lawyer
Victims can seek assistance from an insurance company, but insurance agents won't be eager to provide what's really necessary to afford a full physical and financial recovery. It often takes a legal expert working on behalf of victims and their families to make sure insurance adjusters provide what's fair after a serious accident.
Established in Spokane in 1948, Crary, Clark, Domanico, & Chuang, P.S. is licensed and practices across eastern Washington. We are committed to providing Grant County victims with the absolute highest quality legal representation.
If our Washington Car Accident Lawyers represent you for your accident case, you have our assurance that we will use our absolute best efforts to win your case. Contact us after any accident resulting in a serious injury for a free, confidential case evaluation.