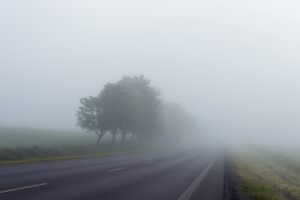 Local morning travel can be complicated by thick patches of fog and icy conditions on road surfaces. When collisions occur, those involved may believe that mother nature is to blame. That's actually not true when it comes to insurance claims for injured victims.
No matter the conditions, investigators will always assign liability to drivers who don't slow down when the going gets rough. Motorists are always required to travel at speeds that are safe for conditions. That can be very different from the posted speed limit.
A careless driver may notice conditions have deteriorated but still proceed at normal speeds and end up unable to stop in time to avoid a collision. That driver bears the liability and can be held accountable for any injuries their actions cause.
Three-Vehicle Accident in Icy Conditions Near Spangle
An accident involving multiple vehicles partially shut down US-195 in southern Spokane County Thursday morning. KREM2-TV reports the accident occurred along the highway at Mile Post 81 just a half-mile north of Spangle on October 14, 2021.
The Washington State Patrol responded to the crash in the southbound lanes. Reports from the scene indicated that an SUV had rolled over and caused two more vehicles to be involved. Icy and foggy conditions were also noted in the area at the time of the accident.
There's been no word released on if anyone suffered injuries in the accident. The investigation into what led to the accident continues.
Earning Support for Spokane County Accident Victims
Motorists may be trying to make a difficult morning drive through icy weather when a careless driver forces them into a dangerous collision. Victims injured in these sorts of accidents are permitted to request support from the at-fault driver's auto insurer.
Victims could ask for money to pay all hospital bills and also receive funds to get their personal finances back in order after missing days or weeks of paychecks while out of work. This civil claim makes sure every hardship inflicted by an accident doesn't fall to the innocent victim. Victims should never have to deplete a savings account and go into debt over an accident they weren't responsible for.
Contact a Spokane County Car Accident Attorney
Innocent victims should receive help with each step of their recovery without having to ask, but insurance companies don't always make things easy. They'll question a victim's role in an accident and even claim an injury is made up. They do this to avoid accepting liability and having to provide compensation for their driver's victims.
Allow a Spokane Car Accident Attorney to protect you from these predatory practices that insurance companies have been using for decades. Contact CCD Law for a free case evaluation and strategy session for you and your family. Find out how to best secure the money you and your family will need to rebuild your lives.