Spokane traffic rarely slows down. Along busy routes like I-90 or Division accidents occur every week. In major collisions, there's always the risk that you or a family member will be dealt an injury and suffer a broken bone.
Recovery from a fracture can involve a lot of pain and maybe a month or two in a cast. But complications can slow down the healing process and bones can resist full recovery, causing pain for years. Expensive surgeries and physical therapy may be necessary.
At this point, Spokane car accident victims need to focus on their health and not on the enormous costs of care. A Spokane car accident lawyer fights for victims to make sure they receive every bit of support needed to rebuild their lives.
Contact CCD Law for a Free Car Accident Broken Bone Consultation
After a scary crash injures you or a loved one, it's a smart idea to stay informed on the benefits available to your family. It's also smart to learn about the resistance you'll face when asking an at-fault driver and the driver's car insurance company for help with medical expenses.
Contact the car accident attorneys at CCD Law serving eastern Washington and Northern Idaho for a free, no-obligation case consultation. It's a no-risk way to find out what your fracture bone injury is worth and how to hold unhelpful insurance companies to what's fair. If we can help you earn more for an injury claim, we'll tell you. If we can't, we'll make sure you are equipped with the knowledge to file a successful claim yourself.
Broken Bone Dangers in Spokane Car Impacts
Even safe drivers get no guarantees of avoiding trouble on a busy interstate or on Sprague Avenue at rush hour. You can check mirrors and keep your speeds reasonable, but a careless or reckless driver could still send you into a collision before you have a chance to react.
Those collisions involve powerful impacts and put the bodies of people inside cars under tremendous strain. Fractures are caused by blunt force trauma and they are fairly common in the intense forces involved in a motor vehicle accident. Bones can break in two, or suffer a hard to detect hairline fracture, or simple crumple. It should be noted that a fracture just means a bone is broken. Broken bones and fractured bones are the same thing.
When drivers or passengers of a motor vehicle see an accident coming, it's perfectly natural for them to brace for impact by stretching out their arms and legs. Doing so increases the likelihood of a fracture. The type of fracture that a person suffers often involves the type crash that he or she was involved in. For example:
Head-on collisions often involve fractures to legs, ankles and feet.
Pelvis, hip and rib fractures are more common in broadside impacts.
Drivers and passengers who aren't belted can get ejected and suffer fractures from head to toe.
A Spokane car accident lawyer considers all potential outcomes when determining the level of support an at-fault driver's car insurer should provide. A simple fracture may require an emergency room visit and another doctor's visit to get a cast removed. The medical bills may not be enormous. But a more complex fracture will leave victims facing more pain and perhaps longer time spent away from work. A permanent disability might mean victims require a lifetime of care and support. An attorney would consider every possible outcome to make sure a settlement didn't leave patients without the means to pay for care in the future.
Types of Fractures Suffered In Car Crashes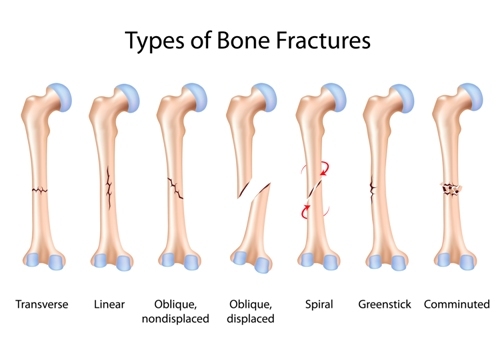 There are many different types of fractures. The Mayo Clinic documents how broken bones are classified as complete or incomplete. A victim experiences a complete fracture when a bone is broken into two or more pieces. With an incomplete fracture, the pieces of the bone remain connected.
The most common types of fractures seen in auto accidents are:
Simple fractures when a bone breaks but doesn't break the skin
Compound fractures when a broken bone goes through the skin
Greenstick breaks when a bone cracks but doesn't completely fracture
Comminuted fractures involving crushing or splintering into several pieces
Treating Fractures After Car Accidents
A fractured bone must be re-positioned if it's going to heal properly. This often takes place at a Spokane area trauma center. Simple and greenstick fractures are ordinarily treated with a cast. Casts help to maintain the position of the fractured ends during healing.
External fixation: In this procedure, screws and metal pins are placed in the broken bone at each end above and below the fracture. They're attached to a metal bar that protrudes outside of the victim's skin.
Open reduction internal fixation: Through surgery, bone fragments are put into place like a jigsaw puzzle. They're affixed with screws, plates or both on the outside of the bone under the skin. Sometimes a rod is even positioned and secured in the middle of a fractured bone where the marrow is located. This might be done in a serious femur fracture.
Nearly all fractures are going to stay with you in one way or another for the rest of your life. A simple fracture that healed nicely might cause some pain or discomfort on a cold and wet day. With any fracture involving surgery, you'll carry that hardware around with you forever. Rods, plates, screws and pins could remind you of that crash every day. Expect something more substantial than occasional minor discomfort.
Non-surgical treatment for a car accident fractured leg injury might cost local patients around $2,000 or more, including a cast. If the first care a patient receives is in an emergency room, at least a thousand dollars can be added to the bill. Broken legs that require surgeries can leave patients and families responsible for $20,000-$30,000 in bills in some cases.
What Kind of Compensation Can I Receive After a Car Accident Broken Bone Injury?

This extreme range of debt is why victims must press the issue with car insurance companies and make sure they are held accountable for every bill. Your Spokane car accident attorney will be putting together a full list of the economic and non-economic damages you've suffered and submitting them in a car accident injury claim.This is a key element of your case, because anything left off this list will end up as a bill you'll be responsible for.
When a fracture involves the carelessness and negligence of another motorist, you probably have a viable claim for damages and can ask for help with every bill. Those damages can include:
Past and future medical bills.
Past and future lost earnings.
Support for any permanent disfigurement.
Lifelong support for live with a permanent disability.
Support for non-economic damages like the pain you endure and may continue to endure. Your emotional trauma that may still affect your day-to-day life should also be eligible for support.
Loss of a normal life.
Loss of consortium. (Loss of intimacy with a partner)
Should I Speak with the At-Fault Driver's Car Insurance Provider?
The insurance adjuster for the person who caused your injuries might be contacting you to see how you're feeling and get your side of the story. Don't give any type of a recorded statement. Stick to only basic information.
 That insurer will only try to use your statement against you in the future. No law requires you to give a statement, especially when you may be unsure who caused an accident or how serious your injuries will turn out to be.
Contact a Spokane Car Accident Broken Bone Lawyer
We are Spokane area personal injury attorneys who represent clients in their claims on all types of fractures. If you or somebody close to you suffered any type of a broken bone in a motor vehicle collision that was a careless driver's fault, contact us right away for a free consultation and case evaluation. Any type of serious fracture is going to have permanent consequences. You should receive full and fair compensation. Our goal is to maximize that compensation for you.