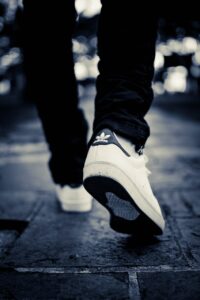 Pedestrians in Spokane can face daily threats from motor vehicle traffic. The dangers run especially high during morning and afternoon rushes when more vehicles are racing past crosswalks and the chances of encountering a distracted driver increase.
When traffic gets busy, drivers should be encouraged to show even more caution than they normally would. This extra attention is always needed to spot pedestrians and to slow down and yield to allow those on foot a safe passage.
Two Victims Badly Hurt in Two Spokane Pedestrian Accidents
Two pedestrians suffered major injuries after being hit by cars in two separate accidents in northern and southern Spokane, Wednesday morning on September 8, 2021.
KREM-TV reports one accident occurred around 7:30 a.m. in northern Spokane at the intersection of North Division Street and Rowan Avenue. Police responded to find a man in the road with life-threatening injuries. The victim was rushed to the hospital and was said to be in critical condition.
The second accident occurred on the South Hill at 14th Avenue and Grand Boulevard. A male victim there was found in the roadway with life-threatening injuries. He was also rushed to the hospital in critical condition.
It was not indicated whether hit-and-run drivers were involved in these accidents. Their investigation into what caused the accidents continues.
Securing Help for Victims and Families After Spokane Pedestrian Accidents
For victims who survive getting struck by a car, the focus should be on healing and restoring some normalcy to their lives. That should occur without the worry of enormous medical bills and lost paychecks while the victim is out of work.
Victims and their families can file a claim for damages against the insurance companies representing at-fault drivers. This civil claim can request support to pay for all medical treatment rendered and all care expected to be necessary in the future.
In tragic cases, when pedestrians lose their lives after an accident, close relatives can file a wrongful death claim to help support family members through such a difficult time emotionally and financially. A wrongful death lawsuit can provide money to pay for a funeral and burial costs, cover remaining medical bills, and provide for the family after a loved one can no longer provide weekly financial support.
Contact a Spokane Pedestrian Accident Lawyer
Established in Spokane in 1948, Crary, Clark, Domanico, & Chuang, P.S. is committed to providing pedestrian victims and their families with the absolute highest quality legal representation. If our Spokane Pedestrian Accident Lawyers represent you for your accident case, you have our assurance that we will use our absolute best efforts to win your case.
Contact us after any accident resulting in a serious injury or the loss of life for a free, confidential consultation and case evaluation. We will only offer you advice that is in your family's best interest.