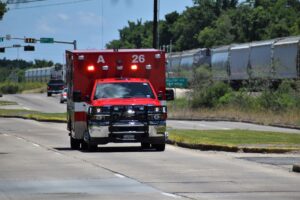 Interstate 90 travels through the heart of Spokane and provides a quick and easy way for locals and visitors to get across the city. Unfortunately, the speed of travel on the interstate combined with the many inattentive drivers using those lanes provides a hazard for all motorists.
KHQ-TV looked at five years of car accident data for Spokane's stretch of Interstate 90. They found that the Maple/Walnut interchange with eastbound I-90 was one of the four most dangerous spots for drivers in the city. The report also pointed out that traffic on the interstate through Spokane had doubled over the past three decades and had reached levels that the lanes weren't designed to accommodate.
Safer lane and traffic patterns should be considered. Driver education about the dangers of speeding on I-90 and also driving while distracted should also be a focus. One quick glance at a phone or a look away from the traffic ahead can leave a driver speeding into an unseen obstacle resulting in severe injuries for every driver and passenger nearby.
Four People Injured in I-90 Crash In Spokane
Two drivers and two passengers were rushed to the hospital after a collision on Interstate 90 in Spokane Monday afternoon. The Spokesman-Review reported the accident took place around 1:30 p.m. near Maple Street.
The Washington State Patrol said that a Chevrolet Suburban had slowed for traffic in the eastbound lanes when the driver of a Mercedes Sprinter crashed into the back of the vehicle. The 28-year-old woman at the wheel of the Mercedes was transported to Deaconess Hospital. A 72-year-old driver and two passengers in the Suburban were taken to Sacred Heart Medical Center.
The victims' conditions have not been released. The WSP continues to investigate the accident.
Assistance for I-90 Accident Victims in Spokane
Injury victims must focus on the healing process and returning to normal life. Victims going through a tough recovery certainly don't need the added stress of worrying over the thousands of dollars in medical bills that may be piling up.
At-fault drivers and their car insurance providers need to be held accountable for every cost of recovery and rehabilitation. That accountability must often be demanded by the victim by filing a claim for damages. A claim for damages can ask an insurance company for help with hospital bills and ambulance fees. The civil claim can also request compensation for lost time at work and any potential medical care expected to be needed in the months to come.
Insurance companies won't bother informing victims of the recovery costs they could get stuck with down the road. Insurance agents will focus on getting victims to sign off on as small an accident settlement as possible. The amount may only cover a trip to an emergency room when, in fact, there are many expensive physical therapy sessions ahead.
Contact a Car Accident Lawyer Serving Spokane
It's important to talk to a car accident attorney before you speak with any insurance agents. Giving an insurance company a recorded statement can endanger your injury case and give agents an excuse to deny your claim. That's money you will need to pay for your physical and financial recovery after a collision.
Established in Spokane in 1948, Crary, Clark, Domanico, & Chuang, P.S. is committed to providing our clients with the absolute highest quality legal representation. If our Spokane Car Accident Lawyers represent you for your accident case, you have our assurance that we will work to secure all of the money available to you as a victim. Contact us after any accident resulting in a serious injury for a free, confidential consultation and case evaluation.