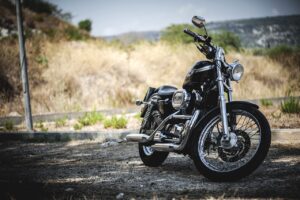 Motorcyclists are on constant alert for the careless motorists all around them. Unfortunately, that includes having to monitor cars entering the roadway from driveways and sideroads all along their routes.
A driver merging into traffic often gives a look of only a second or two in each direction before hitting the gas. In their haste, they can miss the smaller profile of approaching motorcyclists and end up in their path. A rider may not have the room to brake or swerve to avoid a devastating collision.
Motorcyclist Killed in Stevens County Accident
A man on a motorcycle was tragically killed in a collision with a car in Stevens County over the weekend.  The Spokesman-Review reports the accident occurred two miles west of Kettle Falls on Sunday Afternoon, October 16, 2022.
The Washington State Patrol responded to the scene sometime after 2 p.m. along Highway 395. Investigators say a 59-year-old rider from Colville on a Harley-Davidson was traveling southbound when a Subaru Outback backed out of a driveway in front of him. The motorcycle struck the rear of the Outback and crashed.
The rider was rushed to Providence Mount Carmel Hospital in Colville where he later died. There were three people in the Subaru. They were not injured.
The Washington State Patrol does not suspect that drugs or alcohol played a role in the accident. They continue to investigate the circumstances surrounding the collision.
Finding Help for Families After a Stevens County Motorcycle Accident
Relatives who are notified that a precious family member has been killed in a motorcycle accident will never get over their loss. They may also be provided little time to grieve before the costs of a tragic accident come due. The expense of a funeral will have to be paid in the coming weeks. Ambulance fees and remaining medical bills will also be arriving.
All of these hardships can fall to close relatives just as they lose the weekly income the deceased had always provided through his or her job. With this in mind, Washington law allows for families to file a wrongful death lawsuit against an at-fault driver's auto insurance policy. The insurance company would be asked to cover every financial burden the family faces now and those that will arise in the future.
Contact a Stevens County Motorcycle Accident Lawyer
If a tragic motorcycle accident claims a loved one's life, you should speak with an experienced Colville Motorcycle Accident Attorney at CCD Law before talking with any insurance representative. Insurance companies don't have to inform families of everything available to them after a tragic accident. They'll be looking to limit the support they must provide you and your family.
Contact us after any motorcycle accident resulting in a serious injury or the tragic loss of life for a free, confidential consultation and case evaluation. We will only offer you advice that is in your family's best interest.