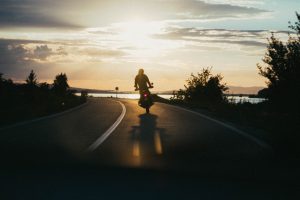 Motorcyclists rarely enjoy a full ride without having to correct for the mistakes drivers make. Experienced riders learn to anticipate the careless acts of motorists, but they can't always spot hazards ahead of time.
A driver not paying proper attention to spot nearby motorcycles can make a dangerous maneuver that places riders in sudden jeopardy. They may be left without time or room to steer clear. These negligent acts can have serious consequences and leave motorcyclists with severe injuries and long recoveries ahead.
Motorcyclist Seriously Injured in Clearwater County Collision
A two-vehicle crash left a motorcycle rider injured over the weekend in western Clearwater County. The Clearwater Tribune reported the accident took place along State Highway 7/Gilbert Grade on Sunday, August 22, 2021.
The Idaho State Police responded to the collision near milepost 38. They say a 22-year-old man from Ferdinand was traveling northbound in a Dodge pickup. He cut through a blind corner and passed into the opposite lanes to strike a motorcyclist.
The rider, a 67-year-old man from Lewiston, was first transported to Clearwater Valley Hospital and later transferred to Sacred Heart Medical Center in Spokane. Officers say the victim was wearing a helmet and protective riding gear. The truck's driver appears to have been uninjured.
Support for Motorcycle Accident Victims in Clearwater County
Even motorcyclists who travel with helmets and protective clothing enjoy little protection in collisions with much larger vehicles. Victims can suffer broken bones, brain trauma, and spinal cord injuries and be in need of major support to pay for a full recovery.
Victims and their families can file a claim for damages against a responsible driver's car insurer. This claim asks for assistance with all hospital bills and helps replace lost wages the victim suffers while forced to miss work. An injury claim can also seek compensation for the emotional difficulties victims may endure while unable to get back to riding and doing other things they love.
Contact a Northern Idaho Motorcycle Accident Lawyer
If you or a loved one has been the victim of a motorcycle accident contact an Idaho Motorcycle Accident Attorney serving Clearwater County. Insurance companies often try to blame motorcycle accident victims for their own collisions, but a personal injury lawyer fights to ensure the at-fault driver has to accept 100% of the blame for his or her mistake.
Established in Spokane in 1948, Crary, Clark, Domanico, & Chuang, P.S. is licensed and practices in both Washington and Idaho. Contact us for a free case consultation to find out how to protect yourself and your family members from the tactics insurance companies use. These strategies can prove to rob victims of the compensation they need to rebuild their lives.