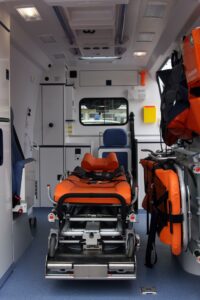 Rural highways through Kootenai County can be dangerous at night, especially when drivers can't count on other motorists to remain alert and safely in their own lanes. Motorists may not realize when their vehicles have crossed over yellow lines, leaving oncoming drivers with no time to avoid devastating head-on collisions.
Car accident victims can suffer serious injuries and in the worst cases, they can be left at risk of losing their lives.
Woman Killed and Another Injured After Crash on US 95 Near Coeur d'Alene
A head-on collision tragically claimed a woman's life along U.S. 95 in Kootenai County south of Coeur d'Alene early Tuesday morning. The DailyFly reports the accident happened around 1 a.m. near milepost 427 on September 13, 2022.
The Idaho State Police determined that a 77-year-old woman driving a Honda CR-V was traveling northbound when, for an unknown reason, she veered into oncoming traffic. The Honda collided with a GMC Yukon head-on.
The 77-year-old victim was taken to a local hospital and was later declared dead. The 56-year-old woman driving the GMC was also taken to the hospital with injuries.
The Idaho State Police continue to investigate the circumstances surrounding the accident.
Support for Victims and Their Families After a Coeur d'Alene Accident
Surviving victims and families who lose a loved one in a traffic accident often face extreme financial strain in the wake of a crash.
Victims should file injury claims against an at-fault driver's auto insurance provider. They should receive full support for all hospital bills and the lost income they endure while missing work. The emotional trauma and physical pain victims endure should also factor into the support they receive from an car insurance company.
For families who lose a loved one due to a careless driver's mistake, a wrongful death claim is intended to provide financial protection now and in the future. Close relatives of the victim can file this claim on behalf of the rest of the family. An Idaho car accident lawyer can also file this claim for the family and begin immediately investigating what happened so that an insurance company will have no excuse to deny providing fair support.
Families should receive help with funeral costs and leftover medical fees. They must also seek support for the guidance and love the deceased can no longer provide the family in the years ahead.
Contact a Car Accident Lawyer Serving Coeur d'Alene and Northern Idaho
Crary, Domanico, & Chuang, P.S. is licensed and practices in both Washington and Idaho. We are committed to providing our clients with the absolute highest quality legal representation.
If our Coeur d'Alene Car Accident Lawyers represent you and your family for an accident case, we won't let an insurance company avoid taking full responsibility for what you've all been through. Contact us after any serious accident for a free, confidential consultation and case evaluation.