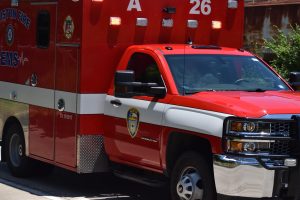 Highway 395 carries heavy traffic in and out of Spokane County and Stevens County each day. Fast-moving vehicles can be passing within feet of each other with only yellow lines to separate them. One mistake by a driver in any direction can affect everyone in other lanes.
A passing error or a veer into oncoming traffic can trigger a devastating chain-reaction accident and put multiple people at risk. Severe injuries can result as well as the possibility of the tragic loss of life.
Semi Truck and Three Cars Involved in Deadly Collision Outside Deer Park
A driver lost her life in a collision involving a large truck and three vehicles Monday evening outside of Deer Park. KXLY-TV reports the tragic accident occurred around 6:50 p.m. along Highway 395 two miles north of the city on November 8, 2021.
The Washington State Patrol says a 43-year-old woman from Spokane was driving a car that veered into the northbound lanes of the highway. Her vehicle struck the side of a semi-truck and then collided with two other cars.
The woman was killed in the crash. The driver of another vehicle was injured in the collision. Troopers are working to determine the circumstances surrounding the accident.
Finding Help for Victims and Family Members After a Deer Park Accident
For surviving victims in a terrible accident, physical recovery can be followed by the need for financial help to pay the bills coming out of that recovery. Victims can face the costs of surgeries, rehabilitation, and emergency response while they are still trying to heal.
They may seek support by filing a claim for damages against the insurance company representing the at-fault driver. This claim could provide money to pay off hospital and doctor's bills as well as replace lost wages while the victim has been out of work.
For families who have lost a loved one, a wrongful death claim filed against the responsible driver's insurance provider could be the only way to recover money to support close relatives. A spouse or domestic partner, or children or parents of the victim may get hit with the costs of a funeral, emergency response, and face extreme financial hardships. A wrongful death claim can ask for assistance with these expenses and other losses, like the wages the deceased can no longer provide through his or her job.
Contact a Car Accident Lawyer Serving Deer Park
Established in Spokane in 1948, Crary, Clark, Domanico, & Chuang, P.S. has a long history of protecting victims and their families after tragic accidents.  If our Deer Park Car Accident Attorneys represent you and your family for your accident case, we will make sure that insurance companies can't ignore the hardships you've been forced to endure. Contact us for a free and confidential consultation. We will only offer you advice that is in your best interest.