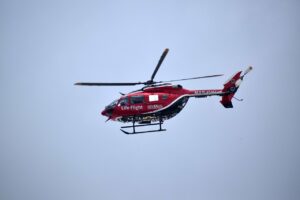 Travel on I-90 through the mountains of Idaho can be challenging enough for any driver. When the careless acts of other motorists are factored in, travel only gets more dangerous.
A small mistake made at interstate speeds that also involve the curves and inclines of mountain passes can cause devastating accidents. Victims can suffer serious and life-threatening injuries and, in the mountains, medical care can take longer to arrive. These extreme factors and others make it critical that all drivers pay attention to the lanes and avoid behavior that can send their vehicles out of control.
I-90 Fiery Head-On Collision in Shoshone County Claims One Life
A two-vehicle collision tragically claimed one life and sent two victims to the hospital Thursday afternoon in Shoshone County, Idaho. KXLY-TV reports the accident occurred along I-90 between exits 62 and 65, east of Wallace on August 4, 2022.
The Idaho State Police responded to the scene in the eastbound lanes along a construction zone. They determined that the driver of a Toyota van collided head-on with a pickup truck pulling an empty trailer. The impact left both vehicles involved in flames and started a fire along the roadside.
The driver of the van, a 72-year-old man from North Dakota, was killed in the crash. A 69-year-old woman in the van was transported to a local hospital by helicopter. The driver of the pickup was also rushed to a local hospital with injuries.
Idaho State Police investigators continue to work to determine the circumstances surrounding the devastating collision.
Finding Support for Victims and Families After an I-90 Accident in Idaho
After a frightening collision on an Idaho roadway, victims can face a long injury recovery and families can be left to mourn the loss of a loved one.
For close relatives who have lost a precious family member, a wrongful death lawsuit is an option that asks the insurance company for an at-fault driver for support. This civil lawsuit seeks money for emergency response fees and reimbursement for the costs of a funeral and burial. Assistance could also be obtained to stabilize the family in the years to come as they must continue on without the guidance and financial support a loved one had always provided.
For surviving accident victims, the costs of medical care can be overwhelming. Victims are permitted to seek compensation from an at-fault driver's insurance provider. This civil claim for damages asks for support for every hospital bill and rehabilitation cost built up while the victim attempts to heal and return to normal life.
Contact a Car Accident Lawyer Serving Northern Idaho
Crary, Domanico, & Chuang, P.S. is licensed and practices in both Washington State and Idaho. We are committed to providing our clients with the absolute highest quality legal representation.
If our Idaho Car Accident Lawyers represent you and your family for an accident case, we won't let an insurance company try to avoid taking full responsibility for what you've all been through. Contact us after any serious accident for a free, confidential consultation and case evaluation.