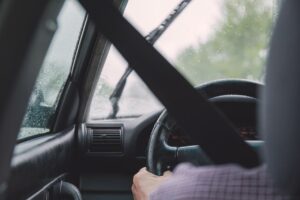 For a small city, Coeur d'Alene traffic moves at a brisk pace at any hour. Cars, SUVs, and Trucks are often traveling at elevated speeds and drivers sometimes pay more attention to their cellphones than the road ahead.
Powerful collisions can occur and leave one or more vehicles sitting on their sides or roofs. A rollover accident subjects drivers and passengers to intense impact forces. Victims may absorb blows from a steering wheel, windows, seats, and other passengers. They may even strike the roof to suffer a serious injury.
Two-Vehicle Crash in Coeur d'Alene Sends Two Victims to the Hospital
Two people were sent to the hospital after a crash involving an overturned car Tuesday afternoon in Coeur d'Alene. The Coeur d'Alene Press reports the accident occurred around 2:30 p.m. on Northwest Boulevard near Hubbard Avenue on July 26, 2022.
Coeur d'Alene Police say a car was turning out of the Hubbard Plaza to head southbound when it struck another vehicle traveling north. The first vehicle then hit the curb and overturned.
Two people were transported to Kootenai Health with injuries. Coeur d'Alene police continue to investigate the circumstances leading up to the crash.
Finding Assistance for Coeur d'Alene Accident Victims
Car Accident victims often don't know the extent of their injuries until hours or days after their crash. X-rays and exams may not reveal hairline fractures and other bodily damage right away. Some victims may also be in shock right after a collision, and that shock can mask the pain of an injury until the victim wakes up the next morning.
It's critical that car accident victims don't accept an insurance settlement until they know for sure how badly they are hurt and how long recovery may take. They should seek full compensation for all current medical bills and the costs of care expected to be necessary in the future. They should also demand reimbursement for the income they lose while left unable to work.
A personal injury lawyer makes sure these concerns and others are addressed in any settlement. A lawyer also seeks additional financial support for the physical pain and the emotional trauma an accident victim suffers.
Contact a Coeur d'Alene Car Accident Lawyer
Crary, Domanico, & Chuang, P.S. is licensed and practices in both Washington and Idaho. We are committed to providing our clients in both states with the absolute highest quality legal representation.
If our Coeur d'Alene Car Accident Lawyers represent you and your family for an accident case, we won't let an insurance company avoid taking full responsibility for what you've all been through. Contact us after any serious accident for a free, confidential consultation and case evaluation.