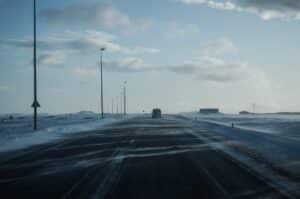 Travel on the rural highways of Stevens County can get treacherous. This is especially true when conditions get snowy and icy and yet some drivers choose not to slow down.
A driver may lose control on slick roads, but mother nature isn't usually blamed when the fault in a traffic accident is determined. Drivers who send others into crashes are still responsible for the injuries they cause.
All Washington drivers are expected to drive at speeds that are safe for conditions. This means slowing down when roads are covered in ice or slush. When they don't maintain speeds that prevent a dangerous loss of control, at-fault drivers can face liability and their insurance companies can be called upon to provide help to injured victims.
Devastating Accident Kills One and Injures Two Victims North of Spokane
A tragic head-on collision cost one driver his life and injured two others in Stevens County Tuesday morning. KHQ-TV reports the accident occurred along US-395 just south of the Jump Off Road intersection on November 8, 2022.
The Washington State Patrol responded to the scene sometime after 10 a.m. They noted icy conditions at the time. Officers discovered that the driver of a southbound Chevy Silverado lost control in a curve and crossed the center line. The truck struck a 2020 Nissan head-on.
The two occupants of the Chevy pick-up were ejected from the vehicle. The driver of the truck, a 52-year-old man from Poulsbo, was declared dead on the scene. A 46-year-old woman in the truck suffered severe injuries and was flown to the hospital.
The driver of the Nissan, a 63-year-old man, also suffered serious injuries and was rushed to the hospital. WSP investigators continue to examine the circumstances surrounding the accident. They don't believe alcohol played a role in what happened.
Finding Help for Injured Drivers and Passengers After a Stevens County Collision
The injuries suffered in car accidents in rural Stevens County can be severe. Victims in need of urgent medical attention can wait longer simply because of the distances emergency crews must travel. Victims can end up with traumatic injuries and even be at risk of losing their lives.
Victims can get help in recovery by filing injury claims against an at-fault driver's auto insurance provider. Injured drivers and passengers should receive assistance with all hospital bills and the paychecks they forfeit while missing work. The emotional trauma and physical pain victims endure should also factor into the amount seen on an insurance settlement check.
For families who lose a loved one due to a careless driver's mistake, a wrongful death claim is appropriate to protect the financial future of close relatives. A spouse, children of the victim, and other relatives can file this claim on behalf of the rest of the family. A Stevens County car accident lawyer can also file this claim for the family and begin immediately investigating what happened so that an insurance company will have no excuse to deny providing fair support.
Contact a Car Accident Lawyer Serving Spokane and Stevens County
Crary, Domanico, & Chuang, P.S. protects victims and their families in eastern Washington. We are committed to providing our clients with the absolute highest quality legal representation.
If our Stevens County Car Accident Lawyers represent you and your family for an accident case, we won't let an insurance company avoid taking full responsibility for what you've all been through. Contact us after any serious accident for a free, confidential consultation and case evaluation.