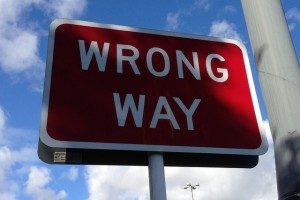 If you or a loved one is injured in Kootenai County or Northern Idaho, contact us today for a free and confidential consultation. We are experienced Idaho car accident lawyers with a long history of verdicts and settlements.
Wrong way driving accidents
The speed limit on I-90 is 70MPH near Coeur d'Alene, Idaho. Any Wrong Way vehicle accident here will almost definitely result in severe injuries or death. That's what almost happened on Saturday, August 19, 2017, but thankfully Idaho State Police were able to stop the driver before a collision occurred. The driver was arrested and charged with DUI and he told police that he was "too drunk to be driving".
In 2015 a horrible accident took place on US 95; a man with his 2 young daughters was killed in a head on collision. He was in a minivan and the wrong way driver was in a Chevy Silverado truck. In this tragic accident, the wrong way driver was charged with 3 counts of vehicular manslaughter, as ISP believed that alcohol was involved.
Do you need an attorney?
As seen above, alcohol is usually why people enter off ramps, however, other reasons for wrong way drivers could include inadequate signage or confused out of town drivers.
Regardless of why the accident occurred, contact us right away after any accident yourself or a loved one is involved in for free advice.