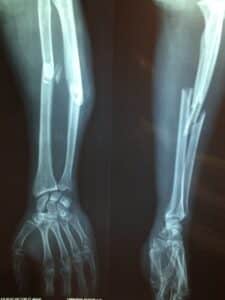 Washington is a place where residents feel they can work, go to school, and raise their families in relative safety. Unfortunately, there are personal injury risks no matter where you live in the U.S.
A drunk driver on I-90 can place you and your family at risk of an injury in a frightening crash. Your employer may subject you to a hazardous workplace. A product you purchase at a local store might malfunction and put you in grave danger.
Fortunately, victims of these careless acts are permitted to seek help from at-fault parties who put them in jeopardy. Personal injury claims are filed each day across our state and each week victims earn the compensation they need to rebuild their lives.
Top Recent Personal Injury Verdicts in Washington
CCD Law of Spokane examined case data from VerdictSearch.com to determine some of the biggest awards extended to personal injury victims over the past five years.
While the amounts of these settlements and verdicts aren't typical, they do serve to show the support that victims can throw away when they allow someone to escape taking responsibility for an accident.
These are a few of the biggest Washington State personal injury awards that have made headlines in recent years:
·        PCB Exposure for Teachers at Monroe, Washington Middle School – Verdict: $185,150,000
Three teachers sued Monsanto, the local school district, and others over their exposure to environmental hazards at Sky Valley Education Center in Monroe, Washington. The plaintiffs showed that PCBs were present in fluorescent light fixtures. The teachers maintained that the exposure caused brain damage. Lawyers for the plaintiffs said Monsanto was liable under product liability laws citing failure to warn and manufacturing defects. In July of 2021, a King County Superior Court jury awarded each teacher up to $18 million dollars and assessed $45 million in punitive damages for each plaintiff. Harmful substances at the school, detected in 2014 testing, have been linked to cancers, cognitive issues, problems with sexual development, and other health issues. This is one of the many lawsuits filed by teachers, parents, and students at the school.
·        Construction Crane Collapse in Seattle Kills Four – Verdict: $150,300,000
In April of 2019, two people in cars were killed when a 300-foot construction crane on an office building fell onto Seattle's Merced Street. Two construction workers were also killed. Two victims suffered injuries. Surviving victims and the families of the deceased sued the crane companies involved for wrongful death. The companies were found negligent after it was shown that crews took apart structural pins prematurely while the crane was being disassembled. The verdict was handed down by a King County Superior Court Jury in March of 2022.
·        Dozens of Victims in a Crash Involving Two Tour Vehicles – Verdict: $121,818,800
In September 2015, a Duck Boat (car/boat amphibious craft) crossed the center line on Seattle's Aurora Bridge to strike a tour bus. Five college students were killed and 60 other people were injured. Investigators determined that a snapped front axle on the Duck Boat sent the vehicle out of control. In February 2019, a jury in King County Superior Court found Ride the Ducks International and Ride the Ducks Seattle responsible for improper manufacturing of the axel and improper maintenance. The jury dismissed liability for the city and the State of Washington.
·        Customer Injured in Assault at Union 76 Service Station in Tacoma – Verdict: $91,000,000
In November 2015, 31-year-old William Tisdale was beaten with a bat outside a Union 76 gas station in Tacoma. The assailant had just tried to rob the store and the clerk had asked Tisdale to call 911. The beating left Tisdale with a skull fracture and Traumatic Brain Injuries that caused seizures, epilepsy, memory loss, and other extreme side effects. In June 2021, a Pierce County Superior Court agreed that the parent companies for the gas station were responsible under premise liability that included "failure to warn," "negligent training," and "inadequate security." At the time, the $91 million award was the largest single plaintiff personal injury verdict in Washington history.
·        Boom Lift Accident Injures Man in Texas, King County Company Sued – Verdict: $19,190,027
In December 2016, a man in Hardin County, Texas was trimming trees at his home when the kill switch on the boom he was using was activated by a falling limb. The boom stopped working and the victim fell 25 feet to the ground trying to get down. Lawyers for the plaintiff say his injured legs required several surgeries and may have to be amputated in the future. The Boom's manufacturer, Genie Industries, a company based in King County, was sued for product liability involving design defects for the unshielded boom switch. Lawyers also claimed liability over the company's "failure to warn" customers and for a "marketing defect." In October 2018, a King County Superior Court Jury awarded the victim $19 million. The jury also found the victim partially responsible for the accident so the actual award the man took home was reduced.
Finding Support for Washington Personal Injury Victims
If you or a loved one has been the victim of someone else's negligence in Spokane or anywhere in Eastern Washington please speak with a lawyer with Crary, Chuang & Domanico, P.S.
We offer a free, no-obligation case consultation to all personal injury victims. It's a no-risk option for determining how much your case is worth and how to avoid the insurance tactics meant to reduce the settlement you and your family receive. Contact CCD Law to schedule a free case review today.