Motorcyclists in Spokane continue to face plenty of risks on local roads. Drivers on I-90 or on Division can make lane changes and turns without looking in every direction to identify riders nearby. These lapses in attention cause serious motorcycle accidents every month of every year in Spokane County.
Drivers may be convinced to take more care around motorcyclists if they knew exactly how many riders suffer serious and life-threatening injuries each year. The Law Offices of Crary, Clark, Domanico, & Chuang, P.S., commissioned a study in 2023 to examine the most recent Spokane motorcycle accident statistics to gain some attention for the problem. It's hoped that a revealing look at a troubling rise in serious motorcycle collisions will encourage local drivers to take more care around other motorists and especially vulnerable riders.
Spokane Motorcycle Collisions and Fatalities Over a Five-Year Span
A look at motorcycle accident statistics collected by the Washington State Department of Transportation (WSDOT) shows that accident numbers have increased from pre-pandemic levels.
In 2022, there were 78 motorcycle collisions documented across Spokane. That number was down just slightly from the 5-year high reached in 2021. In 2021 Spokane saw at least 86 motorcycle accidents.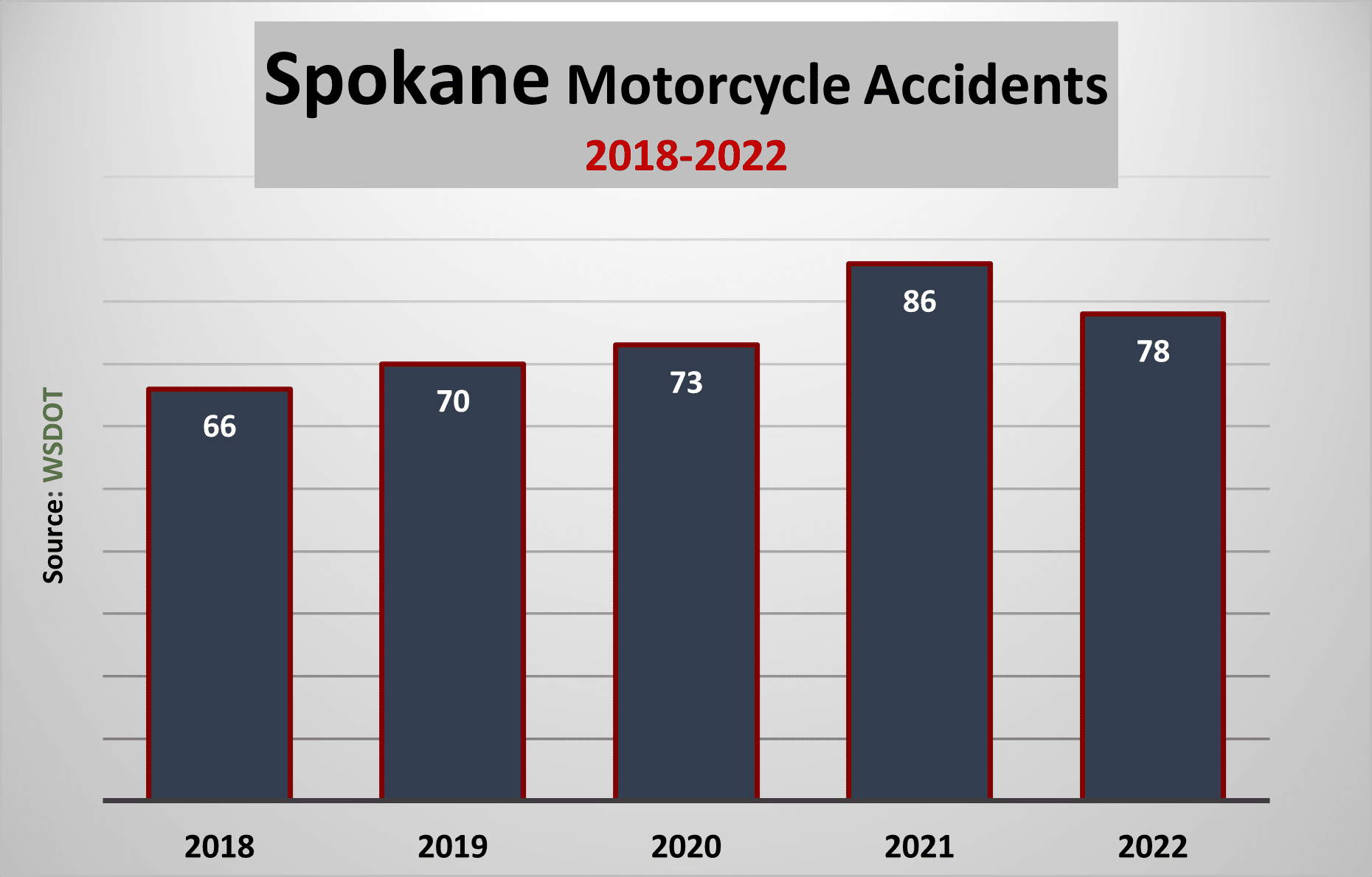 Even more alarming, the number of motorcycle accidents involving serious injuries has taken a dramatic leap in the past few years. Fatalities also remain high for riders involved in those crashes. Many of these tragic cases are the fault of drivers who put motorcyclists in dangerous spots with their careless and distracted driving.
In 2022, 21 motorcycle accidents in Spokane resulted in what were believed to be serious injuries for riders. Five of those accidents ended in a tragic fatality.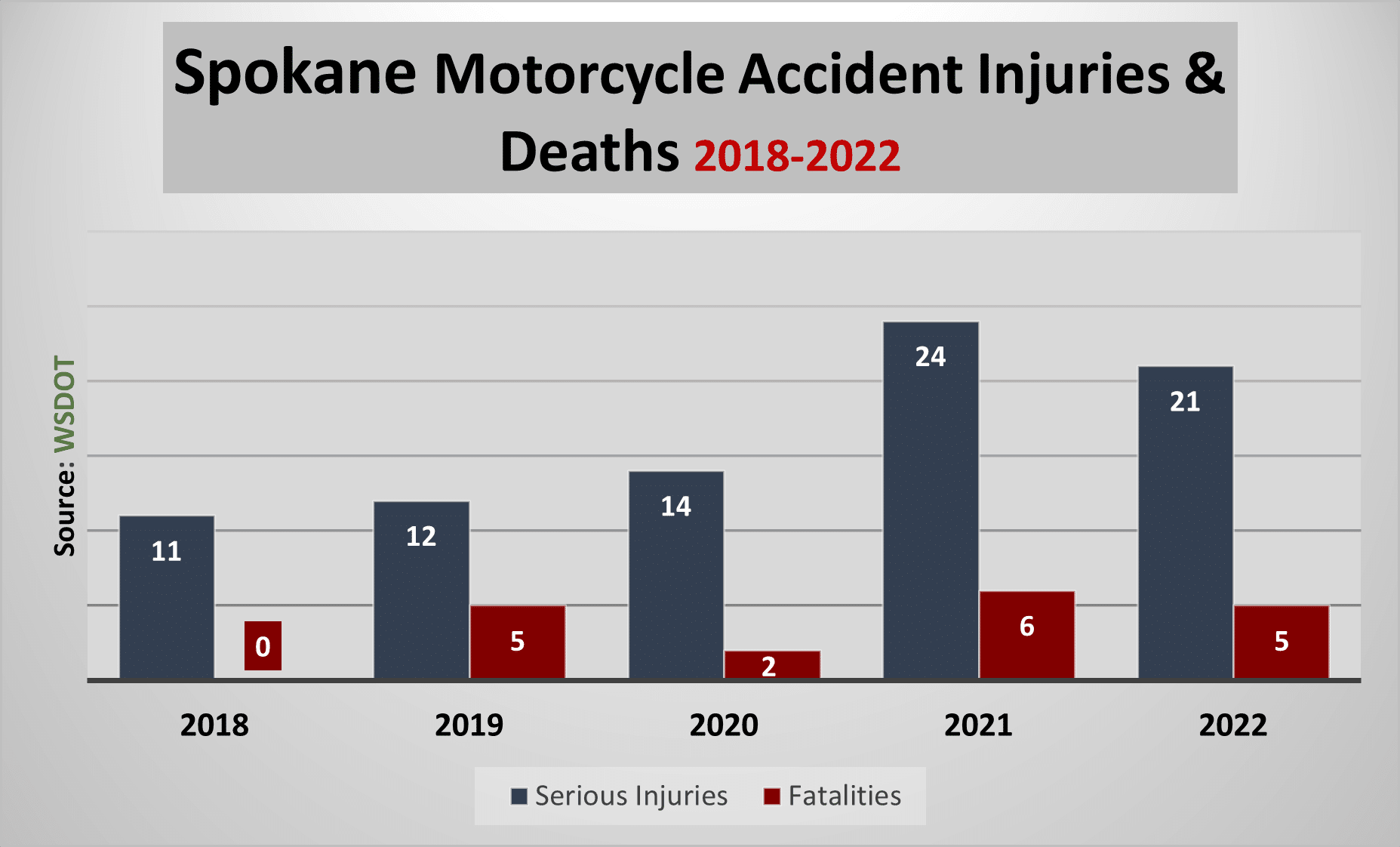 Spokane County Motorcycle Accidents
The motorcycle accident numbers across all of Spokane County don't give any further encouragement that drivers are choosing to be more careful around motorcyclists.
Motorcyclists wanting to get out of the city often ride through places like Cheney, Spangle, and Airway Heights. They may make a run up to Deer Park or out towards State Line and beyond. Unfortunately, the figures show that motorcycle accidents in Spokane and Spokane County have for the most part risen every year over the past half-decade.
In 2022, emergency responders were called to at least 161 Spokane County motorcycle crashes. That was up slightly from 2021's already elevated figure of 159 collisions.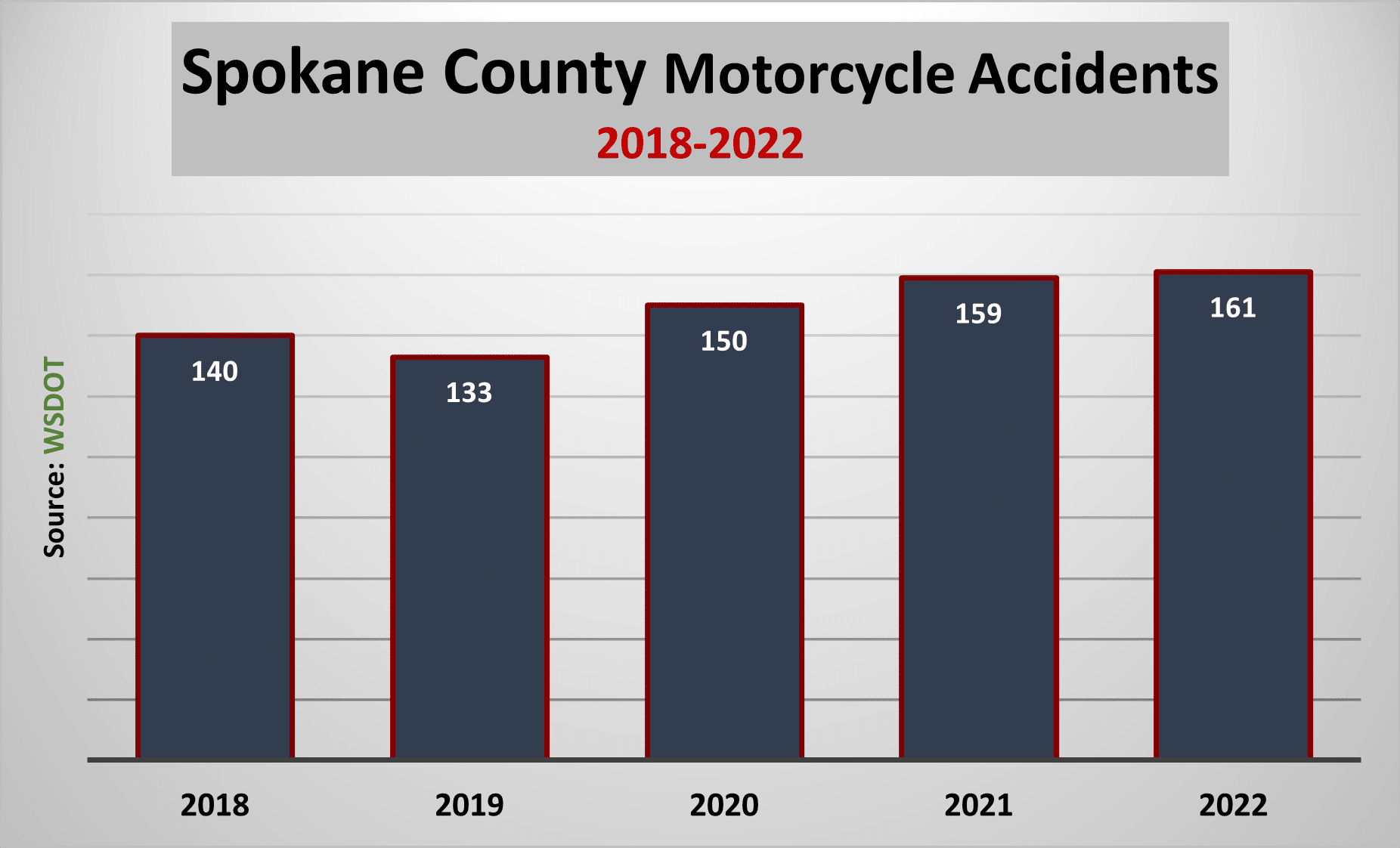 Shockingly, the jump in motorcycle accidents involving serious injury was even harder to miss. Figures for major motorcycle accidents in 2021 and 2022 were almost double the rates seen before the pandemic. The same was true of fatal incidents recorded in both years. At least 28 riders tragically lost their lives in accidents occurring in 2021 and 2022 while traveling in Spokane County.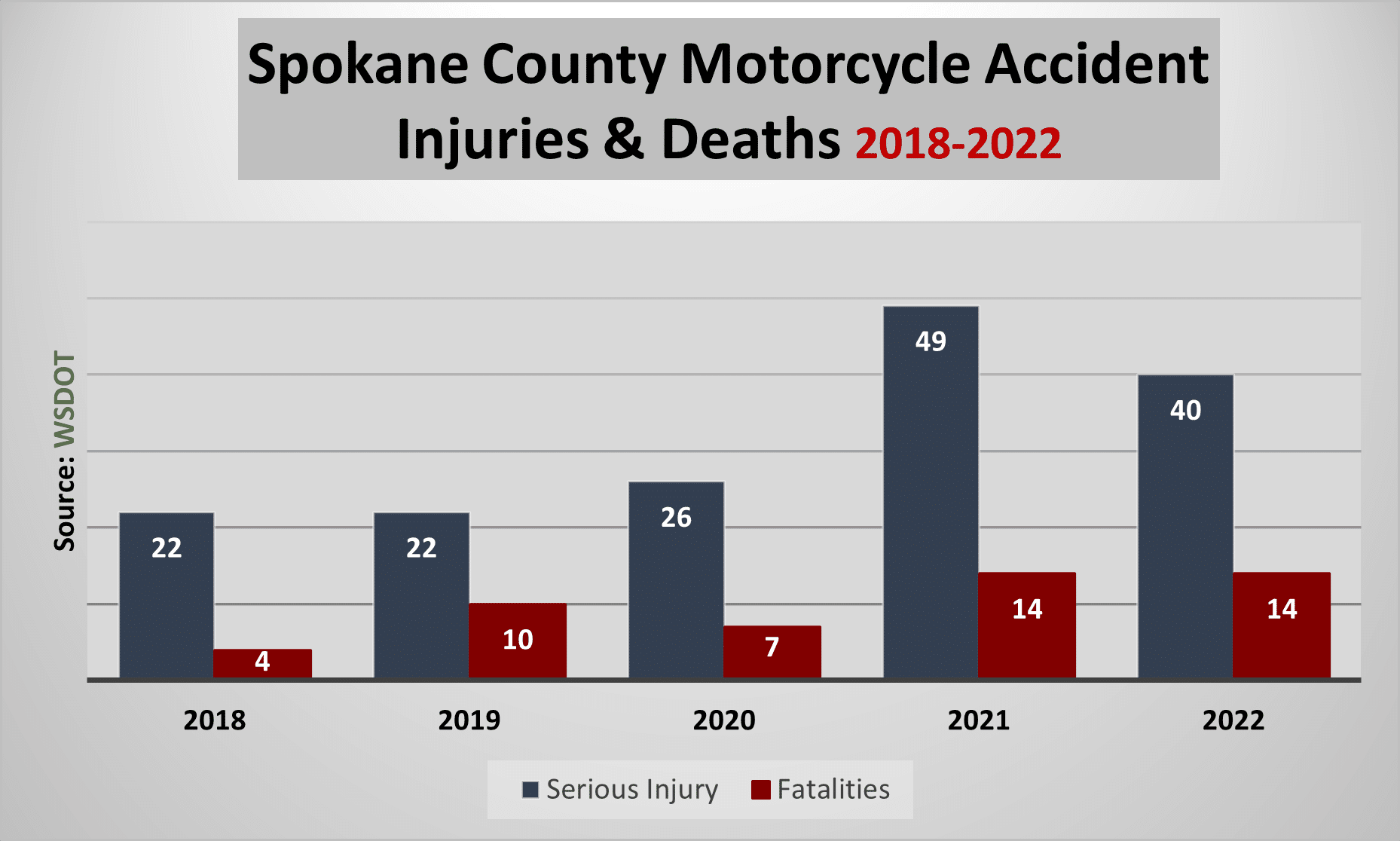 When and Where Fatal Spokane Motorcycle Accidents Occur
As you would imagine, most motorcycle accidents in Spokane County occur when the weather is nicer. More riders are out on local streets and highways during the summer and fall.
The Washington Traffic Safety Commission's accident dashboard provides a visualization of tragic motorcycle collisions in each month of the year in Spokane.
In Spokane and Spokane County, August has been the worst month for fatal motorcycle accidents over the past 10 years. Since 2013, at least 16 riders have been killed in crashes in August. According to the Traffic Safety Commission, in the coldest months, there have been zero or very few deadly motorcycle accidents documented in Spokane County over that span.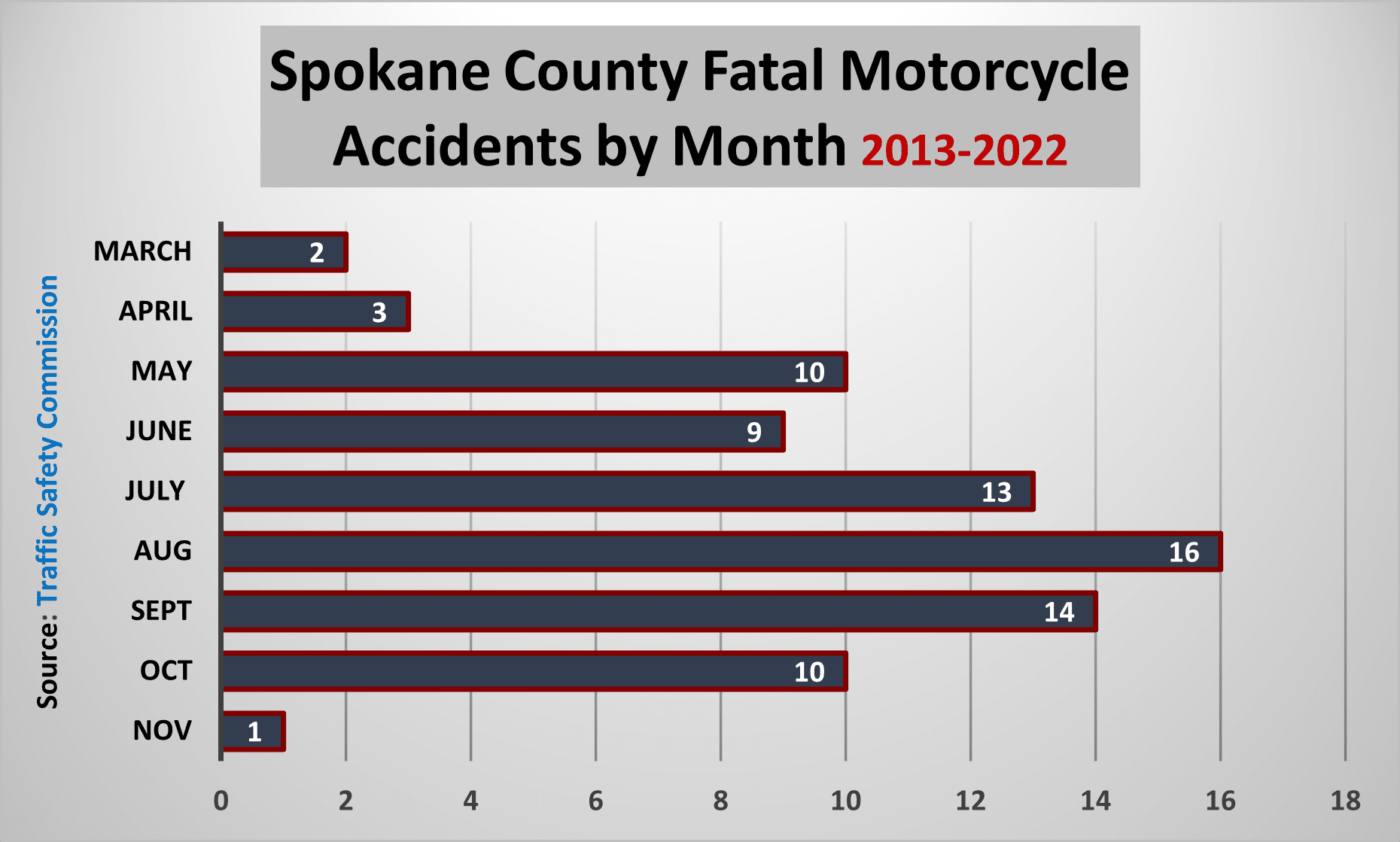 The Commission's data shows that most deadly motorcycle accidents in Spokane and Spokane County have occurred on city streets. Riders were sent into these tragic collisions on city roads at least 39 times over the past decade. Eight of those fatal city street collisions were recorded in 2022. According to the Commission's findings, only four fatal motorcycle accidents occurred on I-90 since 2013.
Below is a look at the locations of deadly motorcycle crashes in Spokane County over the past ten years: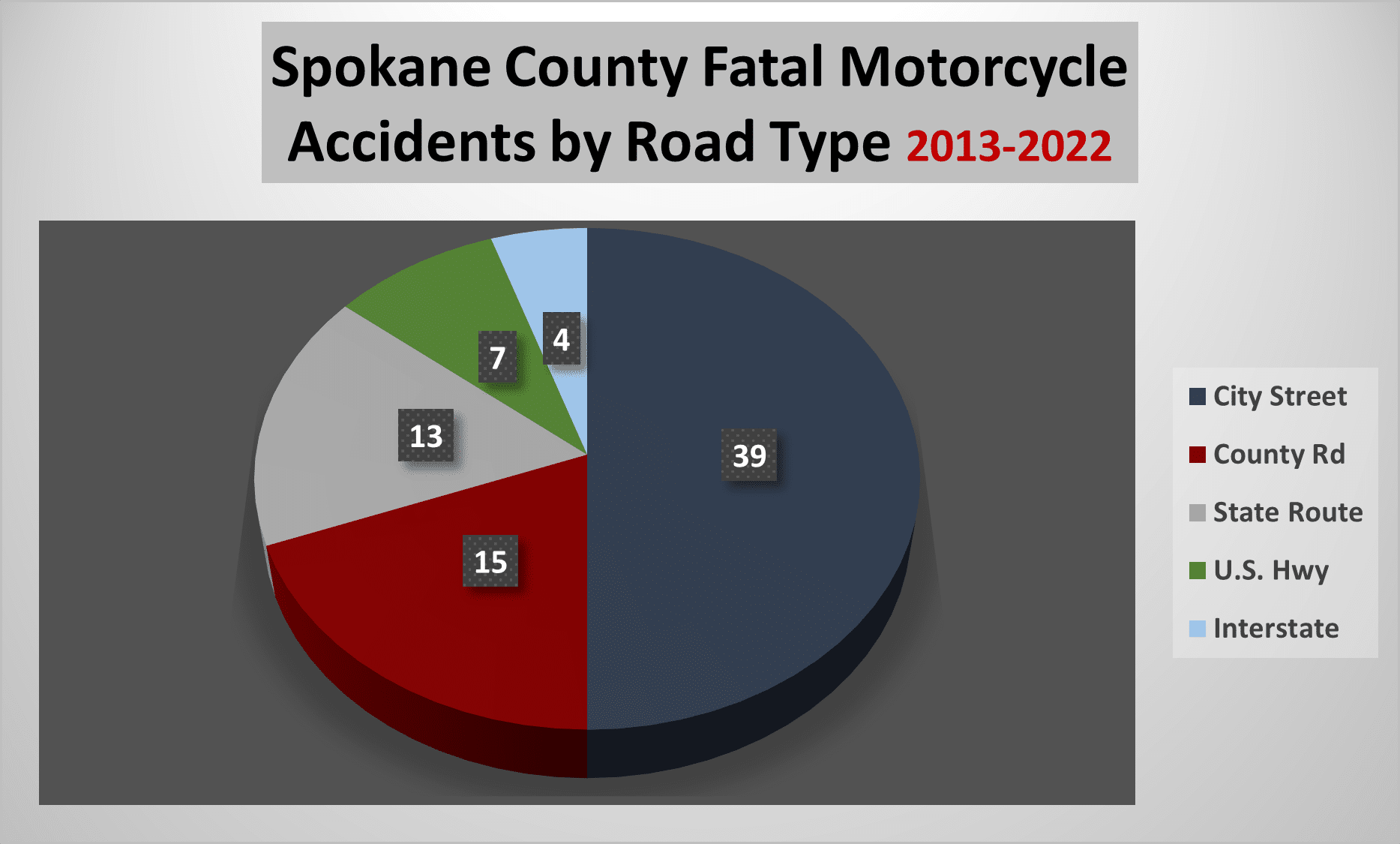 Contact a Spokane Motorcycle Accident Lawyer Serving Local Victims
Many motorcyclists manage to steer clear of the dangerous moves that Spokane drivers make each day. But if are ever seriously injured by a driver's mistake, it's a smart idea to speak to a skilled Spokane Motorcycle Accident Lawyer about your case. Car insurance companies like to blame riders for every accident, no matter what a Spokane Police accident report says. Make sure you have strong legal representation safeguarding your case while you heal.
CCD Law offers a free consultation to victims and their family members after any accident in Spokane, Eastern Washington, and Northern Idaho. It's a confidential way to learn what an injury may be worth. If you feel we can help you earn more for your injury, you won't need to have any money on hand to hire us. We don't get paid unless we win your case for you and then our fee comes out of the settlement money you are awarded.