If you drive around Spokane for very long, you'll start to notice where traffic gets tight and motorists get impatient. Our city's usual trouble spots are some of the most dangerous intersections and stretches of road in the entire state. They can put drivers, passengers, pedestrians, motorcyclists, and cyclists at risk at any moment, and that definitely held true in 2020. It was a unique year and especially when considering traffic levels. Streets went empty for long periods as quarantines set in. Now that the traffic statistics have been collected for 2020, it's apparent that while fewer people were driving overall, 2020 proved to be dangerous for travelers. We gathered data on the last few years to compare some of the most important and troublesome findings.
Car Accidents in Spokane Across 2020
Spokane and surrounding communities see thousands of traffic accidents a year, and not just at busy city intersections. Each week dangerous collisions occur along rural highways and in residential neighborhoods. Data taken from The Washington State Department of Transportation (WSDOT) and the Washington Traffic Safety Commission (WTSC) shows that overall accident rates fell considerably in 2020 when compared to 2019. This is due in large part to the multiple weeks when people parked their cars and quarantined at home. There were spring days when interstates and highways sat almost empty. Sadly, collision rates began to rebound as soon as drivers felt comfortable leaving their houses again. Overall, Spokane saw traffic collisions drop by around 700 incidents in 2020. Spokane County, including Spokane Valley, Liberty Lake, Airway Heights, and Cheney saw an over 1,100 case decrease from 2019 to 2020.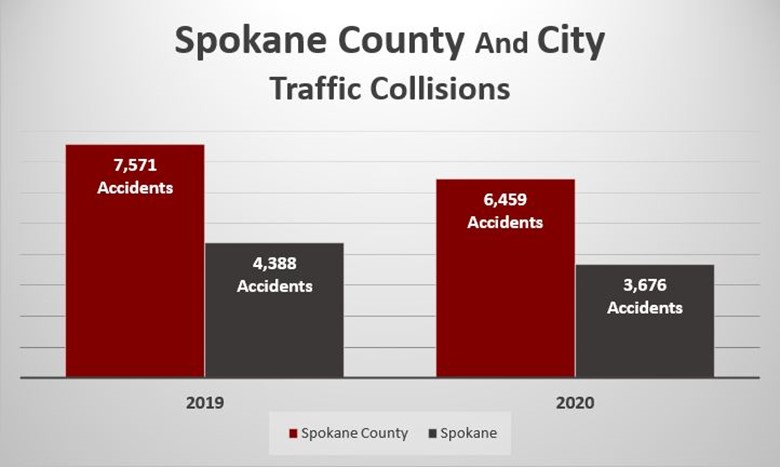 Pulling out Spokane Valley 2020 collisions numbers, the city recorded 1,155 collisions. Eight of those accidents involved a fatality and 26 incidents resulted in a serious injury. Those numbers for Spokane Valley were mostly down from 2019. The Valley saw 1,350 traffic accidents resulting in five accidents involving fatalities.
Fatal Accidents Across Spokane County on the Rise in 2020
While it's clear to see collisions and traffic levels overall were down in 2020, somehow tragedies on our roads and highways managed to hit new heights. Emergency crews responded to fewer accidents, but the collisions that did occur often caused much more severe injuries. The spike stands out when looking at five years worth of accidents data from Spokane County and City figures. 2020 surpassed the fatal accidents of any year in recent times and even doubled the tragic incidents recorded in 2016 and 2018.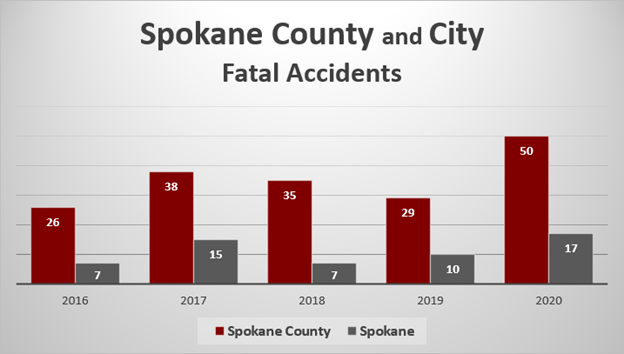 This upward trend in catastrophic accidents was not unique to Spokane. Many metropolitan areas saw evaporating traffic during 2020 and still ended up with elevated numbers of fatal accidents by year's end. Some law enforcement officers provide a theory on the strange paradox. Traffic officials found that while there were fewer cars, trucks, SUVs traveling about, the drivers who did venture out were often much more reckless. Perhaps it was the lack of other motorists that either encouraged them to hit unsafe speeds or left them unaware of how fast they were traveling until it was too late.
Motorcycle Accidents In Spokane in 2020
Motorcyclists continued to face hazards while traveling on Spokane streets in 2020. The accident rates in Spokane remained fairly steady despite a year of decreased traffic on the roads. According to the accident reports compiled by WSDOT, there were 73 accidents involving motorcyclists for the year. There were two fatal collisions involving motorcycles and at least 14 injuries that were expected to have serious consequences. 2019 saw slightly fewer motorcycle accidents but slightly higher fatality rates.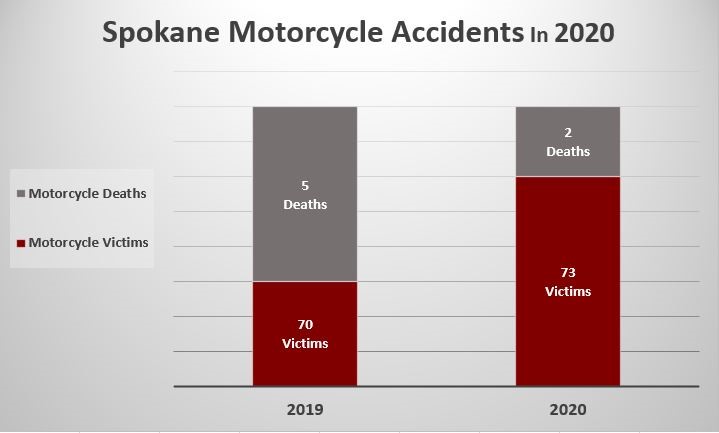 Pedestrian Accidents in Spokane in 2020
Pedestrian traffic dangers show a similar trajectory in 2020. More people were stuck at home and sought escape by getting out and walking, running, or biking. While there were fewer vehicles on the road to endanger those on foot and on bikes, there seemed to be more severe consequences when accidents did occur.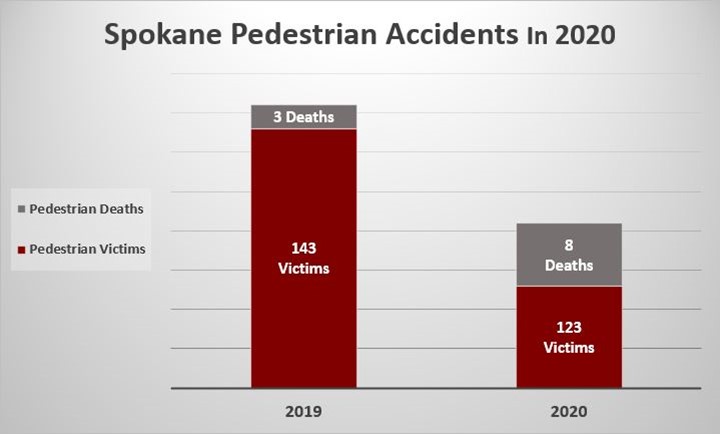 In 2020, eight people tragically lost their lives in pedestrian accidents, up from three fatal incidents the year before. 2020 pedestrian accident cases left 27 people with suspected serious injuries, while 2019 saw 20 serious injuries. Bicyclists in Spokane faced similar dangers when they got out on local streets in 2020. There was a considerable drop in accidents reported, but the number of victims who suffered major injuries stayed nearly the same. According to the Department of Transportation, no bicycle fatalities were reported in either 2019 or 2020. In 2018, officials recorded 74 cycling accidents and one tragic death.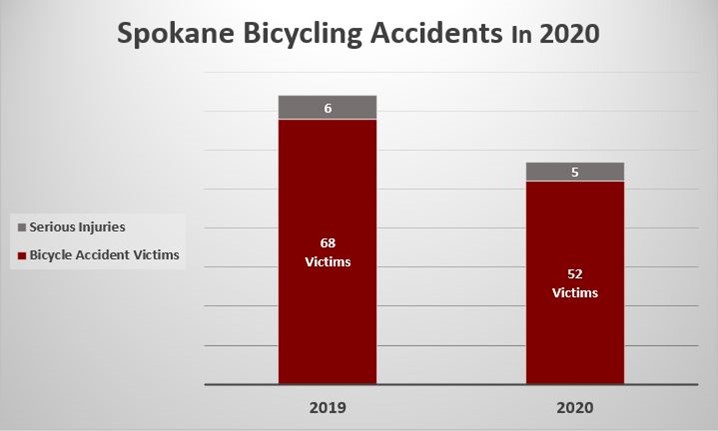 Alcohol-Related Accidents in Spokane in 2020
Despite 2020's reminder of the fragility of life, people still chose to behave recklessly and endanger their lives and others by driving drunk. Collisions caused by drunk drivers saw a similar dip in incidents as with other traffic statistics, yet also shared a rise in the severity of injuries for victims. The alcohol-related accidents in 2020 fell by over 100 cases from 2019 incidents and yet the serious injuries resulting from 2020's cases rose.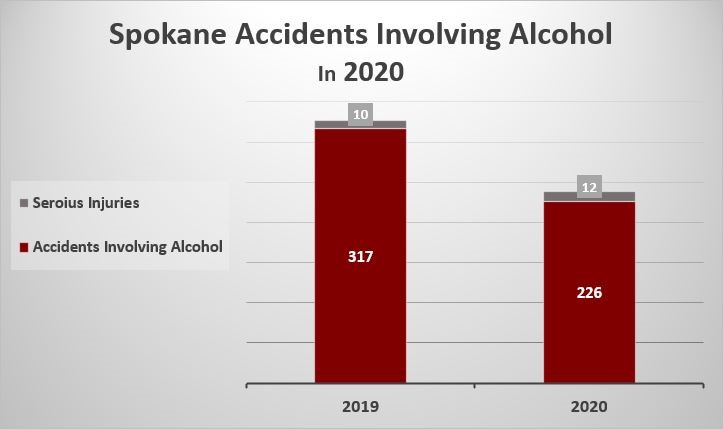 Drunk driving accidents tragically claimed one life in 2020 and two lives in 2019.
Dangerous Routes And Intersections In Spokane
Long-time local drivers know that Sprague Avenue, spanning most of the city east to west, is a busy corridor at almost any hour. Most intersections along Sprague, especially those crossroads in Spokane Valley, end up busy and congested and prove dangerous for motorists. Where Sprague meets Sullivan Road usually sees collisions reaching double digits each year. The same dangerous conditions can be found where Sprague and University meet. In Spokane, the intersection at Division Street and Cascade Way sees heavy traffic and many accident calls. Of course, the biggest thoroughfare in Spokane, Interstate 90, seems to merge the worst drivers in Spokane with bad drivers from across the Pacific Northwest. An accident across interstate lanes can easily involve multiple cars and multiple injury victims.
Dangerous Drivers in Spokane
Road design and usage feeds into the dangerous conditions locally, but a recent study called out Spokane drivers as some of the most reckless in the nation. Insurify placed Lilac City in their top-twenty list of cities with the worst drivers for 2021. The study counted up the past driving offenses motorists in each city carried on their driving records. Researchers noted that Spokane had 26% of drivers reporting a prior traffic incident. In contrast, the national average for drivers with priors sits at 19%. 12% of Spokane drivers had an at-fault accident on record. 15% of local motorists had speeding tickets on their records. In comparison,  Boise, Idaho ranked 10th on the list of bad drivers, and Beaverton, Oregon ranked 6th. In an interesting turn, these three cities and Fort Collins, Colorado are the only West Coast cities to make Insurify's list.
Finding Support After a Spokane Car Accident
With 2020 behind us, it's a great time for drivers to recommit themselves to roadway safety in an effort to protect themselves and their communities. We've seen that reducing traffic levels doesn't necessarily reduce the dangers on Spokane streets. The only way to reduce the hazards our drivers confront every day starts with some accountability behind the wheel. Motorists must pay attention to their surroundings for every moment of their trip. Even if that means putting down a cellphone for the entire journey. Drivers who travel too fast for conditions should also take a breath and consider how much danger those few extra miles per hour add to any collision. If a careless driver leaves you or a loved one injured after an accident, please talk with the car accident attorneys at CCD Law serving Spokane and the surrounding area. We offer a free consultation to victims and their families to inform everyone of the benefits available to them while they recover. Contact CCD Law today to discuss what happened to you and learn how to find help.