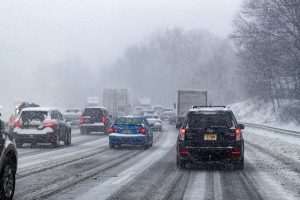 A blanket of fresh snow pairs well with Spokane's natural beauty, but if you're on Interstate 90 after a winter storm you might have a different opinion on all that frozen stuff.
There are a couple of things you count on when the weather gets bad. Cautious drivers will get more cautious and many careless drivers will get even more reckless. Traffic slows down but there are always those drivers who seem to double the speeds of everyone else on the roads. They choose to throw caution into to wind and put themselves and other motorists in more danger.
Snow and Ice-Related Accidents In Spokane
When winter drops ice and snow on our roads, the same spots seem to be the problem areas every season. These locations are the worst areas for motorists trying to make it to work or back home safely, but they can also become magnets for mistakes by careless drivers who show no caution when traveling these busy Spokane routes.
A record snowfall blanketed Spokane with seven to eight inches on December 30 and 31, 2020. The storm left parts of Coeur d'Alene and Idaho with over a foot.  KREM2-TV covered the road hazards that followed.
Cars began sliding off road surfaces from the start. A crash involving multiple cars on I-90 at Evergreen Road shut down lanes in Spokane. The Washington State Patrol (WSP) said they'd responded to over 60 accidents across Spokane County by Wednesday night.
I-90 lanes were closed in Idaho at Mica Grade and near Rose Lake due to accidents. And further west, I-90 had been closed in the Snoqualmie Pass area.
WSP officials said that the biggest problems were drivers traveling too fast for the slick conditions.
The Battle to Clear Snowy Roads in Spokane
When snowstorms hit, Spokane road crews have already been at work spreading mixtures to help melt the ice and get roads back to passable. When extreme amounts of snow falls quickly crews can be fighting a losing battle as they try to plow roads and spread more salt.
KREM2-TV reported Spokane County Public Works crews are responsible for over 5200 lane miles when it snows. They use different de-icing solutions for different regions of the city.
These efforts go on 24/7 when conditions are bad, but it can be a while before they may get to your neighborhood streets. In the meantime, you can take every precaution when you have to travel, but one careless driver traveling too fast can send you into a dangerous collision. That driver's recklessness in extreme conditions can leave you dealing with a severe, life-altering injury and wondering how to cover high hospital bills and missed time at work.
Contact A Spokane Winter Weather Accident Lawyer
If you or a loved one are seriously injured in an accident caused by a careless driver talk to a local attorney about your options. You didn't cause your accident and the extreme costs of recovery should never come out of your pocket. Just because there were snowy or icy conditions at the time of your accident doesn't excuse a driver who ignored the risks and drove in a dangerous manner.
Established in Spokane in 1948, Crary, Clark, Domanico, & Chuang, P.S. is committed to providing victims in the Spokane and Coeur d'Alene areas with the absolute highest quality legal representation.  Contact us after any accident resulting in a serious injury for a free, confidential consultation and case evaluation. We will only offer you advice that is in your best interest.