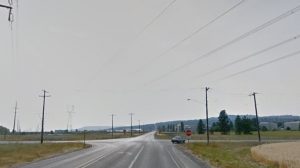 You can watch out for every other driver on the road and can sometimes steer clear of potential collisions. However, oncoming vehicles suddenly veering into your lane can be hard to anticipate and even harder to avoid.
Scary head-on collisions can be the most devastating type of impact possible on highways. The speed of both vehicles involved only multiplies the force of the collision and can put the occupants of those vehicles at high risk of severe injury and even the tragic loss of life.
Pullman Deadly Head-On Collision
A tragic two-vehicle crash near Pullman on Tuesday afternoon killed one man and left three people with injuries. FOX28-TV reports the accident happened around 2:30 p.m. on US-195 five miles south of Pullman on January 5, 2021.
The Washington State Patrol says an 82-year-old driver in a white truck crossed the center line into northbound traffic and struck a car. That driver was pronounced dead at the scene.
Two 18-year-old women and a 44-year-old woman in the car were taken to Pullman Regional Hospital with injuries. Their conditions have not been released. The cause of the collision is still under investigation.
Support for Pullman Accident Victims
Victims in frontal collisions and their families can face the terrible tragedy of an accident and then face even more heartbreak as the financial consequences of these accidents start to arrive. Hospital bills, ambulance, and doctor fees can all come due just as the financial support the victims earned through their jobs is suddenly cut off either temporarily or permanently through missed work hours.
Under these difficult circumstances, anyone injured by an at-fault driver can expect help with their financial burdens as they recover. Victims and their families may face expenses they hadn't expected or imagined in the aftermath of a collision. By filing a claim for damages against the at-fault driver's insurance company victims and their loved ones can make sure every hardship they've endured is documented and considered when compensation is awarded.
This civil claim shouldn't be seen as targeting the driver responsible for an accident. The drivers to blame may have also suffered severe injury or even lost their lives in a crash, but a claim targets their insurance companies and not the drivers or their families. This is why drivers pay insurance premiums. To provide help to victims who are trying to heal and also trying to get their lives back on track.
Contact a Pullman Car Accident Lawyer
Established in Spokane in 1948, Crary, Clark, Domanico, & Chuang, P.S. is committed to helping victims and their families rebuild their lives after a tragic accident. If our Spokane Car Accident Lawyers represent you for your accident case, you have our assurance that we will use our absolute best efforts to win your case. Contact us after any accident resulting in a serious injury or the loss of life for a free, confidential consultation and case evaluation. We will only offer you advice that in your best interest.