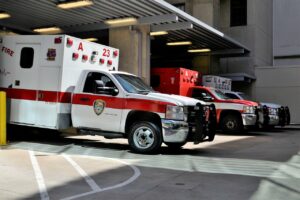 Pedestrians across Spokane are constantly put at risk by careless and thoughtless drivers. Some motorists simply don't pay attention like they should and others are simply traveling at reckless speeds or refuse to slow down when a pedestrian is nearby.
The neglect reaches criminal levels when a driver strikes a pedestrian but doesn't bother to stay behind to take responsibility and make sure the victim gets help.
Pedestrian Hit And Dragged in Weekend Spokane Accident
A pedestrian was dragged along the street in a hit-and-run accident in Spokane Saturday afternoon. KREM2-TV reported the accident occurred around 2 p.m. at the intersection of Ermina Avenue and Perry Street on December 4, 2021.
Spokane Police say the male victim was dragged two city blocks before falling off the vehicle. Medics provided care for the victim and found he had potentially life-threatening injuries. He was rushed to the hospital.
Witnesses of the accident say the driver involved fled in a dark-colored SUV traveling south on Perry Street. Spokane Police Investigators ask that anyone with information about the driver or the vehicle involved call the police department.
Seeking Help for Spokane Pedestrian Accident Victims
Pedestrian victims can feel they have no way to earn financial support after a devastating accident involving a hit-and-run driver. Fortunately, victims and their family members can seek support no matter if the driver is identified or not.
Pedestrians who carry car accident insurance of their own can file a claim on their uninsured motorist coverage. This is also an option when the pedestrian is protected by a family member's policy. Victims can request help with every hospital bill they receive and the lost wages they may have missed while unable to work.
When a hit-and-run suspect is found and arrested, a claim for damages can move forward against the driver's car accident insurance. This is a civil claim and it can be filed at any time, even as the suspect faces a criminal trial.
Contact a Spokane Pedestrian Accident Lawyer
Established in Spokane in 1948, Crary, Clark, Domanico, & Chuang, P.S. is committed to providing our clients with the absolute highest quality legal representation. If our Spokane Pedestrian Accident Lawyers represent you for your accident case, you have our assurance that we will use our absolute best efforts to win the maximum support for you and your family.
Contact us after any accident resulting in a serious injury or the loss of a loved one for a free, confidential consultation and case evaluation. We will only offer you advice that is in your family's best interest.