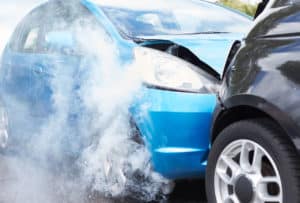 On long straightaways on Spokane County's rural highways, drivers can be lulled into a state of inattention and lose their focus on traffic. Another vehicle stopping or turning can come as a surprise to drivers traveling at full speed and they may be unable to slow down in time to avoid an impact.
Drivers and passengers can suffer traumatic injuries such as whiplash, traumatic head injuries, and even broken bones in a collision. It's critical that victims receive the best health care available to make sure a full recovery is possible.
Multi-Car Accident on Highway 395 in Spokane County Causes Injuries
A collision involving multiple cars north of Spokane left at least one person injured on Monday afternoon. KXLY-TV reports the accident occurred along Highway 395 near the intersection of Half Moon Road on August 29, 2022. The incident happened in a section where the highway is three lanes wide.
The Washington State Patrol reported the accident involved three cars. On twitter, the WSP posted pictures of a silver SUV and a black car with front-end damage. There were injuries reported in the crash. It was not reported how many people were hurt or how serious the injuries turned out to be.
The Washington State Patrol continues to examine the circumstances surrounding the accident to determine what led to the crash.
Assistance for Spokane County Highway Accident Victims
Motorists can suffer serious injuries due to a reckless driver's mistake, but not every wound is apparent in the moments after a collision. The shock and adrenaline of what's happened can mask pain for victims until the next morning or the next day. Collision victims should always see a doctor soon after an accident to make sure hairline fractures or internal bleeding aren't an issue.
Accident victims can face long, expensive injury recoveries and they should be able to seek damages from at-fault drivers and their auto insurance providers. Compensation should be available to pay for every hospital bill and physical therapy appointment. The lost time at work a victim experiences while trying to heal must also be replaced. No accident victims should have to pay for their own care in a crash they didn't cause.
Contact a Car Accident Lawyer Serving Victims Across Spokane County
Crary, Domanico, & Chuang, P.S. of Spokane provides clients with the absolute highest quality legal representation.
If our Spokane County Car Accident Lawyers represent you and your family for an accident case, we won't let an insurance company try to avoid taking full responsibility for what you've all been through. Contact us after any serious accident for a free, confidential consultation and case evaluation.