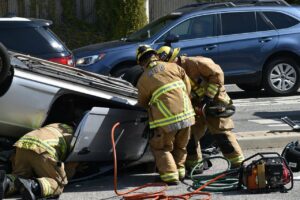 Drivers on busy Spokane Valley streets can keep track of the cars beside them, but they may not be expecting a vehicle in oncoming lanes to suddenly be in their path. A motorist's veer into opposite lanes can leave drivers in the correct lanes with little time to react to avoid a terrible collision.
Victims can suffer traumatic injuries and in the very worst circumstances, drivers and passengers will have their lives placed in jeopardy.
Driver Tragically Killed in Devastating Weekend Collision in Spokane Valley
A two-vehicle collision left one man dead and sent four people to the hospital on Saturday afternoon in Spokane Valley. KHQ-TV reported on the accident and confirmed that it occurred along Trent Avenue near the Pines Road intersection on November 26, 2022.
The Washington State Patrol responded to the accident sometime after 2:30 p.m. They determined that a vehicle with four occupants inside was traveling westbound on Trent. The driver, a 60-year-old man from Spokane, crossed the center lane for an unknown reason. The vehicle struck an oncoming eastbound vehicle driven by a 69-year-old man from Spokane Valley. Video from the scene showed that one of the vehicles involved came to a rest in the tall grass just off the road.
The 69-year-old man in the second vehicle was pronounced dead at the scene. Three people managed to escape the first vehicle, but a fourth victim was left trapped inside. First responders had to saw the vehicle open to rescue the victim. All four occupants of that car were taken to a local hospital. Officials said that two of the victims suffered life-threatening injuries.
The Washington State Patrol continues to investigate the circumstances surrounding the accident. They don't believe drugs or alcohol played a role in what happened.
Finding Assistance for Victims and Families After a Spokane Valley Traffic Accident
Families who receive the tragic word that a loved one won't be returning home must take action to protect themselves after an accident. Close relatives may file a wrongful death claim to seek money to help pay for burial costs and leftover emergency response fees. They may also secure funds to help protect family members in the future when they'll be without the guidance and weekly income support a loved one would have provided.
Surviving victims of Spokane Valley accidents shouldn't have to worry about how they'll pay for their medical care now and in the months to come. Victims must file a claim for damages against an at-fault driver's insurance provider. This claim provides for the payment of all medical care. The loss of wages at work victims forfeit while injured can also factor into a claim settlement. Physical and emotional trauma suffered can also earn compensation.
Contact a Spokane Valley Car Accident Lawyer
Victims can seek assistance from an insurance company, but insurance agents won't be eager to provide what's really necessary to afford a full physical and financial recovery. They can also withhold money from families who are struggling to stay afloat financially after losing a loved one. It often takes a legal expert working on behalf of the victims and their families to make sure insurance companies provide what's fair after a serious accident.
Established in Spokane in 1948, Crary, Clark, Domanico, & Chuang, P.S. remains committed to providing our clients with the absolute highest quality legal representation. If our Spokane Valley Car Accident Lawyers represent you for your accident case, you have our assurance that we will use our absolute best efforts to maximize any settlement check you and your family receive. Contact us after any accident for a free, confidential case evaluation.