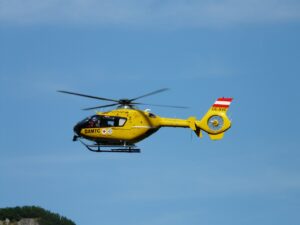 Narrow, two-lane highways through Idaho provide hazards for motorists and motorcyclists utilizing these backroads. Fast-moving traffic can travel at close proximity to other vehicles heading the opposite direction with little more than yellow lines providing a divider.
A mistake in the lane can send one vehicle into another to cause a devastating crash. Victims can suffer severe injuries and have long journeys to the hospital to receive the treatment they need.
Motorcycle Collides with SUV Over the Weekend in Latah County
Three people were transported to the hospital after a collision involving a motorcycle in Latah County, Idaho on Saturday afternoon. Big Country News reports the accident happened along Highway 99 almost two miles south of Troy on September 11, 2021.
The Idaho State Police responded to the scene around 2:30 p.m. near mile marker 10. They say a 35-year-old woman from Clarkston was traveling southbound on a motorycycle when she crossed the centerline to strike a Toyota Rav4 head-on.
The motorcycle rider was flown to Providence Sacred Heart Medical Center in Spokane. Both of the occupants in the Toyota, a 59-year-old woman and a 61-year-old man both from Moscow, were rushed to Gritman Medical Center in Moscow.
Idaho State Police Officers continue to investigate the circumstances surrounding the accident.
Finding Help for Idaho Accident Victims
A frightening crash can leave accident victims wondering about their physical health and also curious about who will be held responsible for the sometimes extreme costs of healthcare.
Victims hurt through no fault of their own can seek financial restitution for their physical and financial damages from the at-fault motorist's motor vehicle insurance. This claim for damages asks for support to cover the costs of emergency care and a hospital stay. It can also reimburse victims for their lost income while doing their best to heal.
Contact an Idaho Vehicle Accident Lawyer
If you or a loved one has been the victim of a highway accident contact an Idaho Car Accident Attorney serving Latah County. A skilled personal injury lawyer fights to ensure at-fault motorists have to accept 100% of the blame for their mistakes.
Established in Spokane in 1948, Crary, Clark, Domanico, & Chuang, P.S. is licensed and practices in both Washington and Idaho. Contact us for a free case consultation to find out how to protect yourself and your family members from the tactics insurance companies use. These strategies can prove to rob victims of the compensation they need to rebuild their lives.