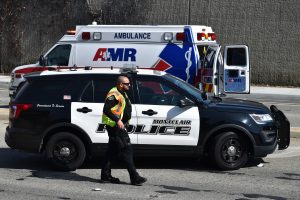 Travel along busy Spokane Valley roadways like Mission Avenue and Argonne Road can prove dangerous enough when careless drivers lose focus on the road. Those dangers are only boosted when someone impaired by drug use or alcohol consumption takes the wheel.
Motorists driving under the influence will have delayed reaction times and will exercise poor judgment. They may not realize when they've crossed out of their own lanes. A drunk driver can also fail to recognize an impending collision and not have the awareness to hit the brakes. This reckless behavior only intensifies a collision and increases the chances of a major injury.
DUI Suspect Arrested After Frightening Head-On Collision in Spokane Valley
A woman suffered serious injuries after a head-on collision with a DUI suspect in Spokane Valley Wednesday afternoon. The Daily Fly reported the accident happened around 4:45 p.m. along the 9600 block of East Mission Avenue on December 1, 2021.
Investigators say a woman was traveling westbound on Mission in a Honda car when a driver in a Chevy Impala, traveling east, crossed the center line to cause the crash.
The woman in the Honda had to be rescued after being trapped in her vehicle. She was rushed to the hospital where she is said to have substantial injuries that are considered non-life-threatening.
The 39-year-old man behind the wheel of the Chevy was suspected of driving while under the influence of a drug or alcohol. He was booked in the Spokane County Jail for felony Vehicular Assault.
Finding Support for Victims After a Spokane Valley Collision
Victims can find themselves in a hospital room facing a difficult recovery and with little chance of meeting the high costs of prolonged medical treatment. In reality, victims injured in an accident involving an impaired driver should never have to worry over their recovery costs.
A claim for damages may be filed against an at-fault driver's insurance company to request financial support with hospital bills, lost time at work, and any future care needed for a long-term injury.
This civil claim can be filed at any time after an accident, even as a DUI suspect faces criminal proceedings. The civil case can move forward separately and be resolved no matter the outcome of a criminal trial.
Contact a Spokane Valley Car Accident Lawyer
If you or a loved one has been the victim of an accident please contact the local personal injury lawyers at Crary, Clark, Domanico, & Chuang, P.S.  
Reach out to us for a free consultation before signing any agreement with an insurance company. Insurance companies won't inform you of your rights or all of the benefits available to victims and their families. Contact us to find out what else insurance companies won't tell you. We will only offer you advice that is in your best interest.