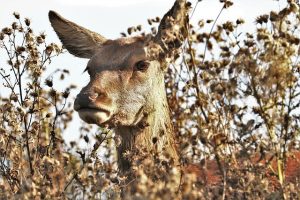 A recent article on My Fox Spokane points out that deer collisions are on the rise in Washington, and that the most common months to get into an accident are October, November, and December.
Deer are especially active these months as "the rut" peaks around Spokane Valley around the middle of November. This is breeding season and deer are following other deer around, sometimes fighting and establishing territories.
Wildlife and auto accidents
There are a few reasons someone may need our services after an accident involving a deer or another animal:
If you have been injured as a passenger in a car that crashed in to a deer or a tree while trying to avoid the deer
You were in a car accident and hit by another driver who was trying to avoid a deer
You hit a deer yourself
Of course, you can not sue a deer for your injuries, but there are times when the injured seek compensation from their own insurer and are given a hard time. Passengers, and people who are hit by other drivers often contact us as well as insurers try to pay out as little as possible for injuries. Injuries from people swerving to miss deer and other wildlife such as squirrels and raccoons can cause everything from fender benders to devastating head on collisions. In the event of severe injuries you should always speak to an experienced accident lawyer before speaking the other party's insurance company.
If you have been in an accident like this, it is best to get a free consultation from us. Please feel free to visit our Spokane car accident lawyer page or call us today to schedule an appointment. We have been serving Spokane and Spokane Valley since 1948 and have a long history of settlements.