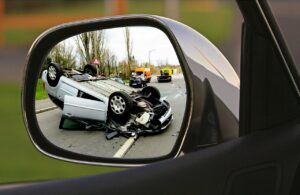 Massive intersections in Millwood can bring eight or more lanes of traffic together from each direction. When these crossroads get busy, it only takes one careless driver to spark a crash that involves several vehicles.
A turn against traffic or the running of a red light can cause a devastating crash. Victims can be left with major injuries and facing long recoveries to heal and get back on their feet.
Three People Hurt in a Traffic Accident in Millwood
A major chain-reaction crash left four people suffering injuries in Millwood on Friday afternoon. FOX28-TV reported that the accident occurred at the intersection of Trent Avenue and Argonne Road on November 11, 2022.
The Washington State Patrol says that the driver of a Ford Mustang on Trent ran a red light and struck a Kia Rio in the intersection. The Mustang then spun into a 2000 Buick. The Buick was knocked into a Kia Sportage.
The 40-year-old man driving the Mustang and a 28-year-old female passenger were rushed to the hospital with injuries. The 49-year-old driver of the Buick was also taken to the hospital. The 66-year-old female driver in the Kia Sportage also suffered injuries.
Washington State Patrol officers continue to determine the circumstances surrounding the crash.
Earning Support for Car Accident Victims in Millwood
Car Accident victims often won't know how serious their injuries until hours or days after their crash. The shock of being in an accident can mask the pain of hairline fractures and traumatic brain injuries until some time has passed.
It's critical that car accident victims don't accept an insurance settlement until they know for sure how badly they are hurt and how long recovery may take. They should seek full compensation for all current medical bills and the costs of care expected to be necessary in the future. They should also demand reimbursement for the income they lose while left unable to work.
A personal injury lawyer makes sure these concerns and others are addressed in any settlement. A lawyer also seeks additional financial support for the physical pain and the emotional trauma an accident victim suffers.
Contact a Millwood Car Accident Lawyer
Victims should proceed cautiously when car insurance representatives call them after an accident. Agents will be asking you for a recorded statement in the hopes that you'll say something that hurts your case later. This may allow them to twist your comments to escape blame and financial responsibility for your accident.
You'll see this tactic and other insurance tricks as you progress through the claims process that's designed to keep you waiting until you are desperate enough to accept a "lowball" settlement.
Talk to a local, experienced Spokane car accident lawyer serving victims in Millwood and Spokane Valley before accepting a call from anyone else. Let us handle the insurance company and make sure you receive full compensation for what you've been put through. We offer a free, no-obligation consultation on your case. Contact us today for a free consultation and find out what kind of support you should demand from insurance providers.