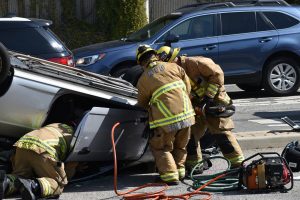 Intersections along the busiest corridors in Spokane and Spokane Valley end up being dangerous spots for local drivers each day. Sprague Avenue is especially hazardous around lunchtime when traffic levels increase and motorists can have their minds on other things than driving safely.
An error in judgment at an intersection can have careless drivers turning when they don't have the right-of-way or ignoring a traffic light. A resulting collision will place victims in harm's way and end up causing a serious injury.
Spokane Valley Collision Sends One Victim to Hospital
A woman was hurt in a traffic impact involving two vehicles in western Spokane Valley on Tuesday. KHQ-TV reports the accident took place at the intersection of East Sprague Avenue and Park Road on July 13, 2021.
Officials on the scene said that a woman had to be transported to the hospital with injuries but was expected to survive. An update on her condition has not been provided.
Investigators believed a traffic violation at the intersection led to the collision. They have not said who was at fault in the accident or if there will be any charges filed.
Assistance for Victims After a Spokane Valley Traffic Accident
Victims injured in an accident along a busy Spokane street may not know how badly they are hurt until they've been examined at a hospital. A serious injury may not be apparent until the next day when the shock and adrenaline of a collision have worn off. Victims can wake up in intense pain and ready for another trip to the doctor to find out what was missed.
During this medical assessment period, victims should know about their option to file a claim for damages against an at-fault driver's insurance provider. Any ambulance ride and stay in a hospital can lead to thousands of dollars in medical invoices. Those charges should never fall to innocent victims who weren't to blame for their accidents. The victim could also be missing valuable time on the job and have little chance of keeping up with normal monthly expenses as they heal.
These hardships can all be covered by an insurance settlement over a claim for damages. However, insurance adjusters must be held accountable for every expense a victim faces. When they are free to determine how much injured victims should receive they will always side with their own companies and offer as little in compensation as possible. This simply isn't fair to a victim suffering through an injury.
Contact a Car Accident Lawyer Serving Spokane Valley Victims
If you or a loved one has been seriously injured by a careless driver please contact Crary, Clark, Domanico, & Chuang, P.S.  If our Spokane Valley Personal Injury Lawyers represent you for your accident case, you have our assurance that we will use our absolute best efforts to win your case.
Contact us to take advantage of a free, no-obligation consultation on your case. Let's go over the details of your case together so that we can help you determine your best path to earning the compensation you'll need in recovery.