With plenty of fresh air and beautiful vistas, Coeur d'Alene can encourage almost anyone to get out and take a walk. Unfortunately, the dangers that pedestrians must cope with when confronting Idaho traffic are steadily rising.
The Coeur d'Alene Press reported on an AAA study that found pedestrian fatalities in Idaho had increased by 70% over a ten-year span. Idaho's tragic rates even topped the nationwide trend that showed a 53% increase over the same span from 2009-2018.
Idaho and Coeur d'Alene Pedestrian Accident Dangers
The shocking ramp-up follows almost three decades of falling pedestrian accident numbers. The most recent data shows that the safety for people on foot in Idaho has actually improved recently, but with the pandemic affecting traffic levels almost everywhere, it's hard to tell how much of the positive change will hold in the years to come.
KTVB-TV highlighted the unfortunate rise in Idaho cases over the decade studied. Ten people in Idaho died from being struck by a vehicle in 2009, while 17 pedestrians lost their lives in 2018. In 2019, Idaho's accident cases involving a fatality fell to 14 deaths. In 2020, as people stayed home more and drove less, there were an estimated 11 accidents that claimed the lives of people on foot.
In Coeur d'Alene and Kootenai County, the tragic toll of pedestrian deaths and injuries has been documented every year. The fatality rates in these local incidents have risen and fallen over the past five years but even in years when pedestrian deaths have dropped, the overall security of pedestrians around Coeur d'Alene hasn't necessarily improved.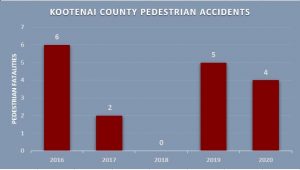 The Coeur d'Alene Press spoke to the AAA spokesman for Idaho, Matthew Conde, and he cautioned against thinking that the reduced traffic levels that continue into 2021 due to COVID-19 protocols mean that pedestrians can lower their guard. "With more people walking for exercise or to get to work or school during the pandemic, we all need to do our part to protect pedestrians. We've got to keep things moving in the right direction."
Nationwide Numbers on Pedestrian Threats to Older Americans
The AAA studied the data collected by the National Highway Traffic Safety Administration (NHTSA) and found that seniors were one of the most threatened age groups in the recent trends. Over that period between 2009 and 2018 the number of pedestrians aged 60 to 69 who were involved in a fatal crash more than doubled.
Faster traffic also continues to be a major threat to walkers. The numbers showed a 68% increase in accidents involving a fatality on roads with speed limits of 40mph or faster.
And in perhaps the most telling statistic recovered from national accident reports, the number of pedestrians killed at non-intersection locations increased by 70% over those 10 years. More people are crossing streets in places other than crosswalks and drivers continue to fail to spot them when pedestrians are outside a crosswalk.
Even the age of a vehicle seems to play a role in the chances of a pedestrian accident occurring. The number of vehicles 15 years old or older that were involved in crashes nearly tripled, indicating that proper maintenance of brakes, tires, and other measures that aid safe driving can help protect pedestrians.
A Safer 2021 for Coeur d'Alene Pedestrians
As 2020 proved, reducing traffic on streets and highways isn't enough to protect pedestrians from dangerous encounters with vehicles. As traffic levels continue to build in the new year and return to normal levels, it's a good time for Coeur d'Alene leaders to recommit to adding as many pedestrian safety measures to local roads and intersections as possible. It's also a great time to remind drivers to always be on the lookout for pedestrians who often must travel Kootenai County with little protection from the rush of traffic.
Contact a Coeur d'Alene Pedestrian Accident Lawyer
If you are seriously hurt as a pedestrian due to the carelessness of a driver, please contact a Coeur d'Alene pedestrian accident attorney with CCD Law. Established in Spokane in 1948, Crary, Clark, Domanico, & Chuang, P.S. is licensed and practices in both Washington and Idaho. Contact us after any accident resulting in a serious injury for a free, confidential consultation and case evaluation.