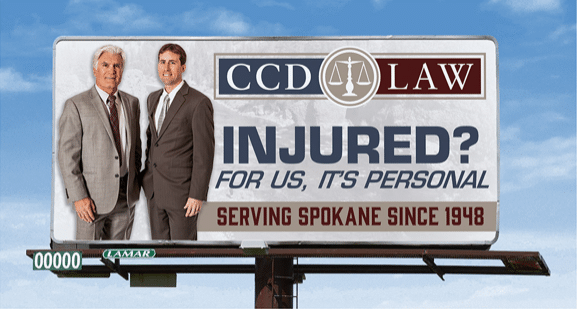 For over 70 years, CCD Law has been serving and protecting accident victims in and around Spokane. Now that commitment to justice for all victims is on display above the busiest roads in the city.
Two billboards recently went up in Spokane to serve as a strong reminder to personal injury victims that they don't have to face recovery by themselves. Our billboards read "For Us, It's Personal" and that means our clients will never stand alone when medical bills begin to arrive over an accident that wasn't their fault.
We fight to earn victims and families the maximum compensation available for as long as recovery takes. At CCD Law, it's a priority to build strong insurance claims while causing as little disruption to clients as possible. We handle the frustrating negotiations with unhelpful insurance adjusters so that victims and their families can focus on healing without worry.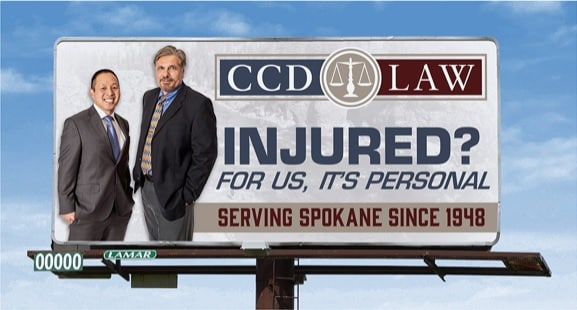 Trust Your Accident Case to the Experienced Team at CCD Law
At Crary, Chuang & Domanico, P.S., we are proud of our extensive record of making sure injured victims across Eastern Washington and Northern Idaho have everything they need to heal and rebuild their lives.
We also work with local families who have tragically lost a loved one to someone's careless mistake. CCD Law makes sure families receive the support they require to pay for a funeral and all leftover medical expenses. We also see that close family members, like a spouse and children, are protected in the future when they must do without the financial support a victim can no longer provide.
Our skilled legal team rushes to the defense of the victims of car accidents, such as the terrible crashes that occur on I-90 or North Division Street. We assist the victims of slip-and-falls at businesses and residential properties to secure what's fair. We also help victims file claims over dog bites, workplace mishaps, and any other personal injury accidents where someone's negligence caused an innocent person harm.
Contact CCD Law with Your Spokane Injury Case
Insurance companies for at-fault parties count on victims not knowing what their injury is worth in a claim. You don't have to go into an insurance battle at an unfair advantage.
Contact CCD Law of Spokane to schedule a free, no-obligation case evaluation if you or a loved one have been seriously hurt in an accident. It's a no-risk way to find out what you should demand for your physical, emotional, and financial damages.