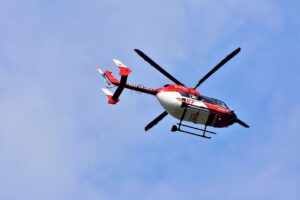 Cyclists own the same share of the road as any motorist. When drivers don't yield that right-of-way, riders can be put in extreme danger. Unprotected bicyclists can absorb a collision from a vehicle and then a second impact when they hit the ground. The injuries can be devastating and take riders off their bikes for weeks or months at a time.
Accidents become even more heartbreaking when a driver involved is found to be under the influence of alcohol. This choice puts cyclists and everyone else on the road at risk of a dangerous accident. Sadly, accidents involving impaired drivers are 100% preventable, and yet they continue to happen every week across Spokane County.
Bicyclist Struck and Badly Injured in Cheney DUI Accident
A woman was flown to the hospital after getting hit by a car east of Cheney on Tuesday night. The Cheney Free Press reported the accident occurred around 8 p.m. around the 6800 block of West Curtis Road on July 20, 2021.
The Spokane County Sheriff's Office says the bicyclist was proceeding west on Curtis Road when she was hit from behind by the driver of a Subaru also traveling westbound. The female rider was flown by Life Flight to the hospital and was first listed in critical condition. Her condition was upgraded to satisfactory the next day.
The 26-year-old driver involved is suspected of driving while under the influence of alcohol and was arrested and charged with Vehicular Assault.
Seeking Assistance for Bicycle Accident Victims in Spokane County
Victims will first worry over their physical wellbeing. Victims should receive the most advanced healthcare available in order to quickly recover and get back to doing the activity they love. In the weeks and months that follow, they'll also have to worry about the enormous healthcare costs accumulated over an accident they weren't to blame for.
In these situations, victims are allowed to file a claim for damages to make sure an at-fault driver's car insurance provider knows about every hardship they've faced. These financial burdens, including lost wages at work, should all be placed in the laps of insurance adjusters. Bicyclists should never compromise on their rights as victims.
Contact a Bicycle Accident Lawyer Serving Cheney and Spokane County
The Cheney Bicycle Accident Attorneys with CCD Law encourage accident victims to avoid offering any statements to an insurance representative until they've discussed their case with a legal expert. You may get a call after an injury asking for a recorded statement on what happened and details of your injury. These statements can be used by insurance agents later to weaken the credibility of your case and even shift the blame for the accident to you.
Allow a local attorney the chance to consult with you over your options and advise you on how to handle insurance requests. In fact, if you agree to let us represent you, we will handle all the communication with insurance agents and lawyers for you. Contact us for a free case evaluation today.