Being involved in an accident caused by a drunk driver can have devastating consequences, not only for the victim but also for their family. Beyond the physical injuries, there is the added emotional distress of knowing that the responsible driver was impaired. Still, these accidents are among the most common throughout the country. According to data from the National Highway Traffic and Safety Administration (NHTSA), 13,384 people died in drunk driving accidents in 2021, a 14% increase from the year before.
Car Accidents in Spokane
Although alcohol-related car accidents are among the most devastating in terms of its impact and consequences, the reality is that they are just one of the many different types of car accidents that happen in Spokane. According to the Washington State Department of Transportation (WSDOT), there were over 4,000 car accidents throughout Spokane in 2022 alone.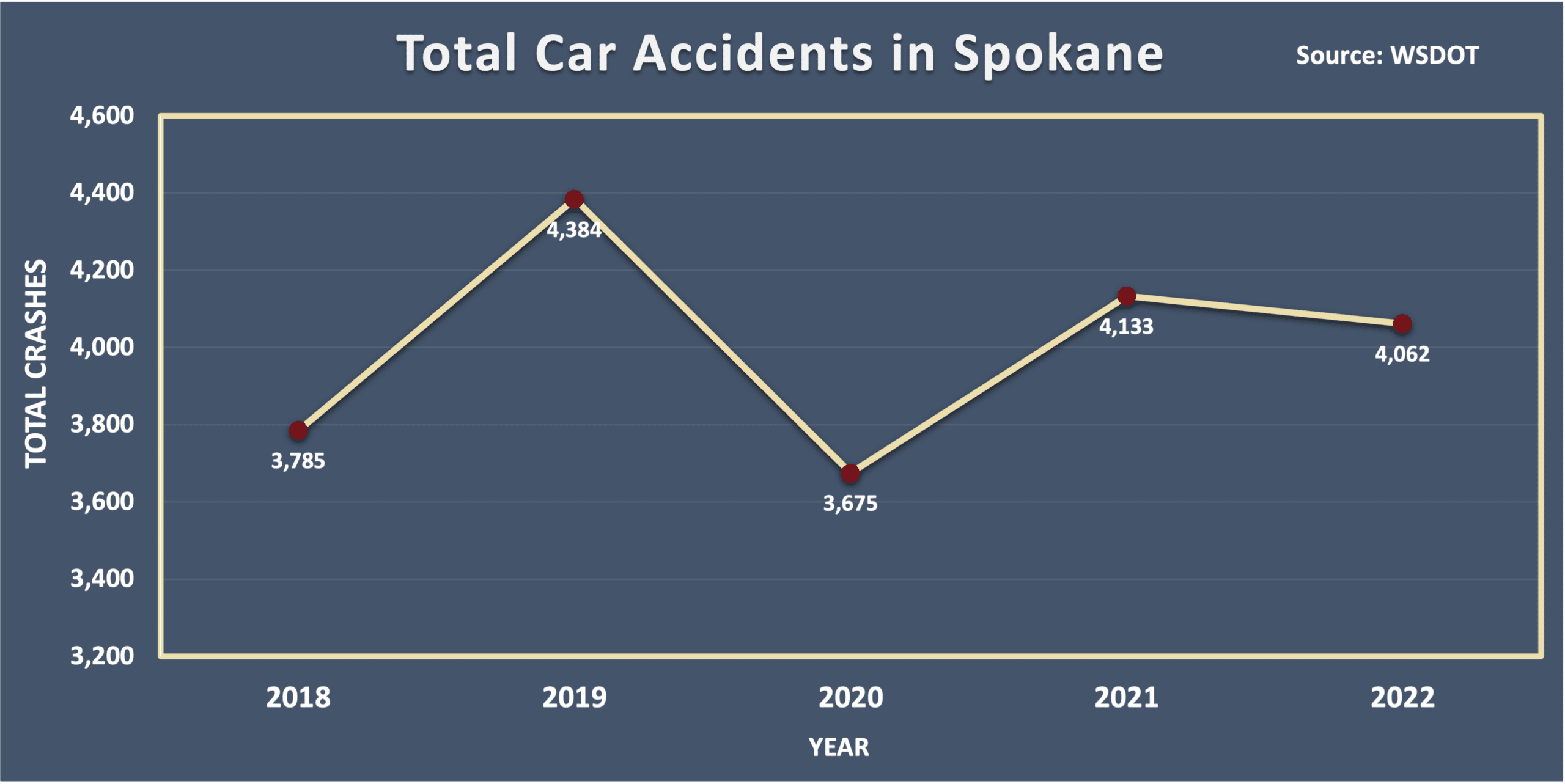 Source: WSDOT
Given the many different scenarios that are involved in car accidents, it's no surprise that there are so many car accidents that happen in Spokane. That said, the number of total accidents has fluctuated over the last five years. Still, understanding the various types of accidents that happen can provide a window into what many drivers face on a daily basis on Spokane's roads:
Rear-end collisions
Head-on collisions
T-bone collisions
Intersection accidents
Multi-vehicle accidents
Weather-related accidents
Obviously, you can be involved in many different types of car accidents if you spend any amount of time on the road. However, when you add alcohol to the equation, it can be extremely dangerous.
Alcohol-Related Car Accidents in Spokane
As the above data shows, car accidents are a fairly common occurrence in Spokane. However, the underlying causes of car accidents are what make them so frequent. Whether it be distractions, driving recklessly, or simply not following traffic patterns and laws, there are any number of reasons that a car accident happens.
That said, when a person decides to drive while drunk or otherwise impaired by alcohol, it can make an already dangerous situation much worse. When alcohol is introduced, it has a host of negative effects on the driver. Usually, this includes:
Alcohol can impair a driver's ability to make sound decisions. This can lead to risky behaviors, such as speeding, aggressive driving, or making poor judgments about traffic situations.
Alcohol affects fine motor skills and coordination, making it difficult for a driver to control the vehicle properly. This can result in swerving, difficulty staying in one lane, and problems with braking or accelerating smoothly.
Alcohol slows down the central nervous system, including reaction times. A driver under the influence may not react quickly enough to avoid a collision or respond to sudden changes in traffic conditions.
Alcohol can affect vision by causing blurred or double vision, making it challenging to see and respond to road signs, signals, and other vehicles accurately.
Alcohol can lead to difficulty in maintaining focus and attention on the road. This can result in distraction and failure to notice important details or hazards.
Alcohol can induce drowsiness and fatigue, increasing the likelihood of falling asleep at the wheel or having reduced alertness while driving.
Not surprisingly, these limitations often lead to accidents. WSDOT data showed that Spokane saw 217 alcohol-related vehicle accidents in 2022.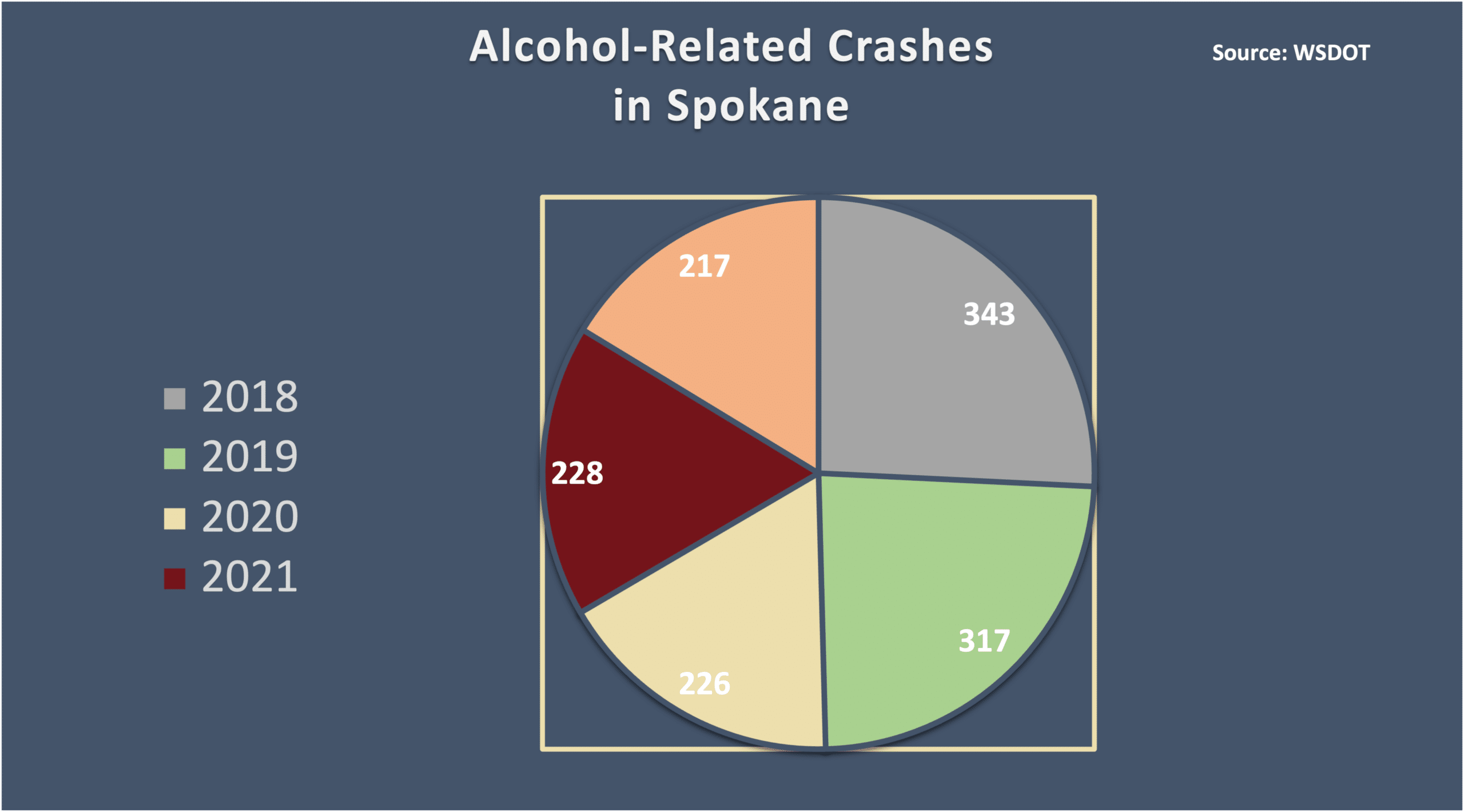 Source: WSDOT
What Usually Results From Alcohol-Related Accidents in Spokane?
Given the serious nature of alcohol-related accidents, it's no surprise that they frequently result in serious, even fatal injuries for those involved. What makes alcohol-related accidents so frustrating is the fact that they are entirely preventable. In fact, there's been extensive research and education that's gone into the dangers of driving while under the influence of alcohol, so much so that basically everyone is aware of it. Unfortunately, as the above data demonstrates, alcohol-related car crashes still happen in Spokane.
When they do, they often result in serious injuries, and in the worst-case scenario, death. WSDOT data found that there were 11 alcohol-related crashes in Spokane in 2022 that resulted in either serious injury or death.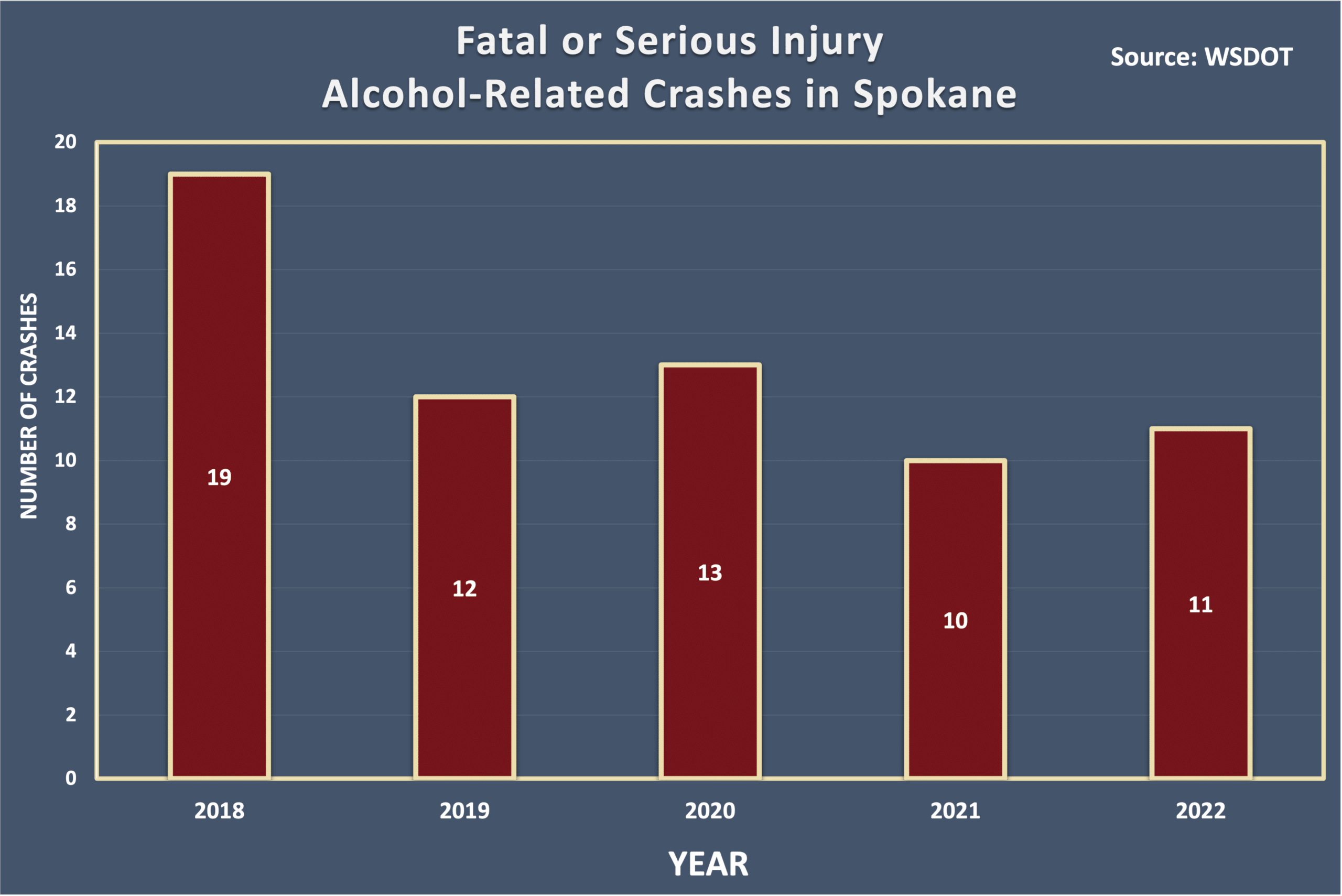 Source: WSDOT
While the data also showed that the number of serious injuries or death from alcohol-related crashes has gone down every year since 2018 in Spokane, drunk driving is still an ongoing problem. And it's an even bigger problem for certain subsections of demographics in the city.
Teens and Alcohol-Related Car Accidents in Spokane
As any parent or authority figure will tell you, teens are well-known for their willingness to engage in risky behavior. Unfortunately, this often means drinking and driving. According to the WSDOT, there were 11 alcohol-related car accidents in Spokane that involved teens in 2022, down from 12 in 2021.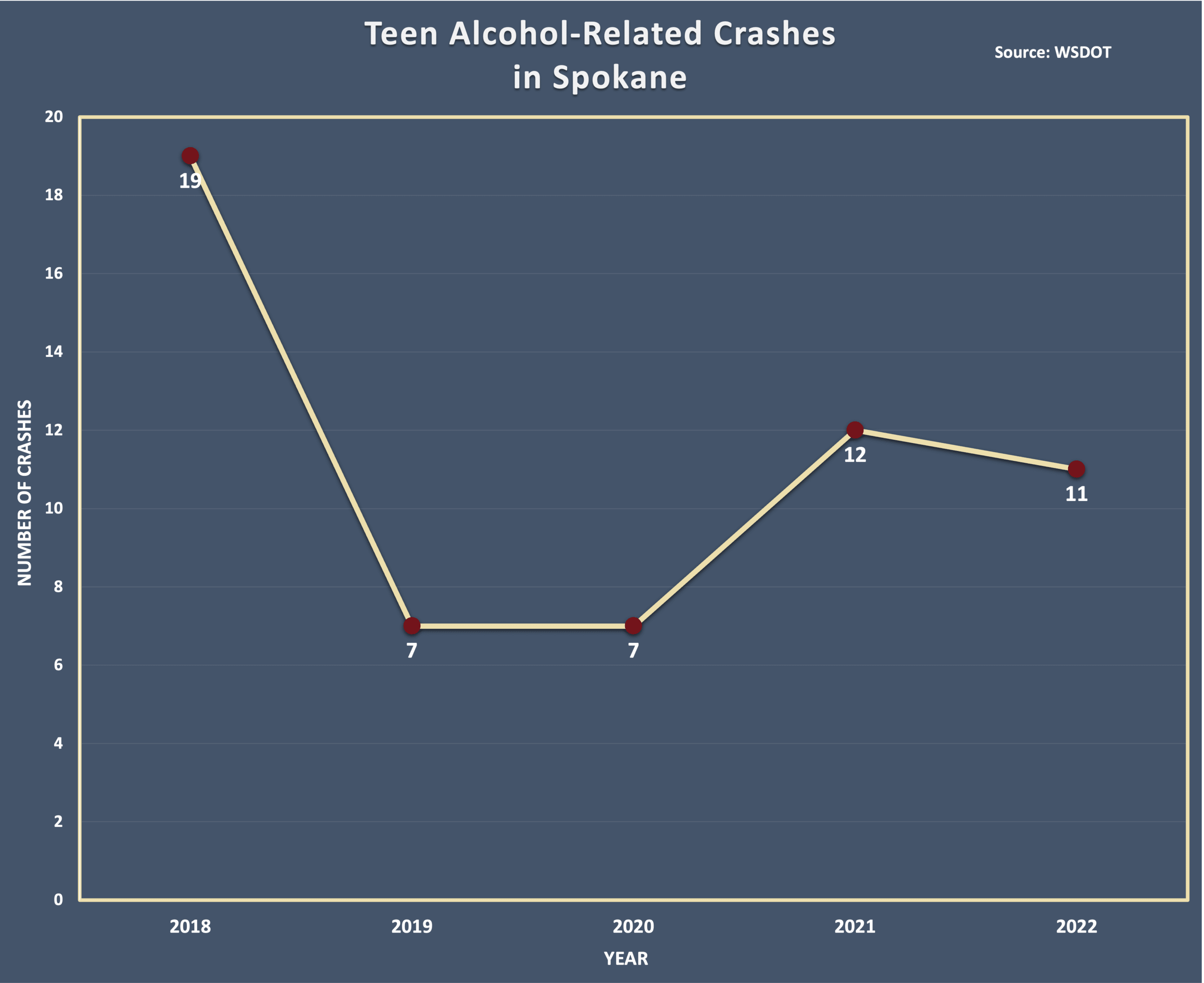 Source: WSDOT
Generally speaking, there are a variety of factors that can cause teens to engage in drinking and driving, like peer pressure, having unfettered access to alcohol, or just an overall culture of normalcy around drinking and driving.
Regardless of the reasoning, it's extremely important for teens to understand the risks–and punishments–that can come from drinking and driving. Worse, if you're involved in an alcohol-related car accident, it could have dire consequences for you and your family.  That's why it's important to work with our team of experienced Spokane DUI accident lawyers to get the legal help you deserve.
Work With Our Experienced Spokane DUI Accident Lawyers
Once you've addressed your health and safety concerns after an alcohol-related car accident, it's in your best interest to consider reaching out to our team of experienced Spokane DUI accident lawyers at CCD Law. Time is of the essence when seeking financial support for your injuries. In Washington, you have a three-year window from the date of the accident to file a claim. Missing this deadline could mean missing out on the opportunity to receive crucial financial support for your recovery, like:
Medical bills
Property damage
Pain and suffering
Emotional distress
Loss of companionship
Punitive damages
If you've been involved in an alcohol-related car accident in Spokane, we encourage you to contact us today for a free consultation. Our team can provide valuable guidance and support for you and your family during this challenging time.