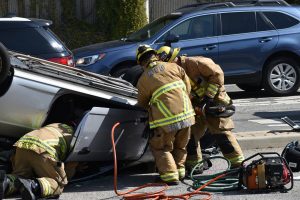 Four-lane roads like the Sunset Highway can carry a lot of vehicles and also a lot of risk for even safe drivers. Motorists can allow themselves to become distracted and start to lose focus on the lanes ahead. They can also be traveling too fast for conditions and allow little time for themselves and others to correct a mistake and avoid a crash.
These small errors can put one car in the path of another and cause a dangerous collision. Crashes can involve a head-on, rear-end, or sideswipe accident that sends one or more vehicles out of control and at risk of even more impacts. The consequences for drivers and passengers inside those vehicles can involve severe injuries and even the risk of tragic deaths.
Spokane Car Crash Tragically Kills Two People
A crash late Saturday night in western Spokane claimed two lives. The Spokesman-Review reported the accident occurred just before midnight along Highway 2 near Spotted Road just inside the Spokane City Limits near Airway Heights on May 29, 2021.
The Washington State Patrol says the multi-vehicle collision caused the deaths of two victims. Two other victims were rushed to the hospital. Their current conditions have not been released. Another person was treated by medics on the scene.
Investigators closed the highway Saturday night while trying to determine what caused the collision.
Support for Spokane Accident Victims and Families
Devastating accidents leave victims and their families little time to cope with what's happened before the bills that can result from a tragedy begin to arrive.
For families who have suddenly lost the guidance and financial support a loved one had always provided, it's important to safeguard the future. The expense of burial and the fees charged by emergency response crews can all come due at once and serve to put the family into debt. This tragedy can also put the family of a victim at financial risk in the years to come.
In this situation, close relatives like a spouse, children of the victim, or parents of the victim are allowed to file a wrongful death claim. This civil lawsuit would seek support from the at-fault driver's insurance company and make sure the family is protected from financial ruin in the years ahead.
For surviving victims, filing a claim may also be the best option to avoid getting stuck with the costs of recovery. This claim for damages seeks assistance from an at-fault driver's insurance provider. Any settlement reached would have to cover every medical cost now and any care needed in the future. The claim would also demand help with the lost hours at work a victim misses while trying to fully heal.
Contact a Spokane Car Accident Lawyer
Established in Spokane in 1948, Crary, Clark, Domanico, & Chuang, P.S. has a long history of protecting victims and their families after tragic accidents.  If our Spokane Car Accident Lawyers represent you and your family for your accident case, we will make sure that insurance companies can't ignore the hardships you've been forced to endure. Contact us for a free and confidential consultation. We will only offer you advice that is in your best interest.