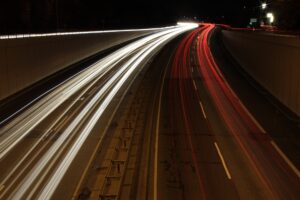 Interstates can handle a lot of traffic and can get a lot of drivers to their destinations quickly. However, it's that same speed and the sheer number of cars that leave interstates full of hazards for motorists.
I-90 offers travelers three, four, and five lanes in both directions to navigate through Spokane. It's a convenient east/west route on most days, but drivers can be traveling at elevated speeds and when that happens, any careless mistakes made can suddenly cause a frightening accident involving many vehicles.
Downtown Spokane I-90 Crash Injures Eight Victims
A multi-vehicle crash on Interstate 90 in downtown Spokane sent several people to the hospital Tuesday afternoon. The Spokesman-Review reports the accident occurred around 5:30 p.m. on the interstate near exit 281 for US2/US395 on May 25, 2021.
The Spokane Fire Department said that eight people were taken to the hospital after several cars were involved in collisions in the east and westbound lanes. One of the victims had to be rescued from the wreckage with the help of the jaws of life. One of the victims was said to be in critical condition.
The devastating accident had almost every lane of the interstate in both directions shut down for hours. Lanes were fully reopened by around 8 p.m. The Washington State Patrol is determining the cause of the crash.
Securing Support for Victims in I-90 Accidents in Spokane
Drivers on Interstate 90 can carefully monitor every vehicle and every lane and still be forced into an unavoidable accident due to the carelessness of another driver. Motorists and their passengers are placed at risk for severe injury in the blink of an eye.
Victims can suffer broken bones, head injuries, and back and spine damage and find themselves in the hospital for days or weeks. Each day of care can cost thousands of dollars, not to mention the ambulance services fees that will be added in. There's also the future care that a serious injury may require that will push a victim who has already missed valuable time at work to the financial brink.
In such a difficult situation, recovering victims can file a claim for damages against the insurance company representing the driver who caused such a devastating accident. Victims should be able to count on the car insurance company to provide for every cost of recovery already seen and for those expenses still to come.
Contact a Spokane Car Accident Lawyer
Victims should proceed cautiously when car insurance representatives call them after an accident. Agents will be asking you for a recorded statement in the hopes that you'll say something that hurts your case later. This may allow them to escape blame and financial responsibility for your accident. You'll see this tactic and other insurance tricks as you progress through the claims process that's designed to keep you waiting until you are desperate enough to accept a "lowball" settlement.
Talk to a local, experienced Spokane personal injury lawyer before accepting a call from anyone else. Let us handle the insurance company and make sure you receive full compensation for what you've been put through. We offer a free, no-obligation consultation on your case. Contact us today to set up an appointment.
Established in Spokane in 1948, Crary, Clark, Domanico, & Chuang, P.S. is committed to providing our clients with the absolute highest quality legal representation. If our Spokane Car Accident Lawyers represent you for your accident case, we will only offer you advice that is in your best interest.