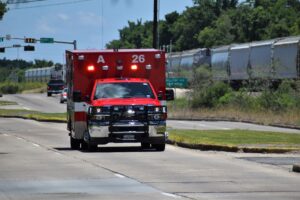 Four-lane roads through Spokane Valley carry plenty of traffic all week and can be the scenes of dangerous collisions. Even on the weekend when fewer cars may be out traveling, drivers can still be placed at risk.
Safe drivers may be monitoring the cars in front, alongside, and behind them, but they may not be able to anticipate a driver from the opposite lanes suddenly heading right for them. These mistakes by motorists can result in collisions that cause severe injuries and in the worst cases claim a precious life.
Driver Killed and Two Injured in Tragic Weekend Spokane Valley Crash
A man lost his life and two women were rushed to the hospital after a collision in Spokane Valley Saturday night. The Spokesman-Review reports the accident happened just before 8 p.m. along Trent Avenue near Ellen Road on July 24, 2021.
The Washington State Patrol says a 26-year-old man who lived in Post Falls was traveling east on Trent when, for an unknown reason, his vehicle crossed the centerline into oncoming traffic. The vehicle struck a car heading westbound.
The 26-year-old driver of the first vehicle was tragically killed in the crash. The teenage driver of the second vehicle, a woman from Spokane Valley, was transported to Sacred Heart Hospital with injuries. Her teenage passenger, a woman from Spokane, was also rushed to Sacred Heart. Their conditions haven't been released.
Finding Support for Victims and Families After a Spokane Valley Accident
After a frightening collision on a Spokane Valley road, victims can face a long injury recovery and families can be left to mourn the loss of a loved one.
For surviving accident victims, the costs of medical care can be overwhelming. Victims are permitted to seek compensation from an at-fault driver's insurance provider. This civil claim for damages asks for support for every hospital bill and rehabilitation cost built up while the victim attempts to heal and return to normal life.
For close relatives who have lost a precious family member, a wrongful death lawsuit is an option that asks the insurance company covering an at-fault driver for assistance. This civil lawsuit requests money for emergency response fees and reimbursement for the costs of a funeral and burial. Assistance could also be obtained to stabilize the family in the years to come as they must continue on without the guidance and financial support a loved one had always provided.
Contact a Spokane Car Accident Lawyer
If you or a loved one has been the victim of an accident please contact the local personal injury lawyers at Crary, Clark, Domanico, & Chuang, P.S.  Reach out to us for a free consultation before signing any agreement with an insurance company. Insurance companies won't inform you of your rights or all of the benefits available to victims and their families. Contact us to find out what else insurance companies won't tell you. We will only offer you advice that is in your best interest.