(Updated January of 2023)
Pedestrians face constant risk when walking the streets of Spokane, Spokane Valley, and Airway Heights. Having accessible crosswalks and pedestrian bridges is just one part of the equation when talking about safety for those on foot.
Attentive, careful drivers are the other key to unlocking safe passage for all of those who travel on foot on the South Hill, along North Division Street, and anywhere else in Spokane County.
Looking at the yearly progress or regression in safety for pedestrians is as easy as examining the latest pedestrian accident numbers at the start of each new year. These figures can show improvement, but far too often they show a step back on the issue of safety for walkers around Spokane. With 2023 already underway, there is a renewed chance for a change of direction for pedestrian safety in Spokane County.
The Law Offices of Crary, Clark, Domanico, & Chuang, P.S., commissioned a study of the latest numbers from 2021 and 2022 and a look back at Spokane pedestrian accident statistics from the past few years. It's hoped that spotlighting how current pedestrian collision numbers match up with past records can lead to a better understanding of where we need to improve as a city.
2022 Pedestrian Accidents in Spokane
According to the Washington State DOT (WSDOT), there were 117 pedestrian accidents across Spokane County, with seven being fatal in 2022. This is a marked improvement from 2021, as there were 29% fewer accidents, and a 40% decrease in deaths.
Below is a look at Spokane County, Spokane Valley, and Spokane pedestrian collisions recorded in 2022. The accidents are in red and the tragic deaths are noted in blue.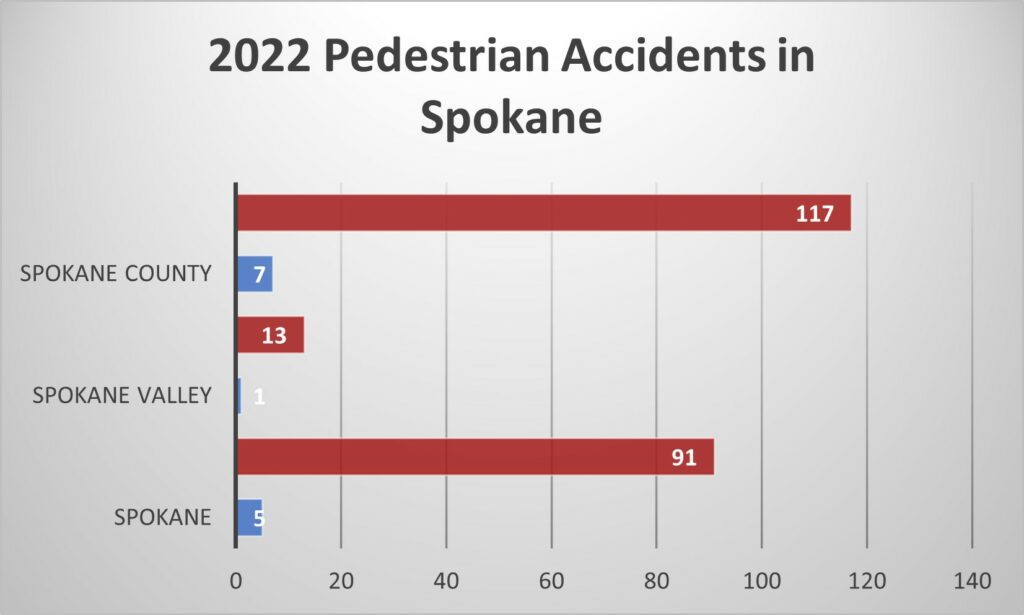 Fatal accidents affect the families of victims who must try to rebuild their lives without the guidance and financial support of a loved one. Friends and the entire community also feel the loss of someone taken so tragically. It's hard to accept such a heartbreaking consequence for doing something so seemingly harmless as walking the streets of Spokane.
The data also breaks down the increasingly devastating toll of pedestrian accidents in Spokane, even when victims survive.
WSDOT lists injuries as either "suspected to be serious" or "suspected to be minor." This is the assessment of the emergency responders on the scene. Of course, medical professionals know that pedestrian accident victims often think their injuries are minor only to find the next day that they have unexpected and severe pain from a serious injury. This occurs because the shock and adrenaline of being hit by a car can mask the pain of a serious injury for a day or even over several days.
Spokane's pedestrian accidents in 2021 led to what were believed to be 60 minor injuries in 2021. Another 23 injuries were expected to be serious. Below is an overall list of the pedestrian accidents and fatalities in Spokane and Spokane Valley across 2021.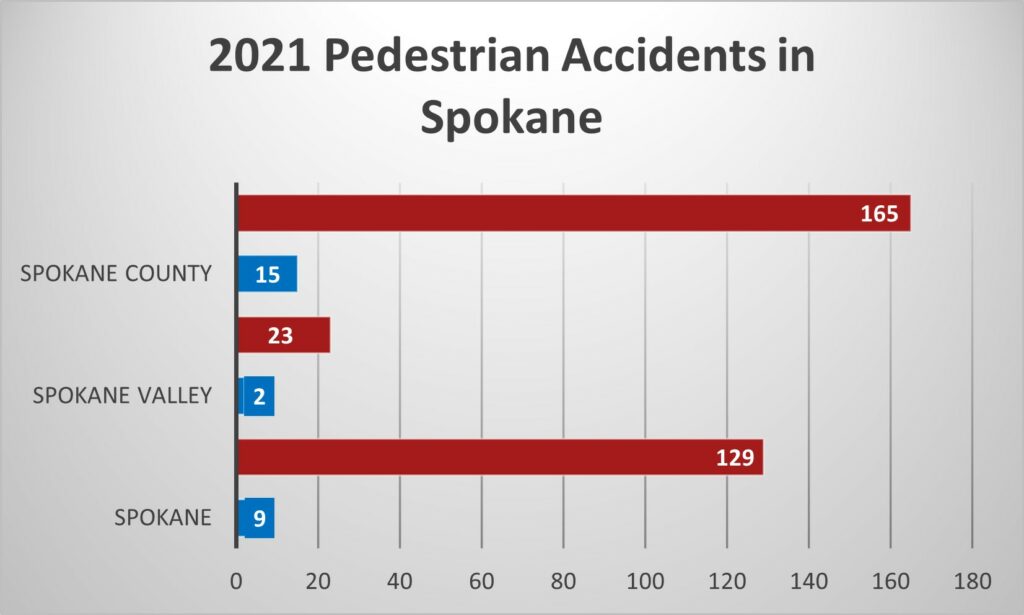 Pedestrian Accident Deaths in Spokane Over a Five-Year Span
The Washington Traffic Safety Commission's accident dashboard tracks pedestrian dangers each year in Spokane and for the surrounding areas of Spokane Valley, Airway Heights, and the county.
Across Spokane County, the fatalities reported increased almost every year over a five-year period and that appears to have continued into 2021. This is a visual representation of the course of pedestrian fatalities reported each year in Spokane County between 2016 and 2022: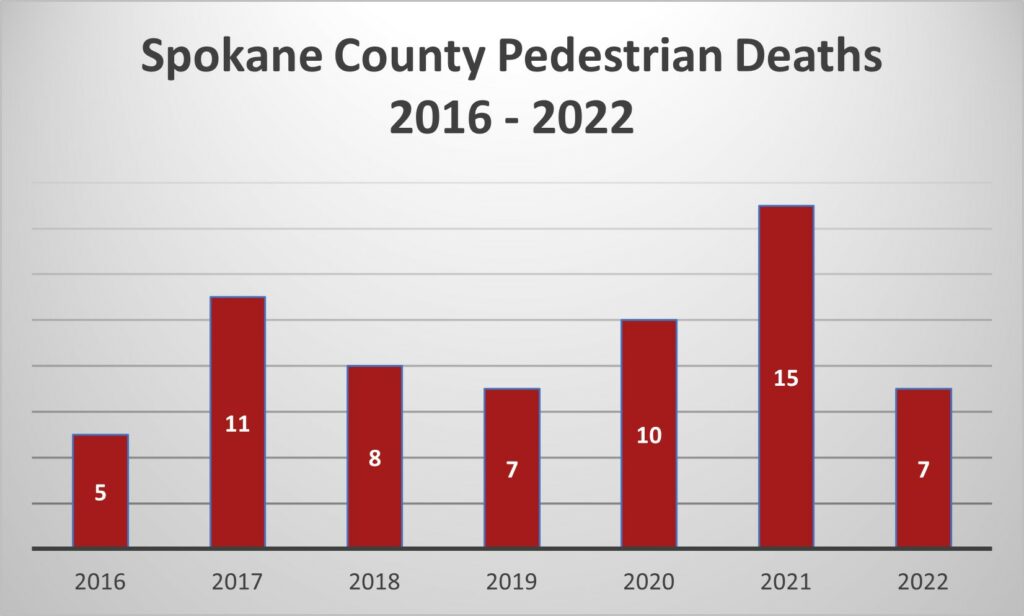 In Spokane, pedestrian fatalities have varied a bit more from year to year, but in the most recent years, a tragic upward trend can be seen. Pedestrian tragedies increased in 2020. That trend continued into 2021 according to WSDOT.  2020 saw 7 tragic deaths along Spokane streets. 2021 topped that figure by one for a final count of 9 tragic fatalities. The death toll for 2022 stands at 5 victims currently, but that's number can change as cases and data are examined in 2023.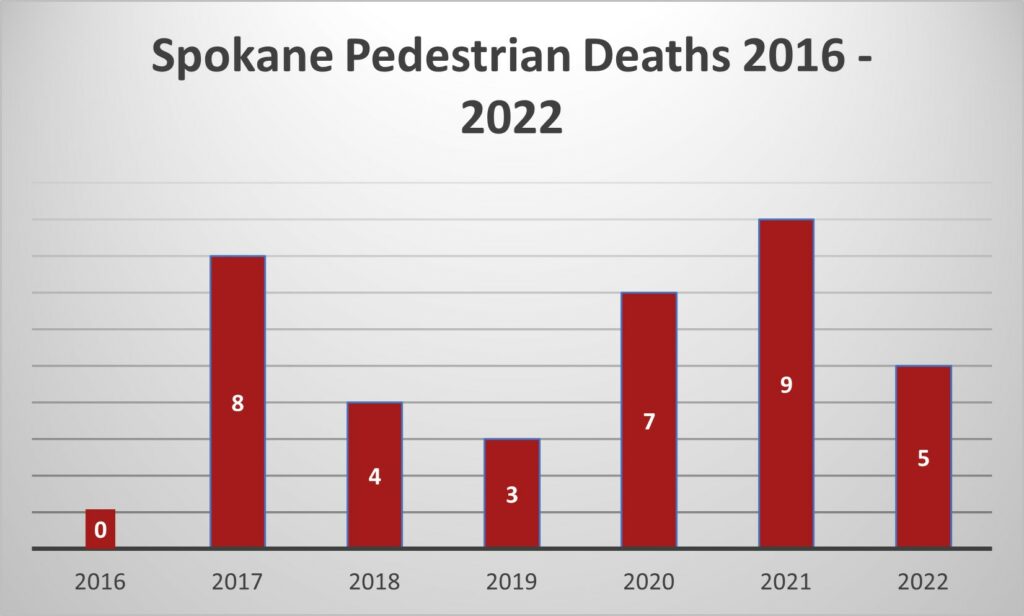 2022 Nationwide Accident Statistics
In September of 2022, the National Highway Traffic Safety Administration (NHTSA) released an early estimate of motor vehicle traffic fatalities for the first half of 2022.
This data compares to first half of 2021 to 2022. Washington, along with Alaska, Montana, Oregon and Idaho, comprise Region 10. Interestingly, Region 10 had a zero percent gain in projected fatalities year over year, performing much better than Regions 1, 2, 3, 5, and 8. Of these, Regions 1 and 2 in the Northeast, including New York and Boston had the worst year over year performance, with 11 percent increases in fatalities.
Region 7 was the only other to have zero movement, while Regions 4, 6, 7, and 9 improved with fewer fatalities than the previous period.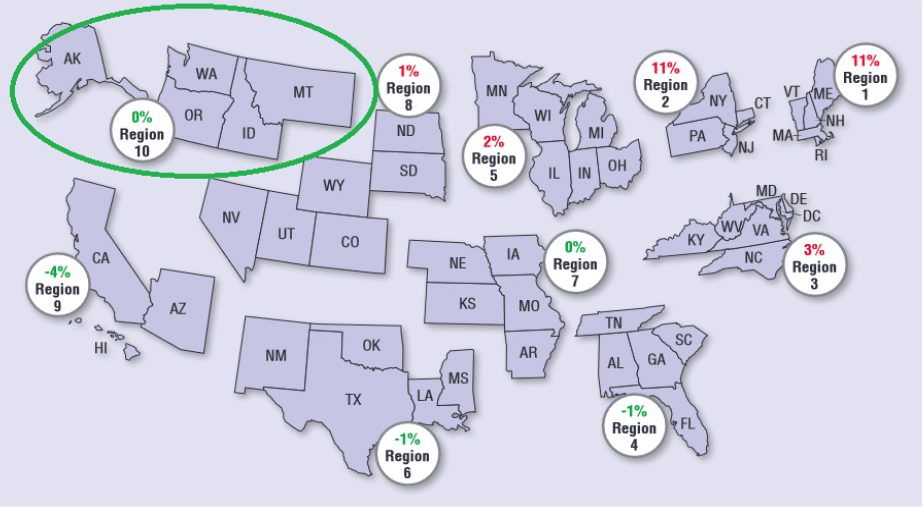 The table below reflects the improvements or deterioration of each region from 2021 to 2022. Region 10, including Washington, showed no change in the fatality rates in 2022. That's better than an increase. But the goal for 2023 should be drivers who are paying attention to the road at all times leading to a noticeable drop in fatal accidents.

The Most Common Victims of Spokane Pedestrian Accidents
Careless drivers don't choose their victims. It's a random consequence of motorists traveling carelessly or recklessly. The victims are just those pedestrians who happen to be crossing traffic when a distracted driver approaches.
Motorists are often driving nearly blind when they strike pedestrians. They can have their eyes glued to a cellphone text or their minds on something else other than driving. This failure to look out for all people using the road can lead to devastating accidents for men and women of all ages.
There is a link between accidents for those on foot and gender. Men typically get struck more often than female pedestrians. In Spokane, over the past five years or so, pedestrian accidents have claimed the lives of 15 men and 7 women.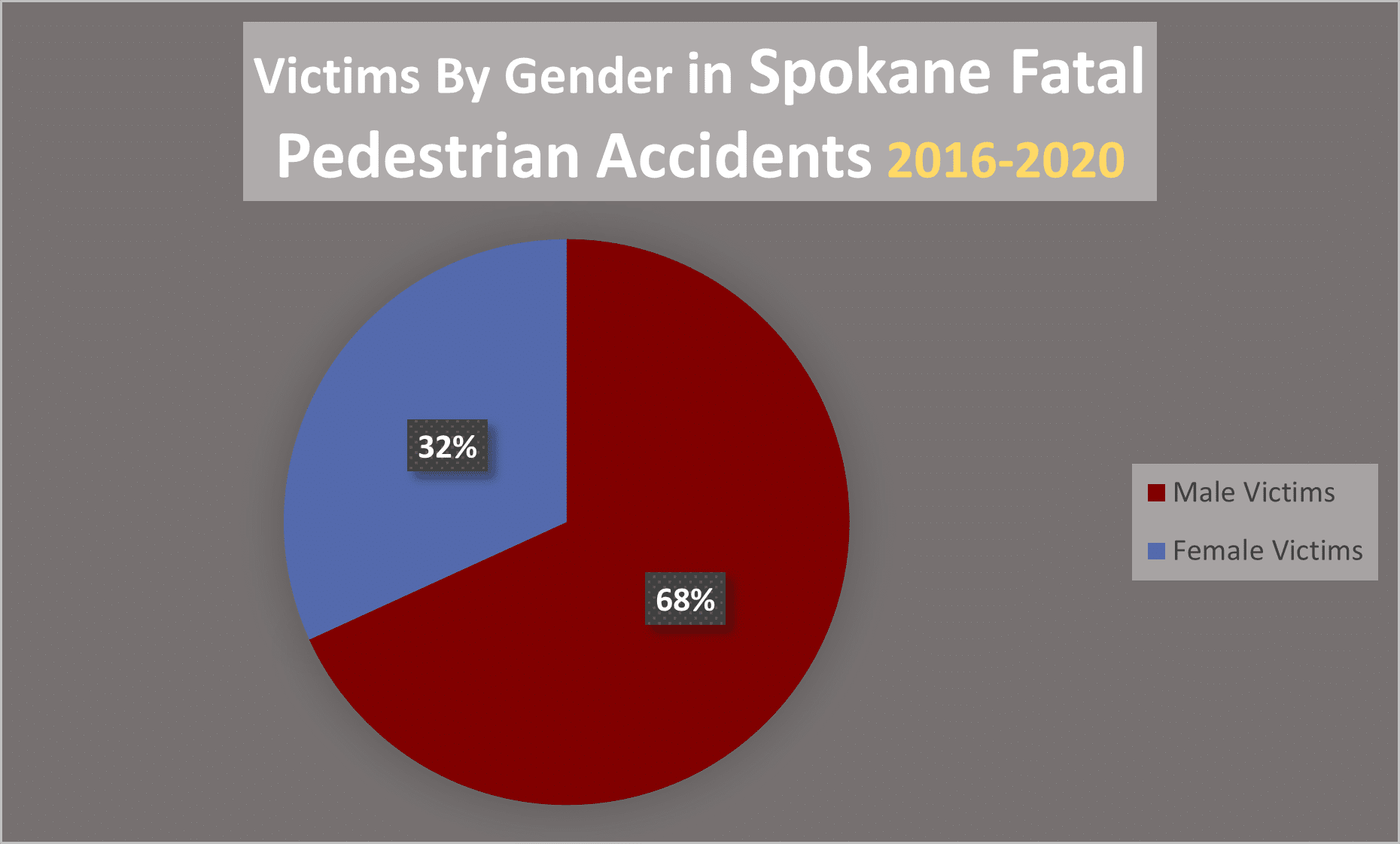 In pedestrian accidents across Washington State over the same span, the threat to male and female victims was almost identical to the divide in accidents in Spokane. In Washington from 2016 to 2020, pedestrian accident fatalities totaled 346 male victims and 164 female victims. Two victims over that span were listed as "gender unknown."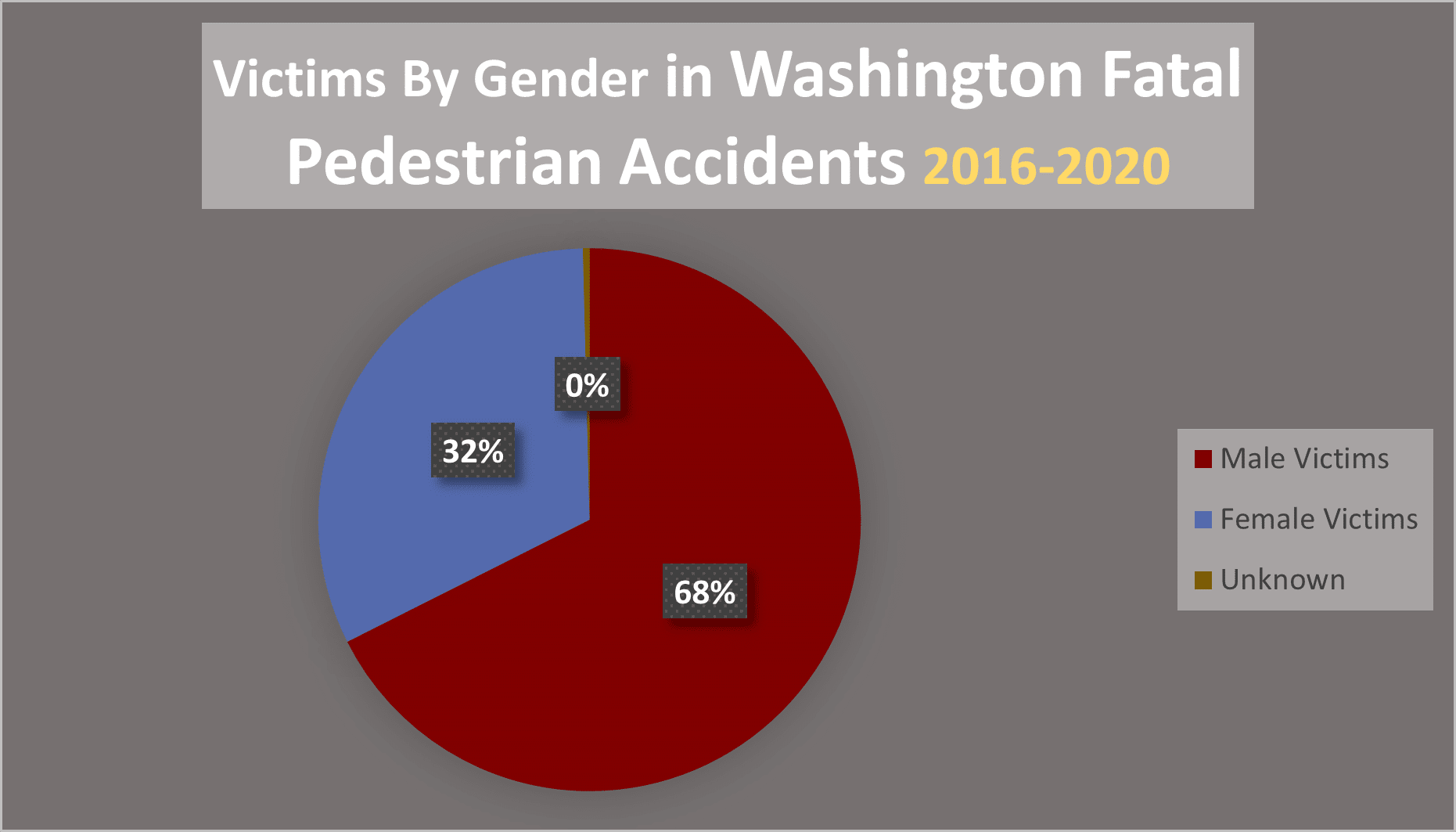 The Traffic Safety Commissions statistics over this five-year period show that age isn't necessarily a good indicator of who is at most risk of a Spokane pedestrian accident. A look at the age groups of all victims shows that anyone could be the next victim of a tragic collision while on foot.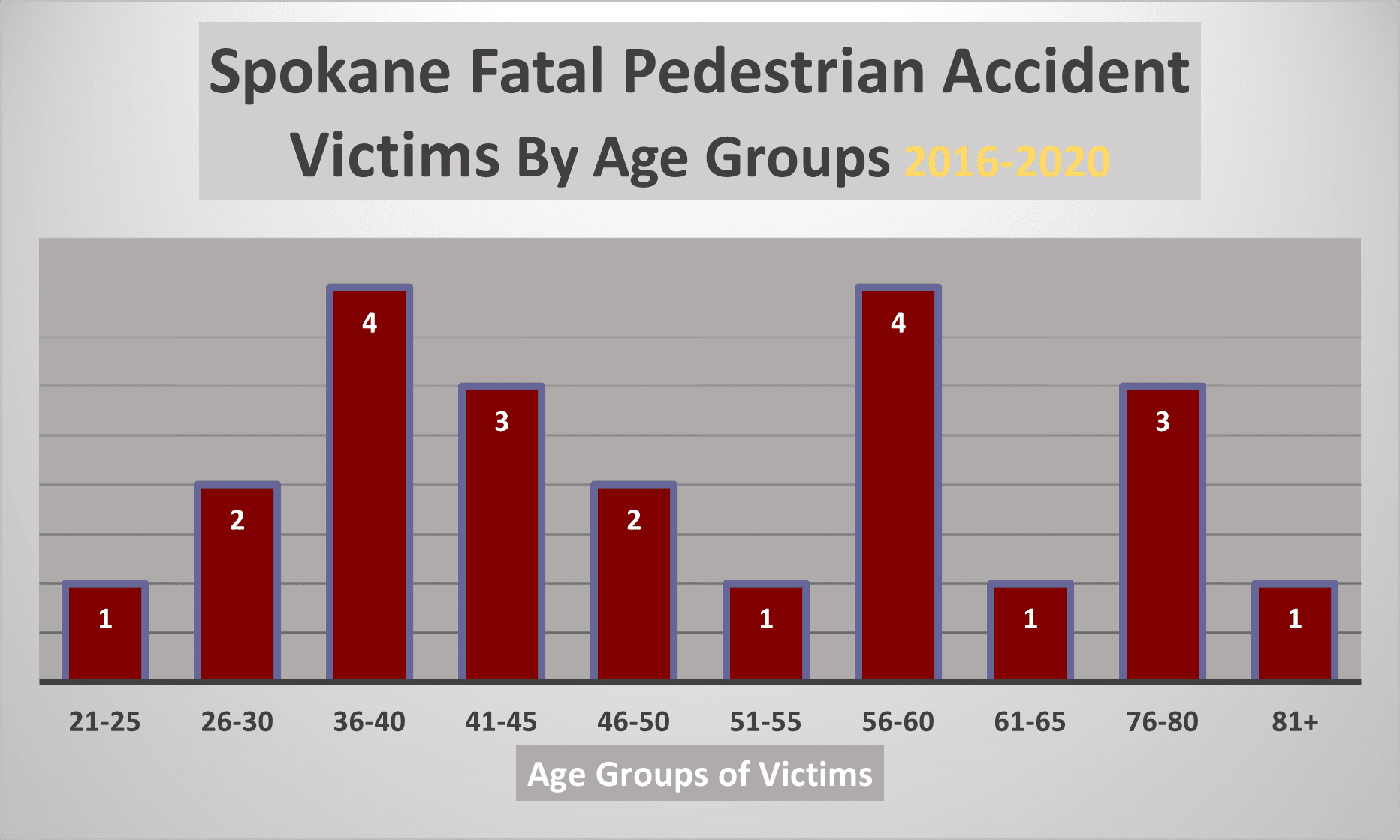 Pedestrian Safety in Spokane
Spokane and state transportation leaders take note of the yearly toll of pedestrian accidents locally and across Washington. They have a duty to use that information to push for better intersection design and create more greenways and urban trails.
It's also the duty of local leaders and law enforcement to keep these issues at the forefront of the minds of motorists as much as possible. Through safety campaigns and enforcement of the laws already in place, more drivers can be forced to keep their eyes on the road. With safety advancements and increased driver recognition, pedestrian safety can be improved in your community and your state in 2022 and beyond.
Contact a Spokane Pedestrian Accident Lawyer Serving Local Victims
Hopefully, you'll never need to worry over an injury caused by a careless driver. However, if you or a family member are seriously hurt in a Spokane pedestrian collision you should know about the insurance benefits available.
CCD Law offers a free consultation to victims and their family members after any personal injury accident in Spokane, Eastern Washington, and Northern Idaho. There's no obligation to you. It's a confidential way to learn what an injury may be worth and about the rights you and your family have after an accident.