This week, Crary, Clark, Domanico, & Chuang, P.S. presented Spokane student Camden VerStrate with a Certificate of Scholarship. Camden wrote a very interesting essay for the CCD Law Spokane Community Scholarship. This year's essay entries answered the question "How would you make the streets of Spokane safer?" There were many great entries and we selected Camden's, which focused on distracted drivers, one of the greatest dangers drivers face today. Great essay, Camden! You can read his answer below.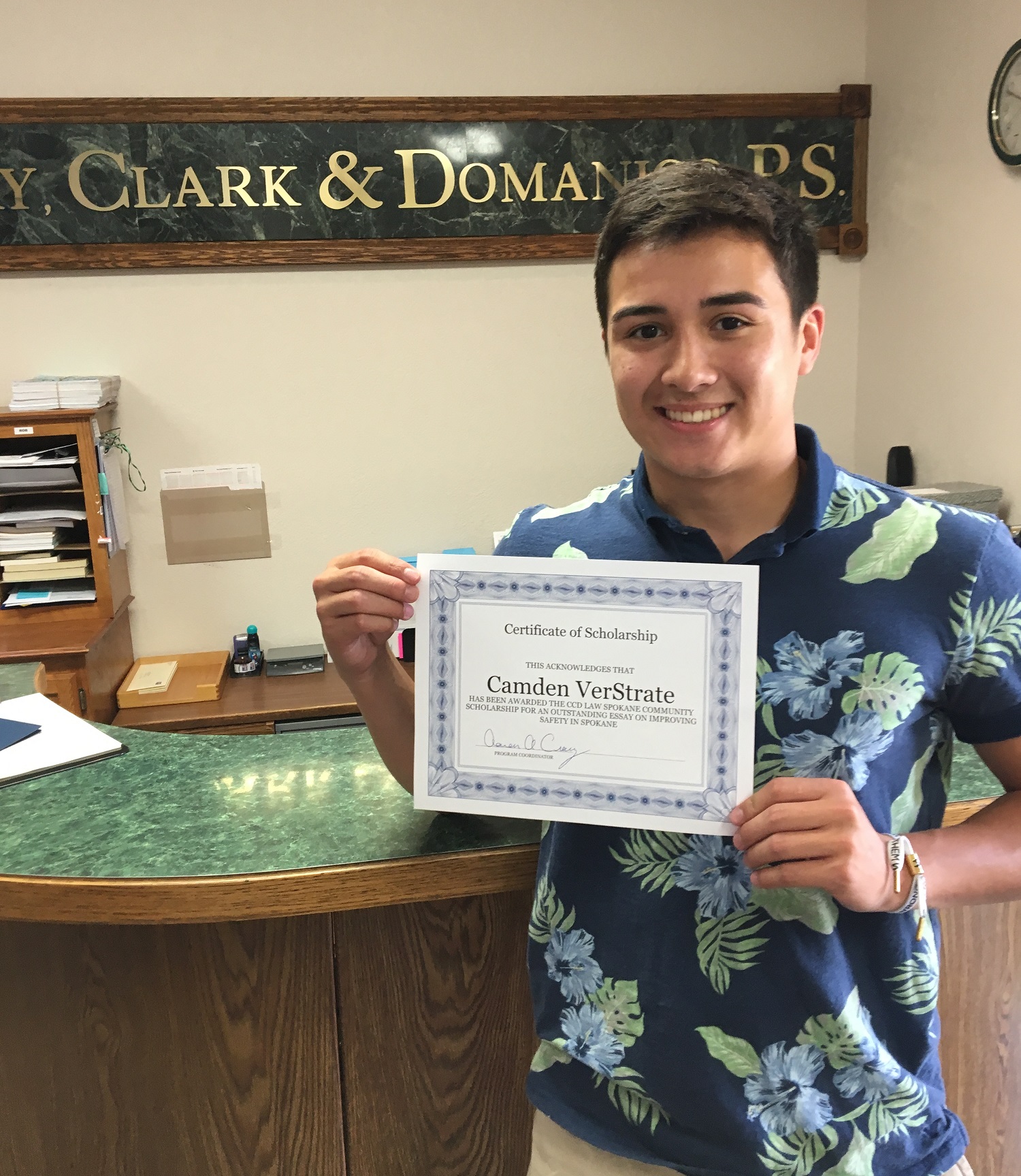 In order to make the streets safer in Spokane there needs to be a greater emphasis on curbing cell phone use while driving. In order to make an impact and protect our community, I would apply an approach focused on education, detection and consequences.
My educational efforts would primarily be directed at young drivers and would be added to the curriculum within our public school systems. I would require that a waiver to be signed by parents giving the school authorization to show a graphic video of the consequences of distracted driving. I'd also require that this video be watched each quarter/semester by students in order for them to have the privilege of driving/parking on campus.
In order to deter drivers from using their cellphones while driving, I would provide police officers immediate authority to search a drivers cellphone to verify times of last use so they can note it in the report. I'd also provide authorization for officers to get immediate access of phone records directly from cell phone carriers.
Drivers have to be held responsible for disregarding the safety of our community by implementing more substantial consequences. I'd apply a tiered approach. First offense is a ticket. Second offense is a larger ticket and an educational class would be required to reduce the ticket and to avoid a 30 day license suspension. On the 3rd offense a distracted driver would face an immediate 30 day license suspension and this amount of days would increase with each offense that followed.
Using a cell phone while driving negatively impacts the safety of Spokane streets and unless we educate, detect and hold offenders accountable; people will continue to be hurt or killed.