The Great American Eclipse is arriving today, August 21, 2017. This will be a total eclipse. Plenty of people in the State of Washington will simply walk out into their yard with their eclipse glasses on, take a quick look at a partial eclipse and go back inside. But, some people will travel to Oregon to see the eclipse in totality, which will be very impressive. Folks from Seattle and Spokane and even Canada and Northern Idaho will be traveling along Interstate 90 and other roads in the State of Washington to get the absolute best view possible of the celestial event. It is estimated that nearly 28 million Americans live closest to the path of totality in Oregon.
Car Accidents in the State of Washington
While we hope that everyone has a safe and fun time, car accidents will be inevitable. The more cars on the road, the more accidents there will be. People with an astigmatism will be caught off guard. Some people taking selfies while driving will crash. Other accidents will occur while trying to change lanes on a congested road or from people parked on the shoulder.
If you or a loved one is injured during the eclipse, contact us today for a free and confidential consultation today.
Here's a map from GreatAmericanEclipse.com illustrating the population in and around Oregon: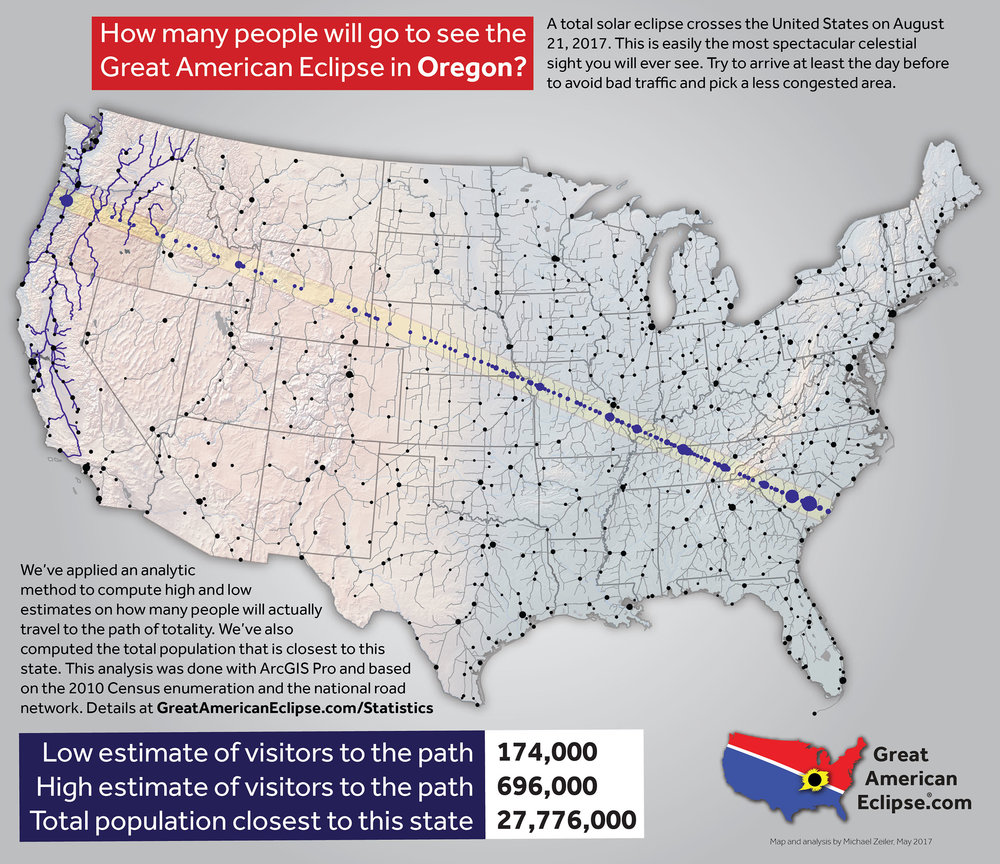 Oregon traffic
The most popular cities during the eclipse will likely be Newport, McMinnville, Salem, Corvallis, Madras, John Day and Baker City. Oregon Department of Transportation, State Police, U.S. Forest Service, the Federal Emergency Management Agency (FEMA), the National Guard and multiple fire departments are working or standing by to assist anyone in need.
If you're traveling on I-5 or anywhere else in Oregon or Washington or any other state. Stay safe! If you plan on looking at the sun, be sure to pull over into a parking lot and use your eclipse glasses.